This is our first Valentine's day as a married couple. Lucky for Vlad I can be won over with flowers, food, and movies. Pretty simple, no? Valentine's day is a huge Hallmark holiday, filled with obligatory gifts and undue stress. I think people spend more time worrying over Valentine's Day rather than enjoying it. For me, call my corny, it is just another day to spend with the person I love.
So this year, on our first Valentine's day as husband and wife, I would like the following things: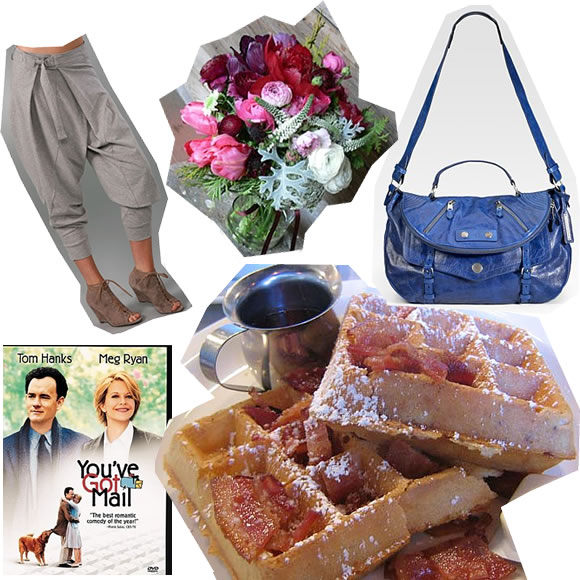 1) Bouquet of flowers; like this one from Saipua. This is one of my favorite websites to browse and next time we are in NYC we will definitely stop by their Brooklyn shop. There is something so romantic about every bouquet they put together.
2) Waffles and bacon. I will even take bacon in my waffles. Or bacon chocolate in the waffles. I love bacon, can you tell? [image credit]
3) L.A.M.B. Terry Cropped Pants; comfortable yet chic pants to wear around the house. 3 reasons why these pants are winners: they are harem style which means wiggle room after all the bacon and waffles, they are terry material which is casual, and they are a step up from shapeless sweatpants. Buy through ShopBop for $110.
4) You've Got Mail. So now you have flowered me, fed me, and put me in comfortable pants. All I need is one of my favorite romantic comedies, the couch, and a blanket. Maybe some hot chocolate… or more bacon? Buy via Amazon.
5) Alexander McQueen Leather Biker Satchel. This bag caught my attention before and now I would really love the Alexander McQueen Leather Biker Satchel in memory of one of the greatest and most visionary designers of our times. Buy through Saks for $1,450.