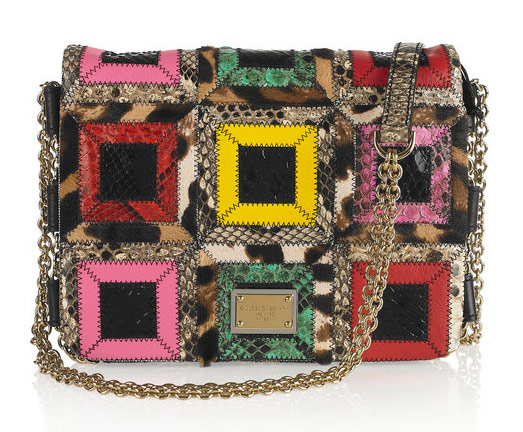 First of all, an apology: I'm sorry that I'm assaulting your eyes with this much look so early in the morning, but sometimes them's the breaks, eh? Consider it like your second alarm of the day – the first one woke up your body, but the Dolce & Gabbana Patchwork Shoulder Bag is here to wake up your senses, for better or for worse. Naturally, the bag makes a perfect candidate for the latest edition of Fill in the Blank.
I'm generally a fan of Dolce but have had some beef with their handbag design team recently. It's a brand so rich in visuals – lace, sequins and leopard print are all time-tested Dolce signatures – that you'd think the bags would benefit, but in reality, they often look like a bit of an afterthought when compared to the gorgeous, detailed clothes. Perhaps the brand does a healthy enough RTW business that it doesn't have to worry about the success of its bags the way some companies do, but the handbag lovers of the world would still like to be thrown a bone every now and then!
And then there's this bag, which is at the complete opposite end of the spectrum – someone paid a little bit too much attention to what's going on here. Look closely – that's black python, ringed by either colored leather or more python, which is then in turn ringed by either animal-print calf hair or yet more python. The combination of brights, exotics, textures and prints is…a tad dizzying. To say the least.
So, that's where you come in. While I'm applying a cold compress to my forehead, and waiting for my vision to return to normal, it's your job to take one for the team and finish our title sentence in the comments. Or, if you're so inclined, you can make this bag yours via Net-a-Porter for $2275.