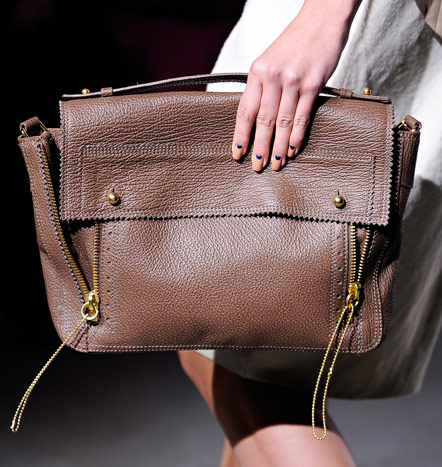 Unlike most of the collections presented at New York Fashion Week, 3.1 Phillip Lim Fall 2011 didn't use red as its accent color. Instead, Lim chose a brilliant shade of cobalt for everything from neoprene clutches to leather hobo to the tiny arcs at the bottom of his models' manicures. And sometimes, when a trend is so pronounced and obvious, the best thing that you can do is buck it.
Lim's bags were interesting beyond just his color choices, though. This collection marks a maturation in the brand as a source of stylish accessories, and the handbags (or what we can see of them) look as though they'll be pretty covetable come fall. Particularly the black leather north-south tote; the grained leather makes it look slouchier than the smooth leather versions currently available at retail.
Photos via Vogue.com.