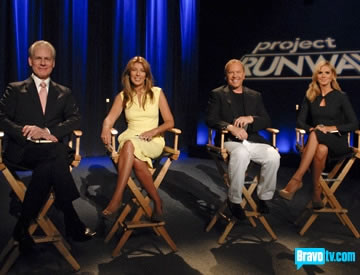 So this is it, folks! The season (series?) finale of Project Runway! Like last week, I continue to feel kind of…meh. But at the same time, I'm kinda sad that this big fabulous experiment of a show might be coming to an end (the Weinstein Brothers, who produce the show, seem to be bent on ruining it). Consider this show compared to its reality brethren – "Shot at Love with Tila Tequila," "Flavor of Love," "American Idol." All of those shows, and pretty much every other reality show on TV, are bastions of crassness, mediocrity, and manufactured intrigue.
Proj Run, at its best, celebrates creativity, talent, inventiveness, and diversity in its contestants, models, and ideas. It certainly has its not-as-awesome moments, but what other show would deal with a contestant's increasing insubordination with something as subtle as an eye-roll by someone as subtle as Tim Gunn? None of them, but that's exactly how he does it at the beginning of tonight's finale. If this were Tila Tequila's show, someone would have cracked her over the head with a half-empty Jack Daniel's bottle by now. Hmm, maybe I DO wish Project Runway was a little less intelligent….eh, anyway,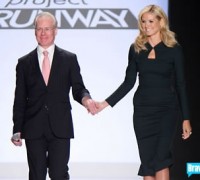 Newsflash, folks: Kenley finally follows some of Tim Gunn's advice. He tells her to not dress her main model in the wedding gown because, despite it's utter gorgeousness, it's a total McQueen knockoff and she doesn't want the judges to be reminded of that when they decide her fate. She hems and haws and acts self-righteous and insulted about it, but then deigns to follow his advice (which was excellent, btdubs).
And then the world almost fell off its axis, because Kenley criticized a fellow designer and I agreed with it: she said Leanne can't work with color, and she's right. She can't. I've hated almost every color choice that she's made this season, even when I've absolutely adored her clothes. I'm glad that it's the last episode of the season for the very reason that I'm agreeing with Kenley now. Seriously, enough is enough.
Leanne's colors are still blah and everything looks likes waves in a way that is possibly a little too literal, but in a nice turn of events, Korto actually listened and made two new looks to replace her bridesmaid dress and wedding gown. What? There are people still humble enough to listen and take advice when given?
So we've heard plenty about how things looked in the workroom – how did they look on the runway?
Well, actually, wait a minute. We need to address the judges first. J.Lo was supposed to guest judge but she pulled out (officially over a "foot injury," allegedly because she got beat out for a role in a Weinstein movie before the show filmed), and I'm glad she did. I don't like J.Lo, and I don't know a single fashion-watcher that think much of her personal style.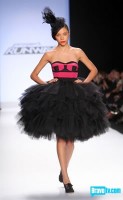 Kenley was first up and, surprisingly and disappointingly, I didn't hate hers as much as I wanted to. At times it was a little too Betsey-Johnson-meets-50s-costume, but I sorta dug the vibrant colors and honestly, I love vintage shapes. Harumph. That's all I'm saying about it. I'm protesting my own affection for her clothes. I refuse to be on Team Kenley tonight. I don't reward bad behavior.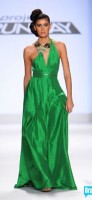 Then came Korto – the thing that stood out to me the most was that her materials appeared to be a little more…earthy…than you normally see on a runway. Lots of what looked like raw silk and treated linen, and I didn't know if I was going to love it, but I did. The clothes were chic, beautiful, and not over-designed. They appeared to fit beautifully and it made me want a piece of emerald green clothing. My favorite look of the entire night was the floor-length gown of green raw silk that Korto's normal model wore – the necklace being part of the asymmetrical strap? Genius, I tell you.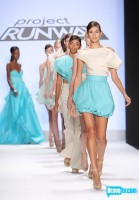 Leanne…Leanne is where I'm sort of torn. The skill it takes to make a collection like the one she made is enormous. Incredible. That's tailoring that few people her age are capable of, so I give her enormous credit for that. It seemed over-thought and overly literal, though, especially coming after the incredibly chic simplicity of Korto's collection. If she could have reigned in the resemblance to waves just a BIT (or used less structured fabric to make them), then I very well could have been on Team Leanne tonight. I also didn't care for her palette – almost everyone looks terrible in those colors.
As such, tonight, I'm on Team Korto. Nina Garcia did well to point out that a lot of people can wear Korto's clothes. Korto could dress her models and she could dress me. And I'd feel fabulous and lucky to be wearing her clothes, and I'd be immediately drawn to them in a store because I would recognize them as things that would flatter me and make me comfortable. Her simplicity is deceptive and her clothes are for all different kinds of women. That's something I can get behind in a fashion world obsessed with only one body type.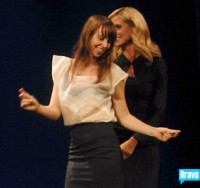 But they pick Leanne because they never agree with me so, you know, whatevs. Someone out there needs to offer Korto a fabulous job in the industry because she deserves it. I want more Korto!
But hey, there's a real victory here – Kenley didn't win ANYTHING!
P.S. Please consider supporting our small, bag-loving team by clicking our links before shopping or checking out at your favorite online retailers like Amazon, Neiman Marcus, Nordstrom, or any of the listed partners on our shop page. We truly appreciate your support!