I DIE! Bananas! Shutting it down! It is not that the design is new to us, as we have looked at the Proenza Schouler PS1 many times before. It is this version, with the most luscious, vivacious deep purple python skin, that is killer.
I want to scream out all sorts of Rachel Zoe-isms at this stunning handbag.
This is my favorite of all Proenza Schouler Bags, mixing downtown edgy with uptown sophistication. I would love to see the Proenza Schouler Purple Python PS1 in person.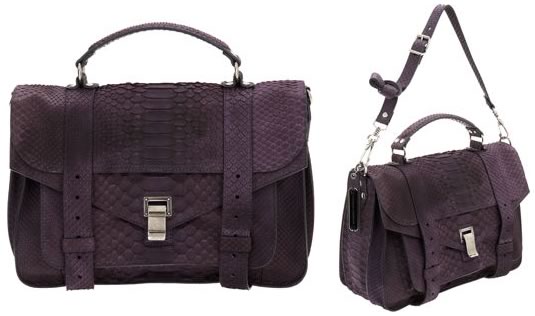 The python skin looks to have a matte finish, which is my favorite way to see python on a handbag. The color is soaked up by the skin and looks deep and sultry. Purple is such a versatile color, able to be worn with most outfit options. The best part is, the color will pop depending on what you wear with it.
The PS1 is known for its front flap with a foldover closure and double straps. The top handle brings in the downtown/briefcase vibe, though most use the removable/adjustable shoulder strap. This is the ultimate PS1. If Rachel Zoe was looking at this bag now we know she would be going BANANAS. Buy through Barneys for $3,645.