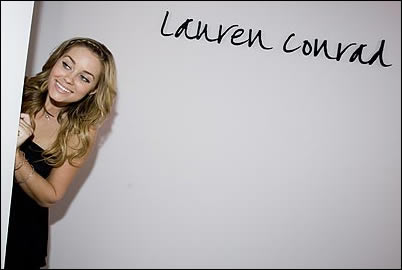 Lauren Conrad at her Runway Debut
Recently an exorbitant amount of 'celebrities' have turned into designers. First we had Lauren Condrad for Linea Pelle Handbags, and then we have Lauren Conrad's debut line, followed by Heidi Montag's Heidiwood, now we hear of Whitney Port (another girl from The Hills) designing, along with Rachel Bilson and Lindsay Lohan.
While Lindsay Lohan will be sticking to what she knows, leggings, Rachel Bilson will be designing with DKNY jeans. Whitney and Heidi will be debuting small lines of clothing. But what gives? The gals from The Hills are merely 'reality' tv stars. Sure Whitney and Lauren interned at Teen Vogue, but would that be enough background to teach them the skills needed to be designers. And Heidi? The blond who is enamored with her boyfriend and seems to have no background in design is debuting a line called 'Heidiwood'? Have we turned into a society so obsessed with stars that we now allow anyone to design our clothing?
Let's have a Tuesday debate: Will you look into the lines from these gals, would you ever buy, and what do you think?