We keep talking about spring trends in handbags, clearly there are many. We have brought you stories on denim and perforated leather, and today I will tell you about another trend; floral patterns. Typically we would cover this Coach bag on PurseBlog Savvy, but I actually wanted to feature this on PurseBlog.
Coach bags receive quite a bit of flack from many handbag enthusiasts. And while this may be the case, Coach continues to be the brand that starts many people's handbag obsession on their way into other brands while remaining the go-to brand for many as well. In fact, my first bag was a Coach bag.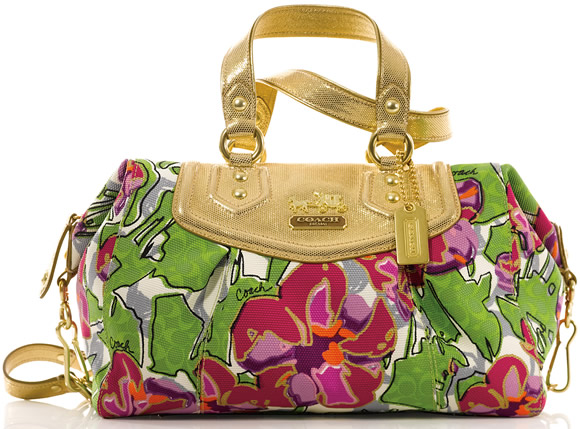 In the past few years I have loved the direction Coach has taken. The collection is so diverse, it is easy to find a bag that suits different tastes and wants. Here we are with the Coach Madison Floral Audrey and I am in love. I am not typically drawn to floral print bags, but with spring around the corner as I see more floral prints I also realize how much I would love one.
The combination is romantic, with the feminine colorful floral printed canvas being accented with gold metallic leather trim. I just bought a new floral printed pillow cover for our couch from Williams Sonoma that reminds me of this bag. I keep staring at the pillow and realizing that I can no longer fight my old aversion to floral prints, I now embrace it.
Another reason I love the idea of this bag is because it is a trendier style that you may not wear year round, so it is perfect not to spend thousands on a trend. Dimensions are 11.5 L x 8.25 H x 6.5 W. Also, there is both top handles and a detachable shoulder strap. Buy through Coach for $358 (they have the purple version).
Will you or won't you sport a floral printed bag?