While many of us buy brand new bags to experience the entire element of unboxing a fresh bag, the market for second hand bags is not only large but also growing. This week we look into the shopping habits of a 32-year-old who loves to purchase pre-owned because she likes rare and vintage pieces. Her most expensive bag is an Hermès Birkin that she got for a great deal and right now is waiting to figure out the best illustration to have painted on her Chanel bag.
The Basics
Age: 32
Gender Identity: Female
Location: Orange County, CA
Occupation: Genetic Scientist
Industry: Healthcare
Salary: $72,000
The Bags
Are you a PurseForum member? Yes
How many bags do you own? 14. I was only planning on buying one, but you all know how the story goes…
How much is your collection worth? About $30,000. This is the first time I've calculated the total value of my bags, and I must say, I'm feeling a little faint right now LOL.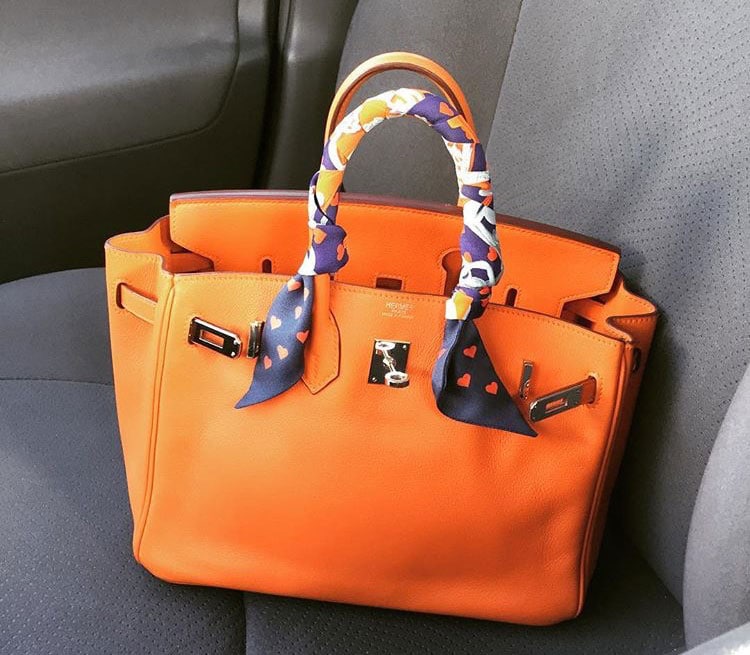 What is your most expensive bag? My Birkin 25 in orange swift leather. I typically gravitate towards smaller bags, so I actually didn't want a Birkin until I found out the 25 size existed. It is absolutely adorable and is the perfect size for me! I love adorning it with my blue Brides de Gala twilly. It was pre-owned, and even though it's the most expensive bag in my collection, I got it at a "too good to be true" price. But it was definitely authenticated by a very reputable authenticator. I also had it cleaned by Leather Surgeons, and they don't work on fakes, so I know for sure that it's real.
I almost didn't buy my Birkin due to the 2016 US elections. I saw it on sale two weeks after the election and thought to myself "The world seems so scary and uncertain right now. Is it really a good time to make such a huge purchase?" Then I realized that I would never get such a good deal on a Birkin again, so I went ahead and pulled the trigger. My hands were trembling as I clicked the "Place Order" button! Since it was such a big purchase, my credit card company initially declined it, so I had to call them and get things straightened out; that prolonged the anxiety.
What are the most important brands or pieces in your collection? They're all important to me; but if I had to choose, it would be my Birkin, my black box calf Kelly 28, and my very first high-end designer bag, a Prada. Hermes' quality just can't be beat; my Kelly is from 1995, but it looks brand new!
What age did you get your first designer bag, and what was it? Not sure if Coach counts, but I purchased one during my senior year of college. I had been wanting one since high school; there were two girls in HS who had the small Coach signature hobo, and they were pretty much the envy of all the other schoolgirls.
My first high-end designer purchase was the Prada Mini Saffiano Lux tote in the Cerise color. I was 28 years old, and I bought it from Saks after I received a major promotion. Since it was my first high-end designer purchase, I was extremely impressed by the bag and the packaging that it came in! The leather smelled so wonderful and the box that it came in was so sturdy. I know Prada doesn't get a lot of love around here, but I absolutely love mine. It holds a ton of sentimental value for me!
Any particular bag that holds a special sentimental value? The aforementioned Prada for sure. Other than that bag, I haven't purchased any bags for a milestone, nor have I received any bags as a gift, so most of my bags don't hold sentimental value.
Do you feel like your bags change people's perceptions of you or how you're treated? I don't step into designer boutiques often, but when I do, I notice I get better treatment than I did years ago. I'm sure my bags help, but it's also probably because I look more confident and knowledgeable about designer goods; the SAs can always tell when you're a newb who has no idea how expensive designer goods can get. I also obviously look more mature than I did years ago, so I guess the SAs look at me and think I have money to spend; thus I get treated better.
[sc_ic_ad1]
The Shopping
How often do you buy new bags? About 1 or 2 a year. I actually don't plan on purchasing any more handbags (or at lease nothing more than $1K). Hermes Kelly and Birkin were my holy grails, and now that I have obtained them, I think to myself "What is there left to buy?" I used to browse pre-owned websites religiously, but I've grown disinterested.
I don't plan on purchasing any bags, but I am interested in getting my hot pink Chanel lambskin medium flap painted. I just have to settle on a design. I'm thinking butterflies!
Which stores do you frequent the most? I rarely purchase brand new bags. I purchase pre-owned because I like rare and vintage pieces. Plus there are so many good deals out there!
Do you ever buy second-hand bags? Where do you buy used? Yes! I've purchased from Yoogi's Closet, Ann's Fabulous Finds, Fashionphile and Rebag.
Do you sell old bags to pay for new purchases? Not to pay for new purchases, no. I will sell a bag if I find I'm not using it as much and if I feel like I can get good money for it.
Do you ever feel societal pressure to purchase more bags? No. Most of the people I know don't purchase designer bags, so it's not as if I feel I have to "keep up" with anyone. A lot of my friends are married and have kids. They have enough money to live comfortably, but not to spend on designer things. Since I don't have kids, I have more time than my friends to plan my outfits. When we get together, my friends will be dressed casually, but I'll be in a cute outfit, makeup and Chanel bag. It makes me feel like the odd one out!
All my purchases are well thought out, so it's not like I'm influenced by what's splashed across social media.
Do you consider your bag purchases investments? That's actually one of the things I look for when I'm buying a bag. I try to buy things that will go up in value, so mostly Chanels and Hermes for me.
My bags are also an investment to me because I wear them all quite often. I rotate them on a weekly basis because I am definitely not one to save things for a "special occasion". I can't imagine spending so much on something just to have it collect dust. I love the idea of wearing the hell out of everything I own. High-end designer bags, especially vintage ones, can handle it.
Who influences your buying decisions? When I first got into bags, I did a lot of research online. I learned about brand hierarchy, resale value, quality, etc. It's fascinating to see business websites discussing the value of Birkin and Chanel bags; I learned a lot from their articles.
Youtube reviews were also helpful because I got to see what a bag looks like on an actual person. TPF pops up a lot at the top of my online searches, so that definitely plays a part in my buying decisions.
Are sales associate relationships instrumental to your shopping? No, they're not instrumental to my shopping, though it is nice when I speak to an SA who is passionate about the company they work for and is knowledgeable about their products. I've heard that retail can be awful, so it's great when you see an SA who actually enjoys their job.
Why do you enjoy shopping, beyond just acquiring something new? When it comes to bags, I enjoy the thrill of the chase: I love finding rare and/or vintage bags at great prices. I like how these bags set me apart from others.
I guess I am pretty girly in the sense that I like getting compliments on what I wear. I bought purple Common Projects sneakers over the summer; the color really gets a lot of attention and compliments, which I kind of like.
No matter how small or large the purchase, for me there's always a high that comes with it. I can get excited from purchasing a Chanel bag and from buying drugstore eyeliner.
Have you ever felt like you received inferior service at a store or boutique due to your appearance, ethnicity or gender? Yes! Shortly after I purchased my first Prada, I wanted a Chanel flap because I read on TPF that they were coveted. So I went to Chanel in Fashion Island and asked for a small black flap. The SA could tell I was young and naïve and she flat out said "no". She was cold and unfriendly, and she told me the price of every bag I looked at even though I didn't ask; it was her way of saying "this store is too expensive for you…get out". I shouldn't have bought anything from that witch, but I ended up buying one of the seasonal bags, which were cheaper than the classic flaps.
The Money
Who pays for your bags? Me! I'm single, and I have no children. My parents aren't rich, but they bought me a used Toyota for college, and they contributed to half the down payment of my house.
Do you set aside a budget for your bag purchases? No, I've been fortunate enough to buy a bag with my credit card and be able to pay off the full balance when it's due. But I am very discerning when it comes to buying bags. There's a lot of things I consider before I pull the trigger: price, quality, resale value, rarity, size, etc. I obviously also have to like the bag's design and color, but if I were to buy every bag that "looked nice", I'd probably have triple the amount of bags I currently have, and I would also probably be broke!
[sc_ic_ad2]
The Taboo Topics
Have you ever purchased a counterfeit because you couldn't afford a designer item? I bought an LV from DTLA when I was in college, but that was over a decade ago.
Even though there are really good superfakes nowadays, I would not buy them. It's unfair to the designers, you don't know what kind of illegal activities your money is funding, and there is always at least one person who will be able to tell that it's fake. If someone were to find out that one of my bags was fake, they would question the authenticity of all my bags. That's not a good look.
Do you ever hide purchases from your significant other? I don't have currently have a significant other, but I imagine that I wouldn't. I'm not ashamed of my spending habits.
What's the craziest thing you've done to afford a bag? Nothing crazy, thank goodness. I work overtime now and then.
Do you think your shopping is ever a problem? Have you ever felt like you were struggling with a shopping addiction? Not really. I give a lot of thought to most things I buy, and only purchase what I think is worth it. I keep my spending in check: if I feel like I've spent too much at any time, I'll cut back for awhile. I've currently decided to give my wallet a rest and wait until next year to make any big purchases; I figure that I can wait the three months.
I pay off the full balance of my credit card every month. I regularly put money into a savings account and a retirement account. I pay a little extra towards my mortgage to pay it off sooner.
I generally enjoy eating at home; it's good for the wallet and good for the waistline. I'm glad I don't like alcohol because drinks are expensive! I am also careful with how much water, electricity and gas I use at home. Gotta save money wherever I can!
I am totally aware that the money that I spend on bags could go toward better things, but everyone has a hobby that they like to spend money on. It's not a problem as long as our financial obligations are taken care of first!
The Rest Of It
Any other expensive hobbies or passions? I'm slowly getting into traveling. My friends have been pestering me to do it for years, but I'm a bit of a nervous flyer. The slightest turbulence will cause my life to flash before my eyes LOL.
I went to Disneyland recently after 16 years, and I fell in love with it all over again, so I'll be shelling out for a Disneyland pass. Expensive but worth it!
Along with buying nice bags, I like buying nice clothes and jewelry. Those can get expensive, but I look for things that are a classic style and are nice quality, something that I can wear for years.
Two years ago, I bought myself a loose padparadscha sapphire, which I planned to set in a ring when I got engaged. Marriage is nowhere in sight for me; but I hate keeping the sapphire stashed away, so I recently had it set in a ring. I wear it on my right hand so it won't confuse people!
Anything else you would like to include? I've been pretty lucky to be able to buy whatever I want over the last few years. Not only was it fun, but it actually helped me get the shopping urge out of my system. I've realized that I have enough nice, beautiful things in my life; if I think about buying something, there is a little voice in my head now that says "Do you really need that?"