Can I start by telling you how much I absolutely positively love Halloween? Actually, it coincides with my love of Autumn. I live for it. One of the many reasons I am beyond thrilled about our move to NYC is because we will get to experience a true fall again. That means leaves turning, temperatures dipping, and winter knocking at the door. I just got so excited thinking about it I squealed, while sitting on a blow up mattress in our living room, because our couches are gone as so are our desks (imagine that!).
When I found the exclusive Chloe Marcie in brick-red leather bag with brown handles and gold hardware, all I could think about is fall. This bag has a quintessential fall appeal.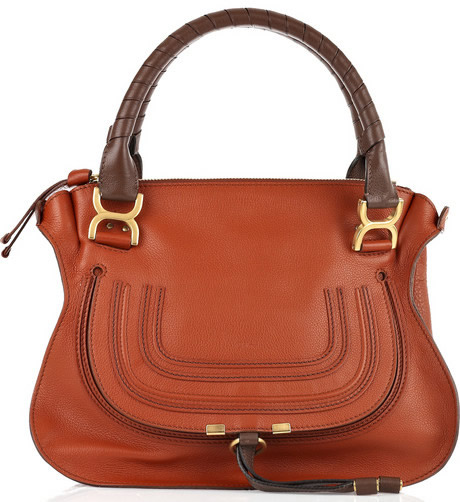 Of all Chloe bags, the Marcie was an instant favorite from day one. In fact the Marcie is a personal favorite of mine. There are many reincarnations with the shape and body of the bag holding true to the initial design.
Back to this version. While it is called brick red leather, it appears orangey-red on my computer screen. I desperately want it to be more orange than red. Then it makes me think of a pumpkin, which brings me back to Halloween, which makes me happy as can be. The coloring is ideal for all autumn hues, as it will match with your browns, creams, and muted palettes while still adding a bit of color to your wardrobe. Buy exclusively via NAP for $1,650.
Also, don't forget that we have teamed up with Net-A-Porter to giveaway FIVE Chloe Marcie bags! Make sure to enter: