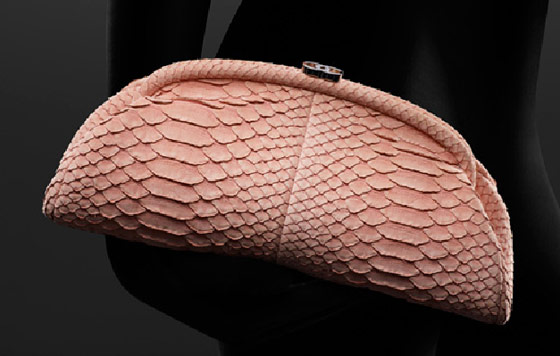 Didn't you hear? A very specific shade of pink called "honeysuckle" is supposed to be the color of 2011, or so say the fine folks at Pantone. Kaiser Karl Lagerfeld can clearly tell the future and saw this coming, because the perfect pink Chanel Python Timeless Clutch that you see above just came out for Cruise 2011.
Lagerfeld and Chanel usually design and sell whatever they please with little acknowledgement of passing trends, so it surprised me to see this clutch surface in this particular shade of pink at exactly the same time as Pantone made its yearly announcement. But even if pink hadn't just been dubbed an "it" color, whatever that means, this clutch would still be more or less perfect. I'm not even a great lover of pink, and I have no problem admitting that.
The Timeless Clutch has always been ideally shaped and sized for toting essentials to almost any evening event, and dressing such a pretty clutch in a candy-colored exotic only makes it more fun and desirable. If you have a spring event on your calendar (perhaps a wedding?), this is the clutch you need to be carrying. The Chanel rep I contacted didn't have a price for this piece yet, although the black python Timeless Clutch retails for $3250. Contact Chanel at 800-550-0005 to inquire.
Photo via Chanel.com.