We didn't officially report the looming price increase that took effect for Chanel bags on October 31st, but there has been a ton of talk about it on our forums and Clarissa shared she won't purchase full price Chanel again. Majority of years, Chanel increases its prices on bags anywhere from a couple percent to nearly ten percent and with every price hike there is increasing clientele frustration.
We all expect prices to rise on majority of items over time, that is the way inflation works. But the rate at which Chanel bags in particular have risen leaves many disgruntled. Consumers complain and proclaim 'I won't shop Chanel anymore', but Chanel lovers' rage seems to be shortlived as they continue to shop the brand and try to time their next purchase before the following, inevitable price hike. Chanel clearly has not been faced with enough backlash to slow the price increases and many feel that with every annual increase their old Chanel bags go up in value as well.
How much are we talking when it comes to the Chanel 2019 price increase?
This was a lesser increase for the US market: the increase rate of 2-4% impacted the Medium and Jumbo Classic bags, 2.55 Flaps, and all sizes of the Chanel Boy Bag. To put the Chanel price increase in perspective, in 2012 when the Boy Bag was introduced, the Medium Boy was $3,200. With this latest increase, the price now lands at $5,000 which represents a 56.25% increase in 7 years. The rate of inflation from 2012 to 2019 is only about 12%.
If you want further sticker shock, consider the price of the Jumbo Caviar Classic. Ten years ago, the price was $2,675. With the recent price increase, the Jumbo Caviar Classic is now $6,400 which represents a 139% increase.
There were increases in Europe, the UK, and Australia, as well as other markets. In fact, in the UK, there were two price increases in the past week and no one can quite understand why that happened (this information is via our forum). In Europe the increase was higher, around 7% on average and the UK was hit with an 8-9% overall increase.
Shoppers may act aghast over the price increases, but it hasn't stopped majority from shopping. There's growing frustration but people continue to purchase Chanel bags. However, majority of handbag lovers, myself included, don't see Chanel bags worthy of Hermès level price points and that means the increases will have to slow drastically to keep Chanel bags on par for what we decide the brand is worthy to ask. I expect a large price tag, but the minute Chanel inches too close to the realm of Hermès pricing, Chanel could face itself with a loss of retail customers, as more people will be looking to shop the resale market. However, you can never put a price tag on desire and Chanel continues to be one of the most desirable and wanted brands in the handbag world.
Classic Bags Prices
| | | | |
| --- | --- | --- | --- |
| Style | Current Price | Old Price | Increase |
| Chanel Classic Maxi Flap Bag | $6,900 | $6,700 | 3% |
| Chanel Classic Jumbo Flap Bag | $6,400 | $6,200 | 3.2% |
| Chanel Classic Medium Flap Bag | $5,800 | $5,600 | 5.1% |
| Chanel Classic Mini Flap Bag | TBD | $3,500 | TBD% |
| Chanel Reissue 227 Bag | $6,900 | $6,700 | 3% |
| Chanel Reissue 226 Bag | $6,400 | $6,200 | 3.2% |
| Chanel Reissue 225 Bag | $5,800 | $5,600 | 3.6% |
Boy Bags Prices
| | | | |
| --- | --- | --- | --- |
| Style | Current Price | Old Price | Increase |
| Chanel Large Boy Bag | $5,800 | $5,700 | 1.8% |
| Chanel New Medium Boy Flap Bag | $5,500 | $5,400 | 1.9% |
| Chanel Old Medium Quilted Boy Flap Bag | $5,000 | $4,900 | 2% |
| Chanel Small Boy Flap Bag | $4,600 | $4,500 | 2.2% |
Classic Flap Prices
| | | | |
| --- | --- | --- | --- |
| Size | Current Price | Old Price | Increase |
| Small Classic Flap | $5,000 | $5,000 | -% |
| Medium Classic Flap | $5,800 | $5,600 | 3.6% |
| Jumbo Classic FLap | $6,400 | $6,200 | 3.2% |
| Maxi Classic Flap | $6,700 | $6,700 | -% |
European Pricing Increases
Classic Chanel Bag Prices
| | | | |
| --- | --- | --- | --- |
| Style | Current Price | Old Price | Increase |
| Chanel Classic Mini Square Flap Bag | €2,680.00 | €2,500.00 | 7.2% |
| Chanel Classic Mini Rectangular Flap Bag | €3,050.00 | €2,850.00 | 7% |
| Chanel Classic Small Flap Bag | €4,550.00 | €4,250.00 | 7% |
| Chanel Classic Medium Flap Bag | €5,150.00 | €4,800.00 | 7.2% |
| Chanel Classic Jumbo Flap Bag | €5,700.00 | €5,350.00 | 6.5% |
| Chanel Classic Maxi Flap Bag | €6,200.00 | €5,800.00 | 6.8% |
| Chanel Reissue 224 Bag | €4,550.00 | €4,250.00 | 7% |
| Chanel Reissue 225 Bag | €5,150.00 | €4,800.00 | 7.2% |
| Chanel Reissue 226 Bag | €5,700.00 | €5,350.00 | 6.5% |
| Chanel Reissue 227 Bag | €6,200.00 | €5,800.00 | 6.8% |
Boy Bags Prices
| | | | |
| --- | --- | --- | --- |
| Style | Current Price | Old Price | Increase |
| Chanel New Medium Boy Flap Bag | €4,980.00 | €4,650.00 | 7.1% |
| Chanel Old Medium Quilted Boy Flap Bag | €4,480.00 | €4,180.00 | 7.1% |
| Chanel Small Boy Flap Bag | €4,120.00 | €3,850.00 | 7% |
WOC Bags Prices
| | | | |
| --- | --- | --- | --- |
| Style | Current Price | Old Price | Increase |
| Chanel Classic Quilted WOC Bag | €2,150.00 | €2,000.00 | 7.5% |
| Chanel Boy WOC Bag | €2,340.00 | €2,180.00 | 7.3% |
UK Price Increases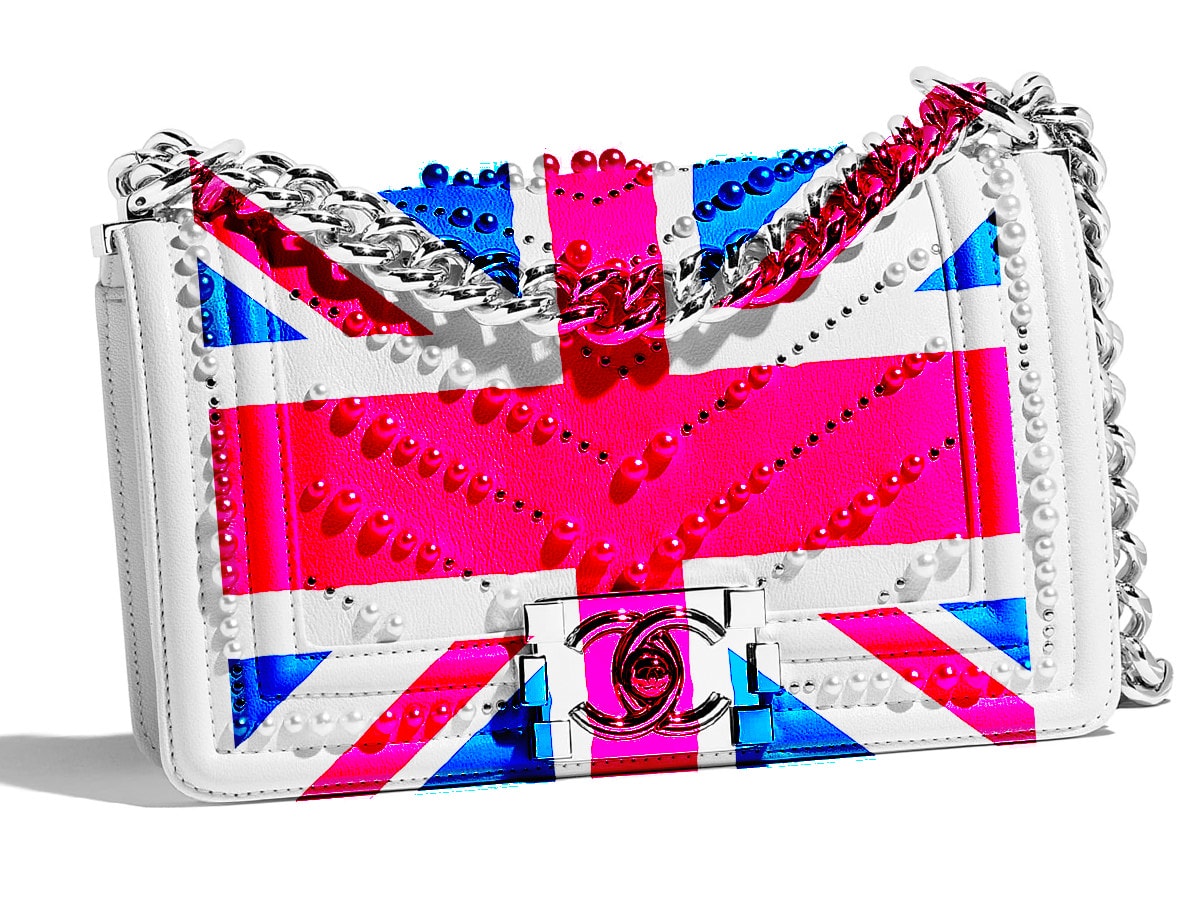 Classic Chanel Bag Prices
| | | | |
| --- | --- | --- | --- |
| Style | Current Price | Old Price | Increase |
| Chanel Classic Mini Square Flap Bag | £2,460.00 | £2,290.00 | 7.4% |
| Chanel Classic Mini Rectangular Flap Bag | £2,790.00 | £2,610.00 | 6.8% |
| Chanel Classic Small Flap Bag | £4,170.00 | £3,810.00 | 9.4% |
| Chanel Classic Medium Flap Bag | £4,720.00 | £4,300.00 | 9.7% |
| Chanel Classic Jumbo Flap Bag | £5,230.00 | £4,800.00 | 8.9% |
| Chanel Classic Maxi Flap Bag | £5,690.00 | £5,200.00 | 9.4% |
| Chanel Reissue 225 Bag | £4,720.00 | £4,300.00 | 9.7% |
| Chanel Reissue 226 Bag | £5,230.00 | £4,800.00 | 8.9% |
| Chanel Reissue 227 Bag | £5,690.00 | £5,200.00 | 9.4% |
Classic Boy Bag Prices
| | | | |
| --- | --- | --- | --- |
| Style | Current Price | Old Price | Increase |
| Chanel New Medium Boy Flap Bag | £4,570.00 | £4,170.00 | 9.5% |
| Chanel Old Medium Quilted Boy Flap Bag | £4,110.00 | £3,750.00 | 9.6% |
| Chanel Small Boy Flap Bag | £3,780.00 | £3,450.00 | 9.5% |