To tell you the truth, I'm not 100% clear on how Alexa Chung became the much-adored It Girl she is today. I guess that's the thing with It Girls, though; they have a special magic to them that renders obsolete the linear, logical paths that most of us take to success. Alexa started out as a model in London, and her charisma quickly propelled her onto television as a presenter and host. From there, the fashion community started to take note of her quirky personal style, which somehow manages to combine sweet femininity with a tomboyish take on menswear.
Alexa's been the industry's hipster darling ever since, and it's even qualified her to have an It Bag named in her honor - the Mulberry Alexa, of course. Even though I don't always understand her outfits (in particular, I find her penchant for denim overalls confounding), on the whole, she's a great source of casual style inspiration and nontraditional night-out looks. Naturally, that qualifies her for one of our patented peeks inside of her accessories closet. To peep Alexa's collection, join us in the slideshow below.
1 / 27
It seems only fitting to start with the bag that put Ms. Chung on the radar of handbag lovers the world over - the Mulberry Alexa Bag. It was the most anticipated release in Mulberry's history, and even years after its debut, the bag sells quite briskly today. Here's Alexa with my favorite animal print version. You can pick up a basic leather Alexa at Net-a-Porter for $1500.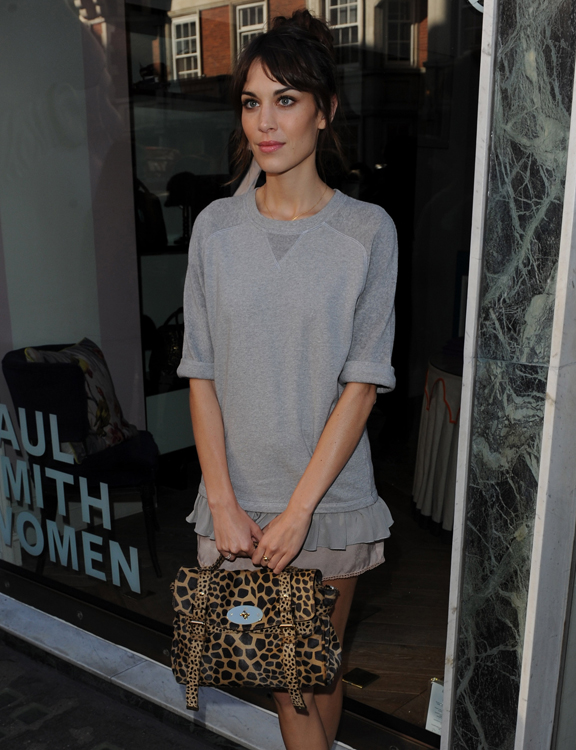 2 / 27
As you can imagine, Alexa has quite a few Alexas. (And some weird overalls, like I mentioned before.) Shop Mulberry via Net-a-Porter.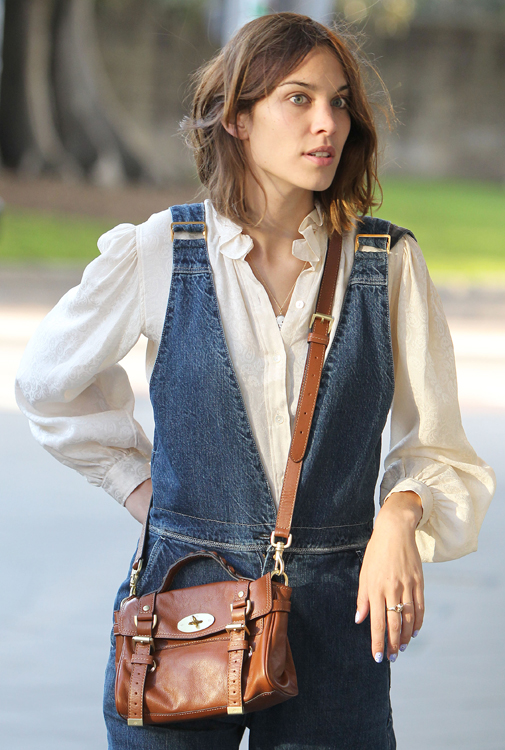 3 / 27
And a tiny animal print Alexa!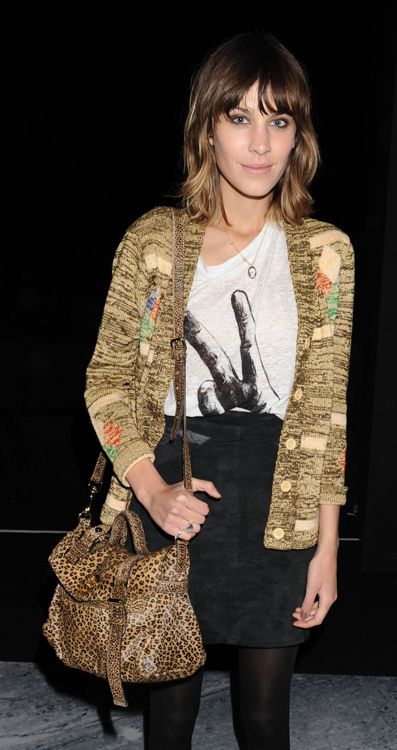 4 / 27
Like most young, female, British celebs, Alexa doesn't limit herself when it comes to mulberry, though. Here she is with the recently released Mulberry Bryn Bag. Pick yours up via SSENSE for $950.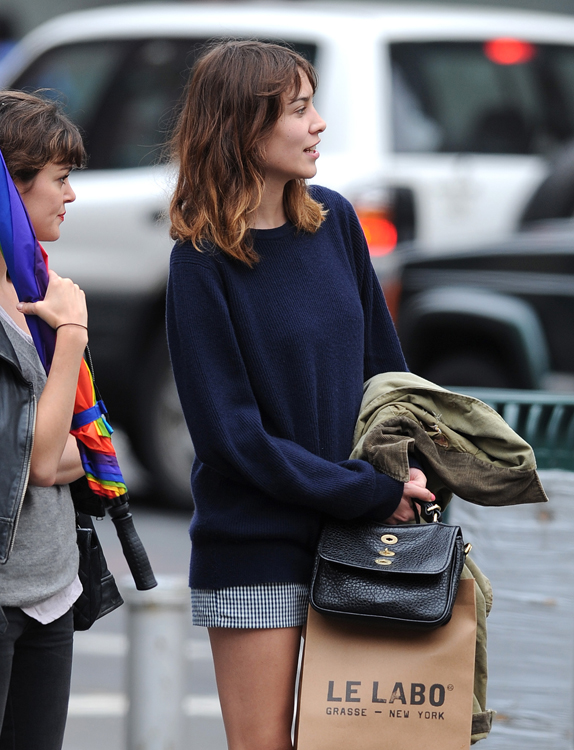 5 / 27
Beyond Mulberry, Alexa seems to have a real love for Chanel (and the love seems to be mutual. Alexa carries countless Chanel purses, from the traditional to the spectacular, and they're often accompanied by appearances at Chanel events. This Chanel Classic Mini Flap Bag is one of her favorites - she dresses it both up and down quite regularly.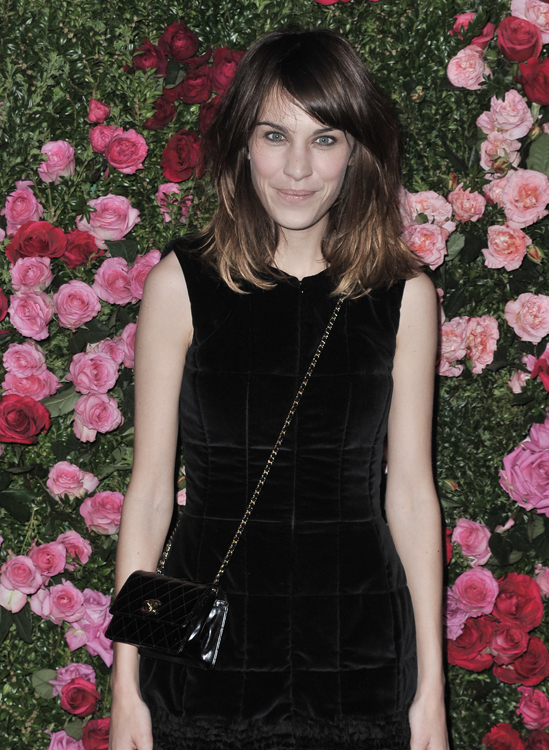 6 / 27
The mini Chanel bag is on of Alexa's event staples. She has several different versions.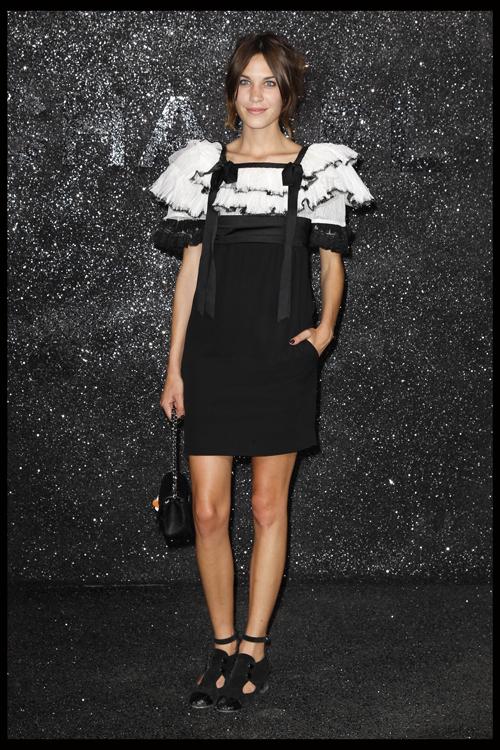 7 / 27
For bigger event needs, Alexa also has a full-size Chanel Classic Flap in her arsenal.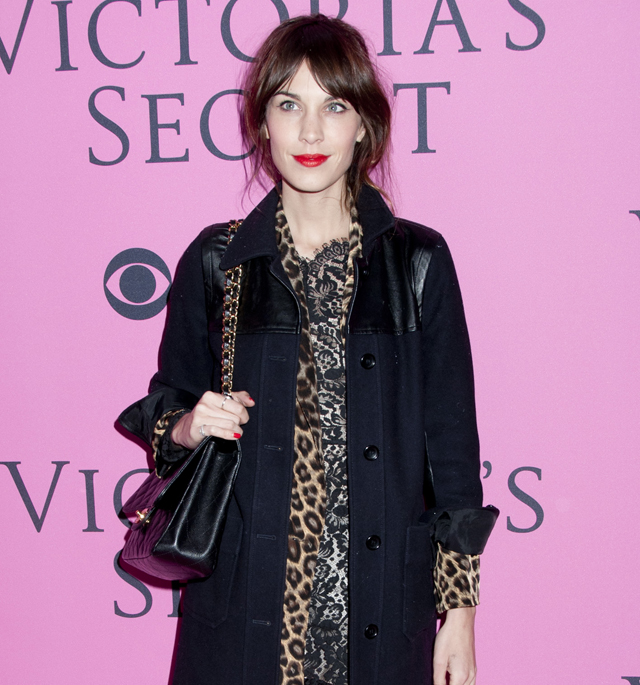 8 / 27
For a special event (like a Chanel runway show), it's best to whip out the special pieces, like this boxy Chanel Boy Chanel Shoulder Bag.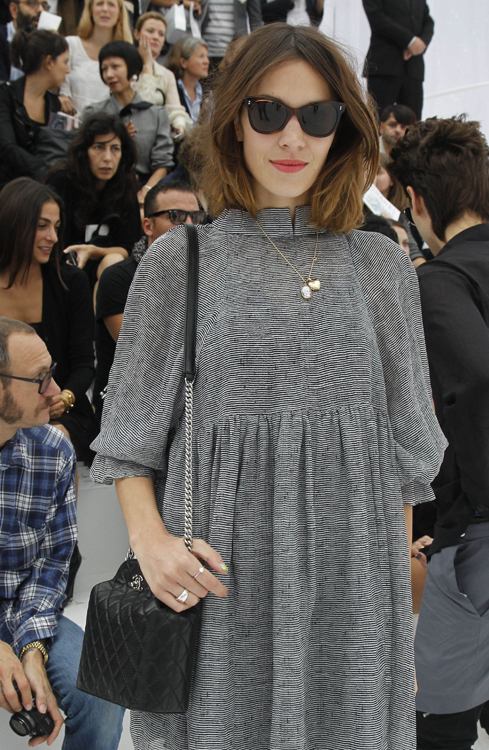 9 / 27
Of all Alexa's Chanel bags (and there are many), my absolute favorite is this uber-special, very rare Chanel Ice Cube Clutch.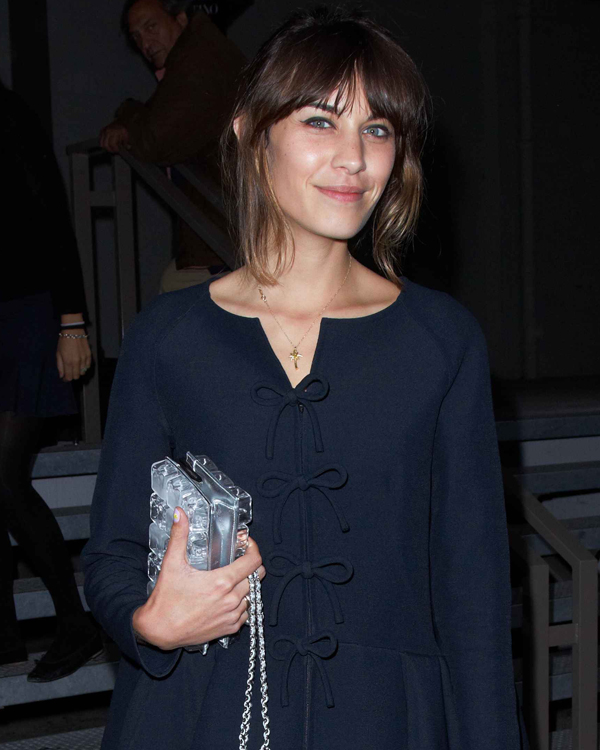 10 / 27
If we're going in order of appearance, we should talk about Louis Vuitton next. Alexa's penchant for Vuitton almost rivals her love for Chanel - almost. Just a couple of days ago, she paired the Louis Vuitton Monogram Pochette Accessoires NM with chic navy outerwear. It can be yours for $440 via Louis Vuitton.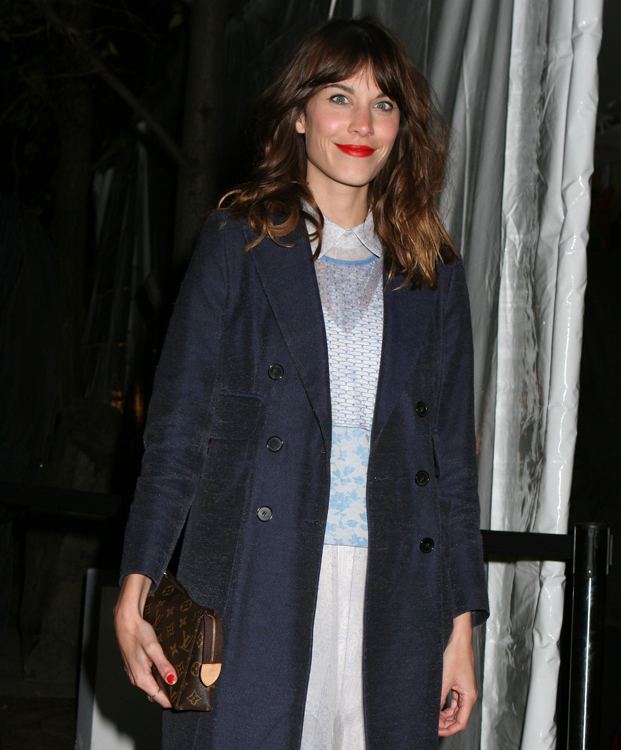 11 / 27
More Louis Vuitton, more navy outerwear - this time, it's the Louis Vuitton Flight Bag Savane.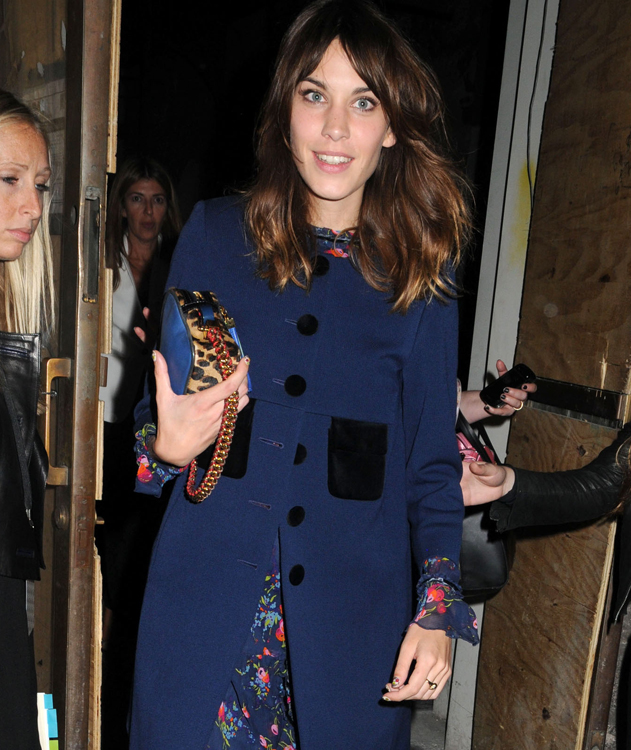 12 / 27
And of course, Alexa has my favorite Louis Vuitton bag of all time - the Louis Vuitton Fall 2010 Leather Runway Speed.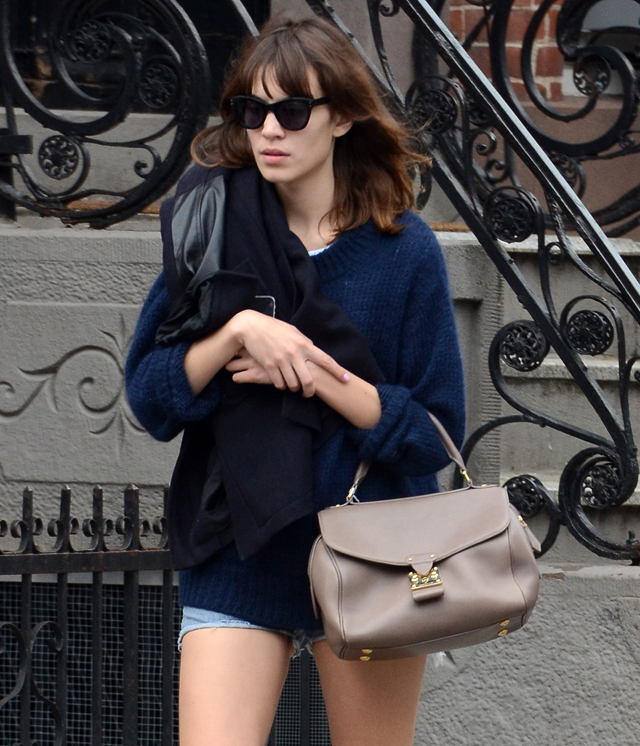 13 / 27
Next stop in Alexa's collection? Valentino. Rockstud bags are a natural fit for Alexa's funky-meets-refined personal style, and this Valentino Rockstud Dome Satchel look great on her. You can have your own in red for $1995 via Neiman Marcus.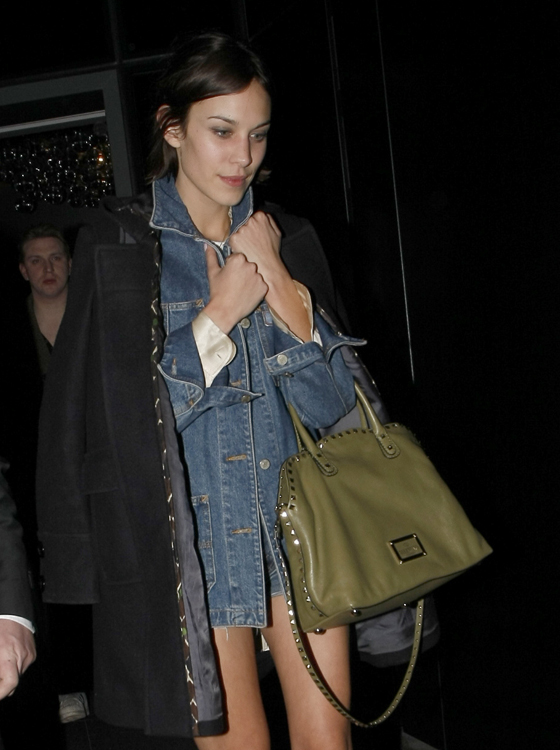 14 / 27
With Alexa's casual style, a mini crossbody just makes sense, like this Valentino Rockstud Mini Crossbody Flap Bag. Shop Valentino via Neiman Marcus.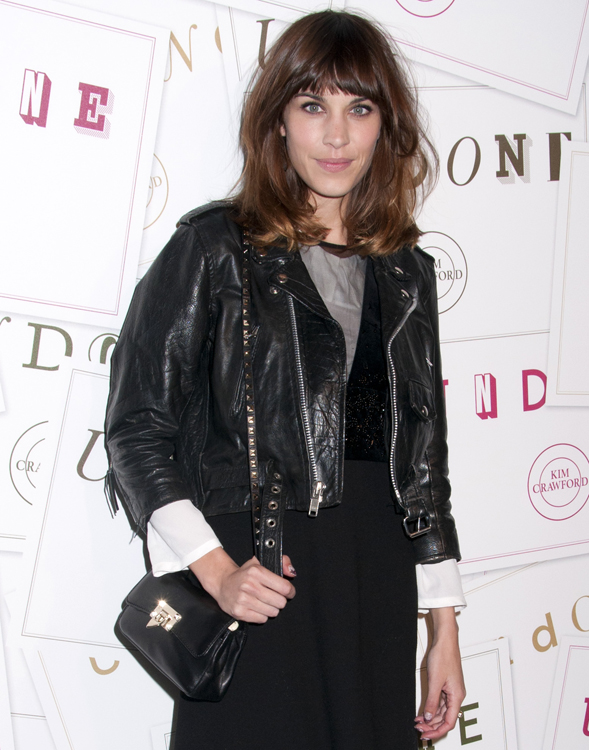 15 / 27
To round out the French brands that Alexa prefers, we have what might be a Celine bag. The only credit I've been able to find indicated that it was, but I'm dubious. Surely, one of you will know. (Also: Overalls. Stella McCartney overalls.)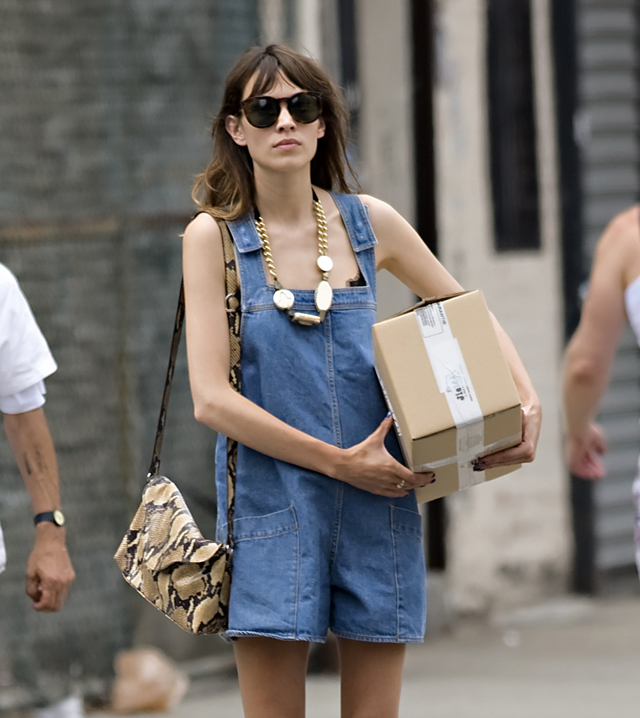 16 / 27
Wait, wait, I forgot. One more French brand. I didn't expect Alexa to show up anywhere with the Chloe Aurore Satchel, a riff on the famous Chloe Paddington, but the heart wants what the heart wants. Also, she was headed into the Chloe runway show, which might explain it. Get an Aurore in black for $1895 via Net-a-Porter.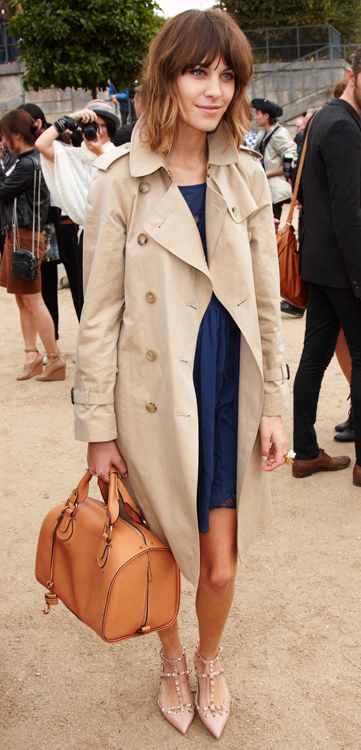 17 / 27
For a British celeb, Alexa doesn't wear or carry all that much Burberry; at times, it seems like the brand has every major British celeb on their payroll. We did catch her in this little Burberry Studded Mini Crossbody Bag, though. Shop Burberry via Net-a-Porter.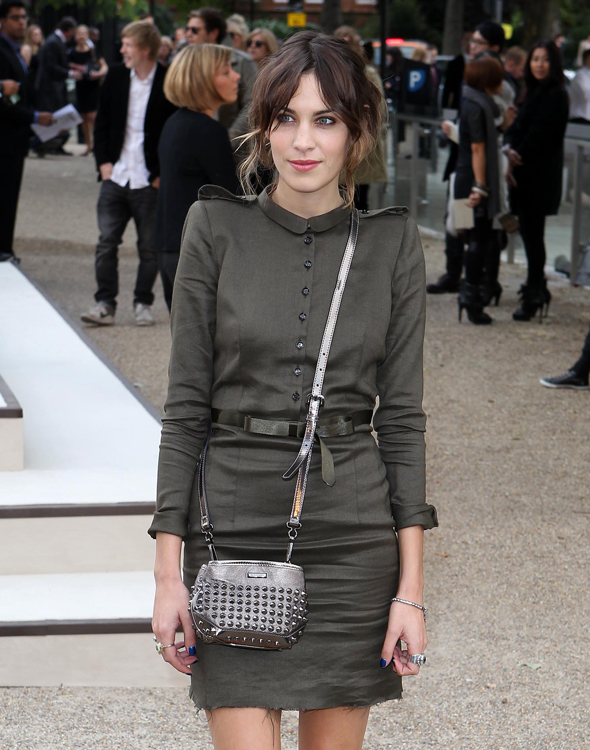 18 / 27
On the other hand, Alexa is a huge supporter and wearer/carrier of fellow Brit Christopher Kane. Check out this Christopher Kane Floral Clutch, for example.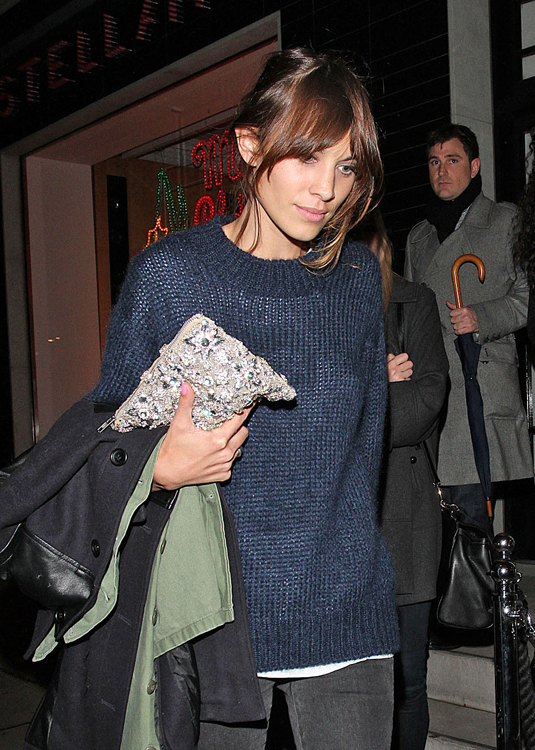 19 / 27
It doesn't surprise me at all to see Alexa carrying the Charlotte Olympia Flamingo Raffia Clutch - after all, both she and Charlotte are former British models turned fashion household names. Shop Charlotte Olympia fun bags via Neiman Marcus.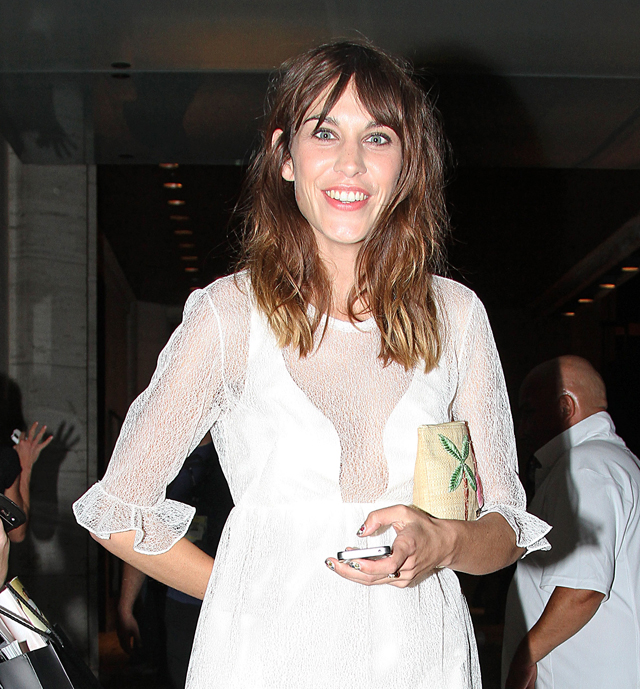 20 / 27
So far it may seem like Alexa only wears and carries things from super high-end designers; that's not the case. She can often be found in pieces from more affordable contemporary or fast fashion labels, like this very British Cambridge Satchel Company Satchel. Pick up your own for $155 via ShopBop.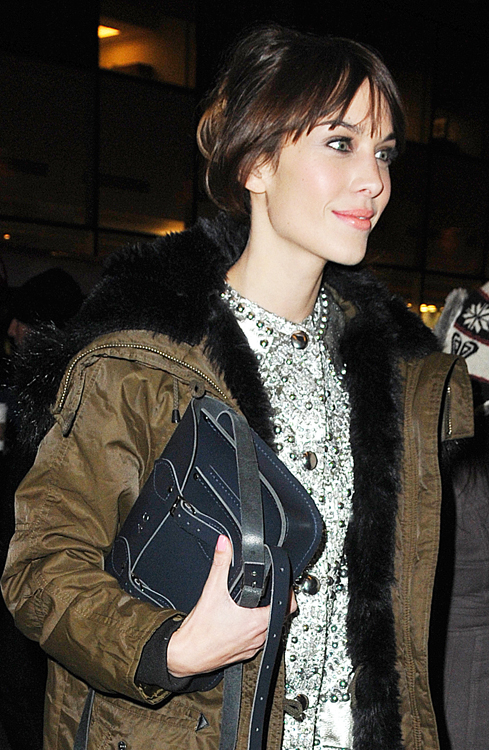 21 / 27
This woven tote that Alexa wore to host a boutique opening? An inexpensive vintage find.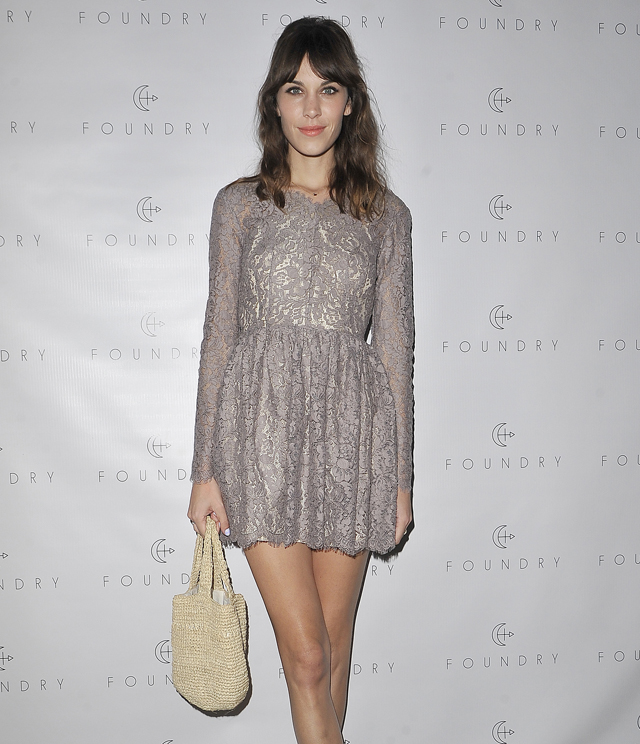 22 / 27
I'm not sure exactly where this little palm tote came from (with Alexa, it could be anywhere), but her awesome bat sweater is J.W. Anderson x TopShop.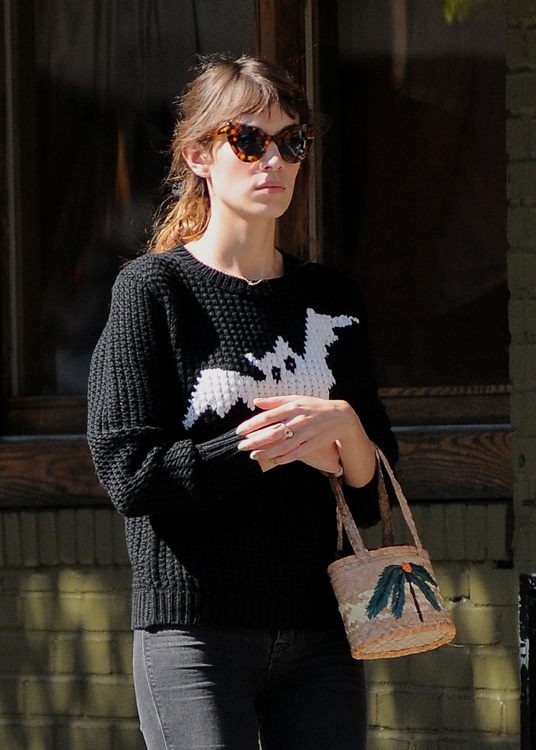 23 / 27
At first I thought this Marni Floral Bag might be another of Alexa's random non-designer finds, but after much searching, its identity became clear. She carries this bag a lot, as odd as that is. Shop Marni bags via Neiman Marcus.
24 / 27
If there's one thing I'm surprised we don't see on Alexa more, it's Prada. She carried this Prada Leather Tote, but I would think that Miuccia's aesthetic would be right up her alley. Shop Prada via Neiman Marcus.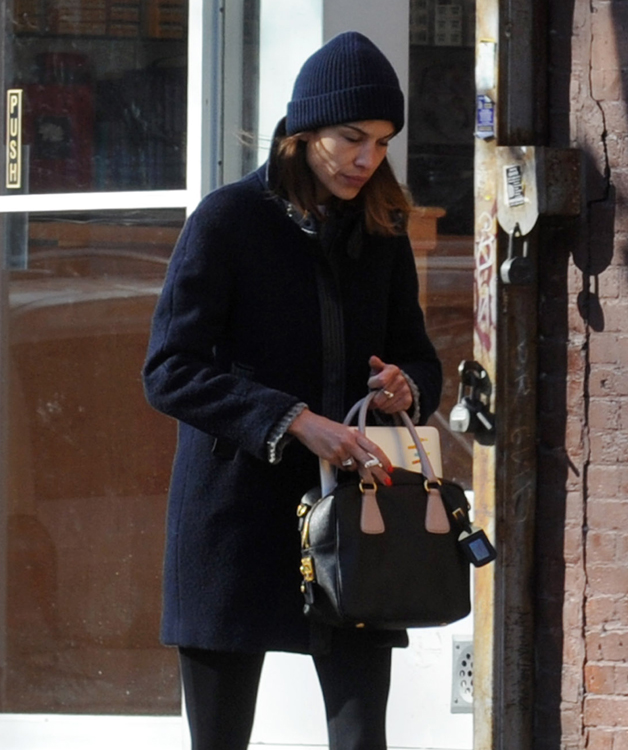 25 / 27
Alexa and Marc Jacobs also seem like a sartorial match made in heaven - here she is with a stark white Marc Jacobs Antonia Satchel. (At the Marc Jacobs show, of course.) The small red version can you yours for $1395 via Neiman Marcus.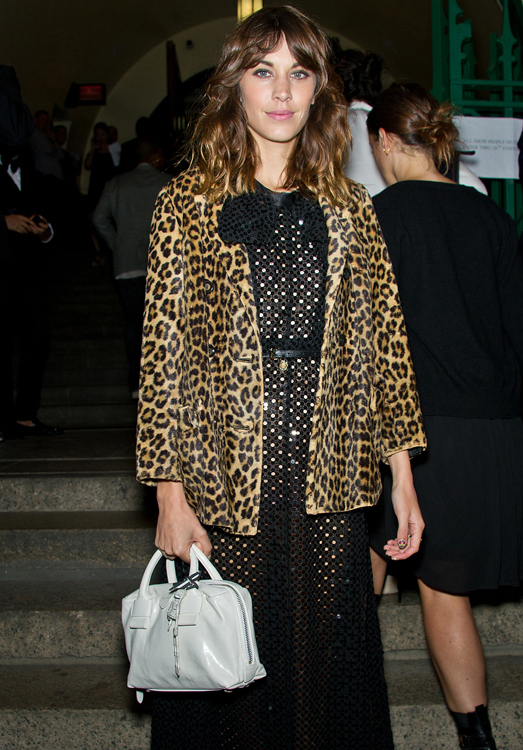 26 / 27
One of my absolute favorite bags in Alexa's collection is this Loewe Belen Bag in bright red. The structure is so fantastic.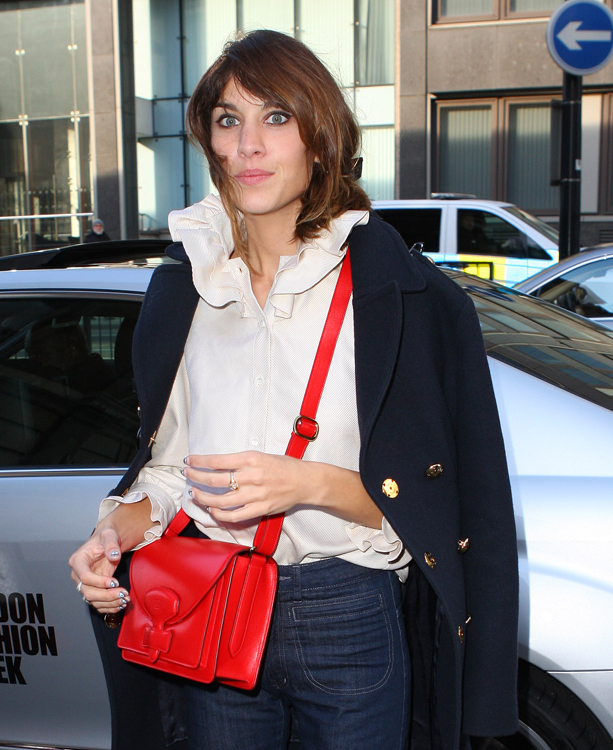 27 / 27
In case you needed a not-so-subtle reminder that Alexa's style is indeed quite quirky, the Mandy Coon Rabbit Bag (in the shape of an actual plush rabbit, except in leather) should remove all doubt.
P.S. Please consider supporting our small, bag-loving team by clicking our links before shopping or checking out at your favorite online retailers like Amazon, Neiman Marcus, Nordstrom, or any of the listed partners on our shop page. We truly appreciate your support!