Last week, one of you asked when we were going to do a "Many Bags" post on Jennifer Garner. Well, ask and ye shall receive! (As long as our photo service yields enough results and I don't already have some sort of grand plan, anyway.) Jennifer Garner's personal style hews closely to what many non-famous moms of three young kids wear on a daily basis, but one thing that's always interesting (and always changing) is her ever-present handbag. Garner uses designer bags the way a lot of regular women do – to add a high-end note to an outfit that she pulled out of her closet to take a couple of rascally little kids to school.
In fact, while digging up pictures of Jennifer's bags, I had one "celebs – they're just like us!" moment after another. She seems to be the rare Hollywood mom who takes on child-rearing like a regular human being, and her kids are present in almost every photo that's snapped of her. She seems to relish the role, because if she didn't, she could certainly hire someone to handle details like dropping them off at school every day. Her coiffure may suffer for it occasionally, but I think most women will see a lot of themselves in these photos. I did, and I don't even have a kid. (We should all be thankful I don't have a kid.)
As you might expect from a wealthy mother of three who likes neutrals and has a fairly conservative sense of style, Jennifer has more than a couple of Bottega Veneta bags. Here she's toting the Bottega Veneta Intreccio Imperatore Tote Bag. It's actually a men's bag, which you can buy through Bottega Veneta for $3,800.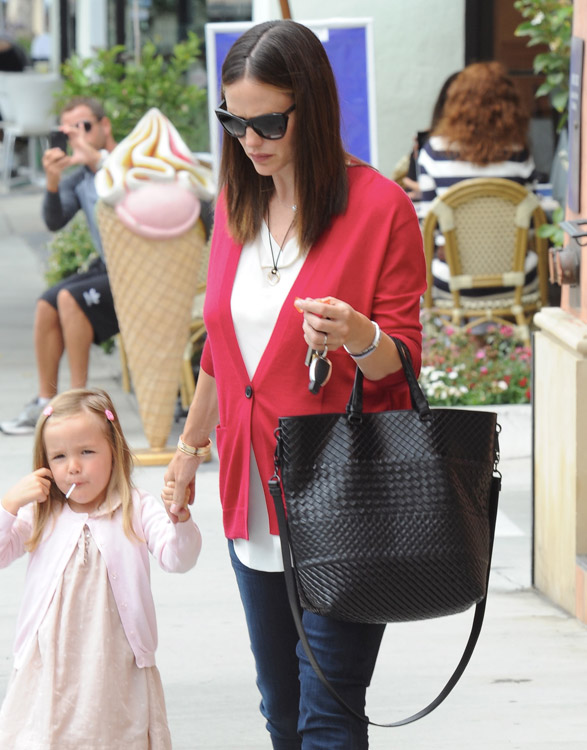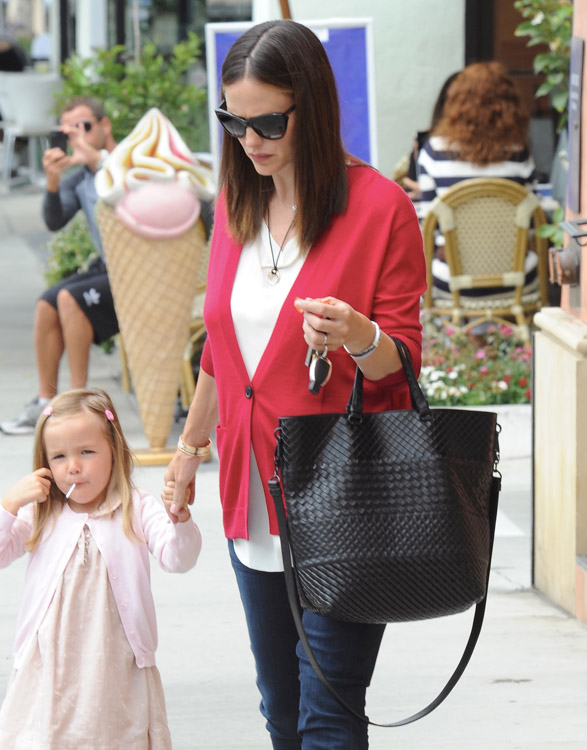 Jennifer's bicolor Bottega Veneta Lino Spalmato Calf Scolpito Tote has been a recent favorite. It's available via Bottega Veneta for a very reasonable (for BV) $600.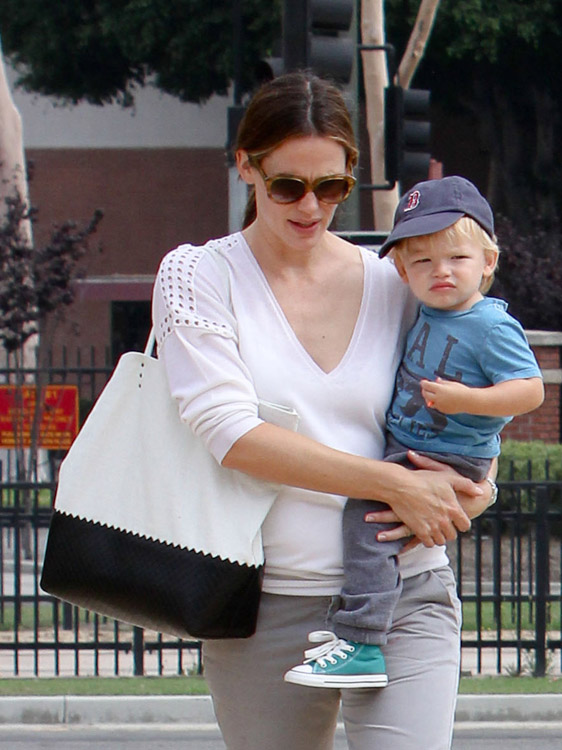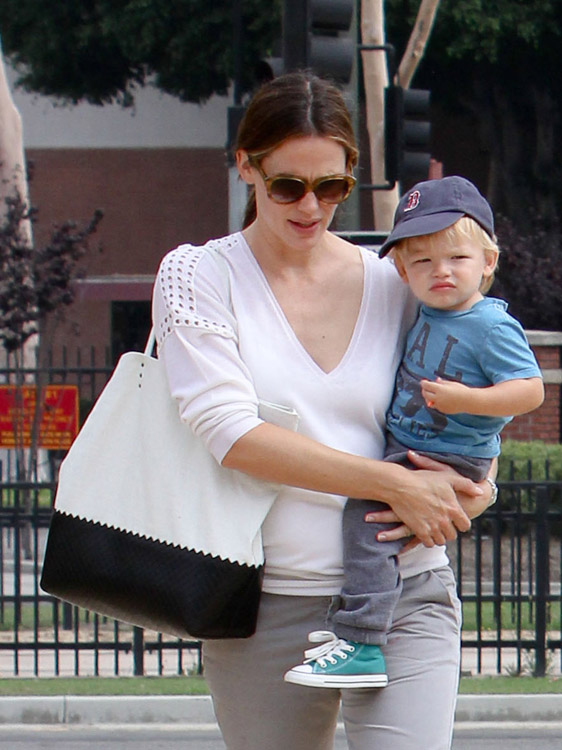 For something a little more petite, we've got the Bottega Veneta Intrecciato Nappa Duo Bag. Buy through Bottega Veneta for $2,520.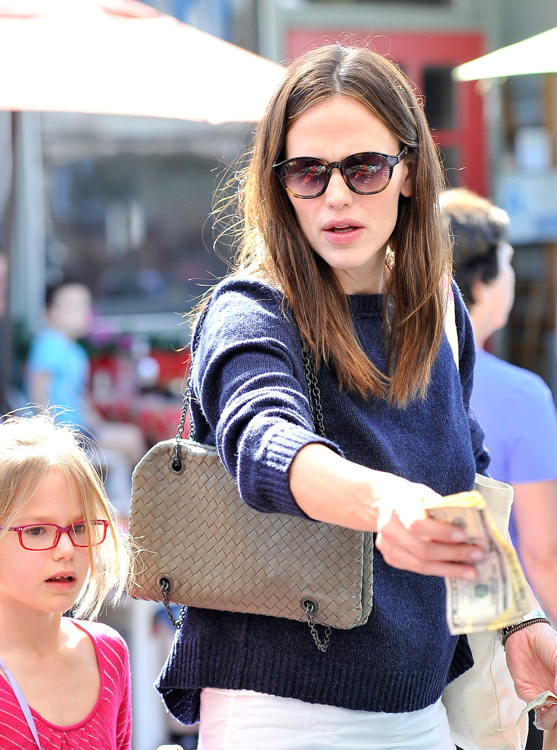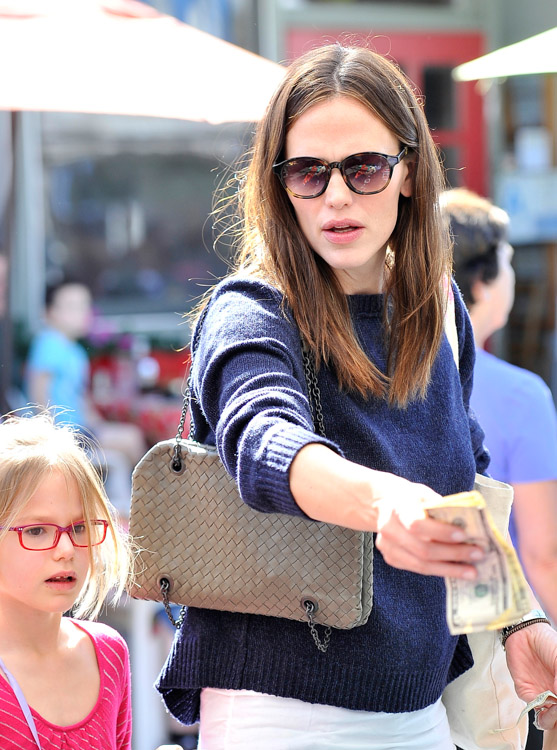 Tod's is another staid, elegant Italian leather brand that Garner appreciates – she's carried this Tod's D-Styling 2 Manici Media Tote quite a few times. Shop Tod's via Saks.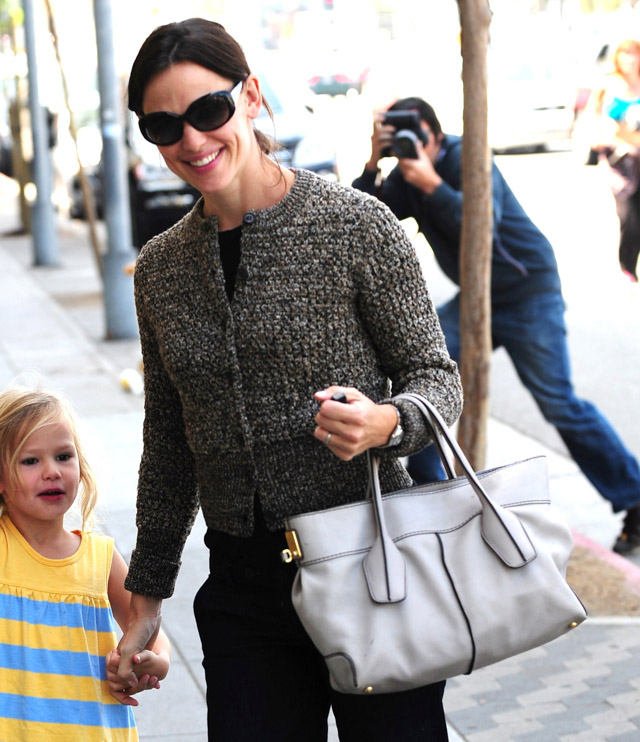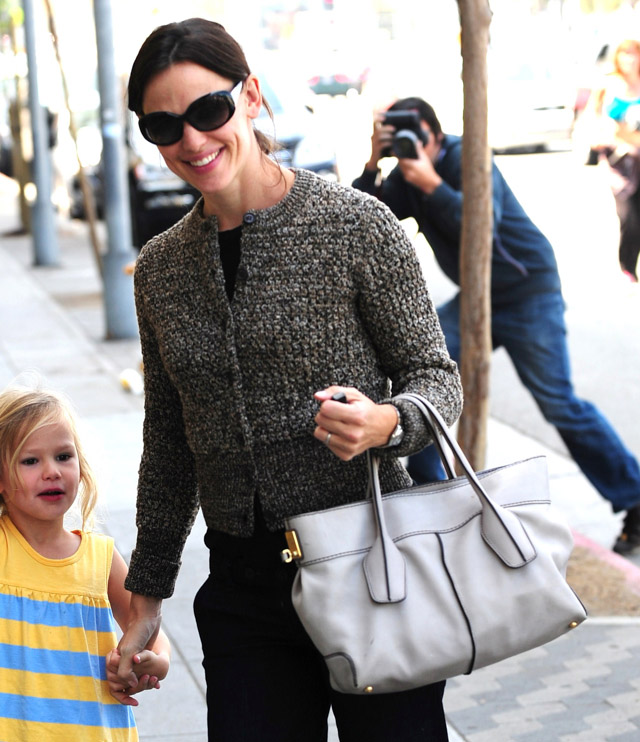 Jennifer also has a larger version of the bag – the Tod's D-Styling Bauletto Zip Bag – in the same color. Shop Tod's via Saks.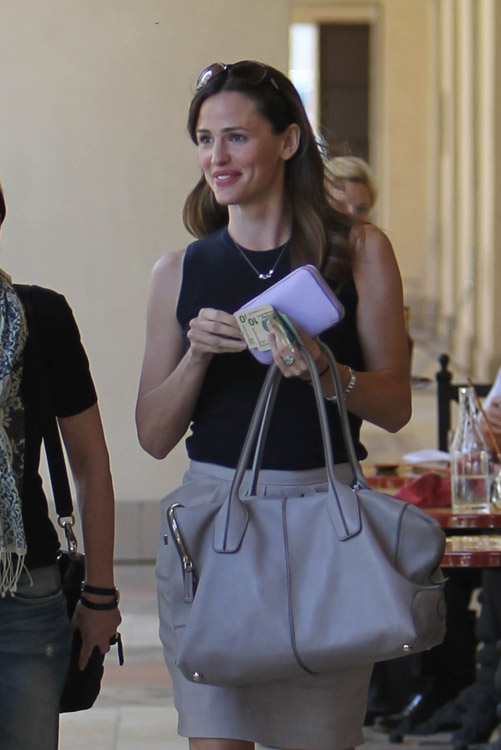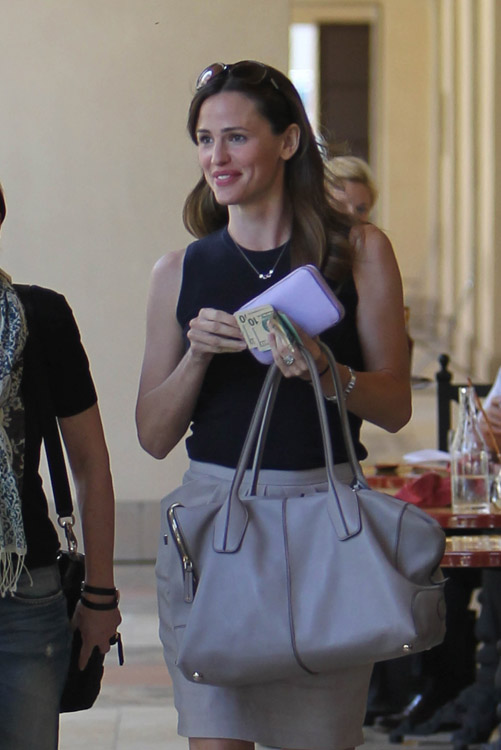 This Tod's Lady D Large Tote is a good way to shield a pregnant belly from the prying eyes of paparazzi. Shop Tod's via Saks.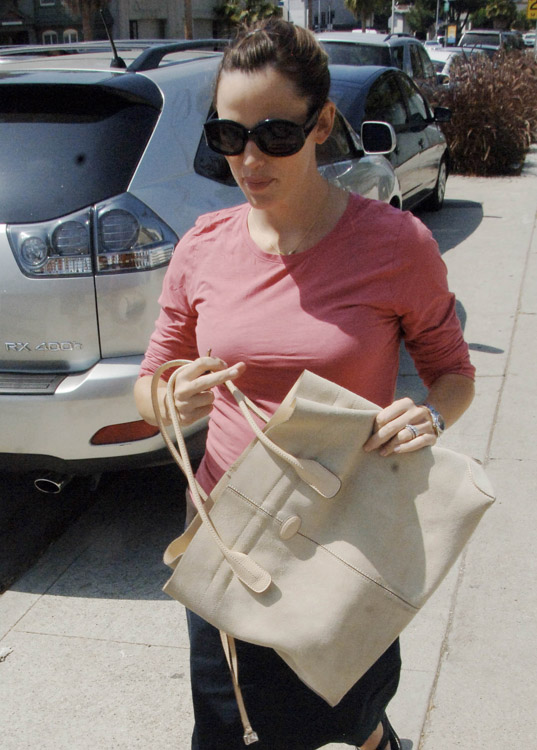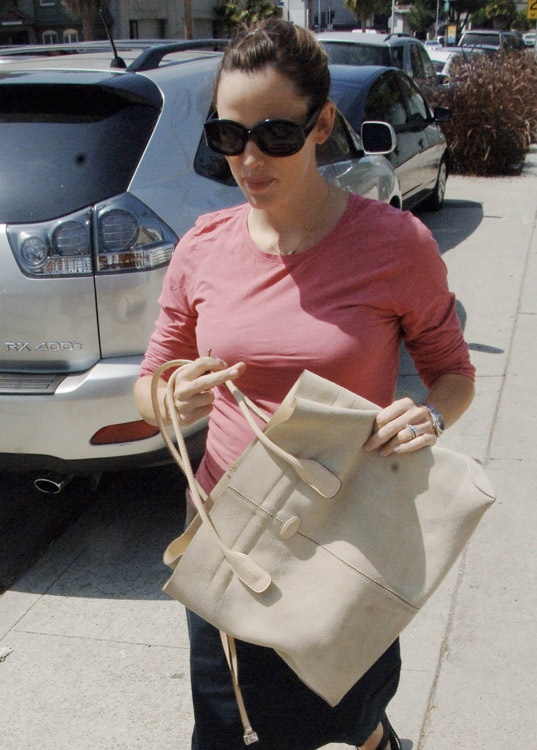 We don't discuss Cartier bags much around here, but Jennifer has carried the two in her wardrobe for years. First, the famous Marcello de Cartier Shopping Bag. $2,170 via Cartier.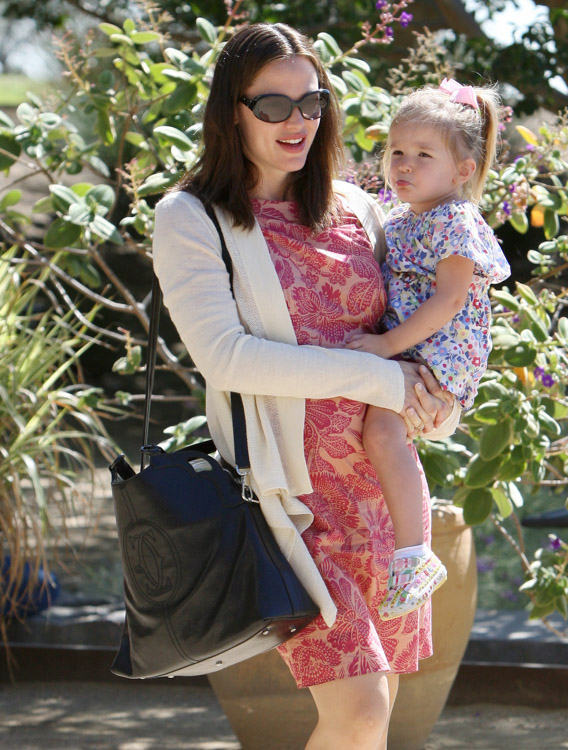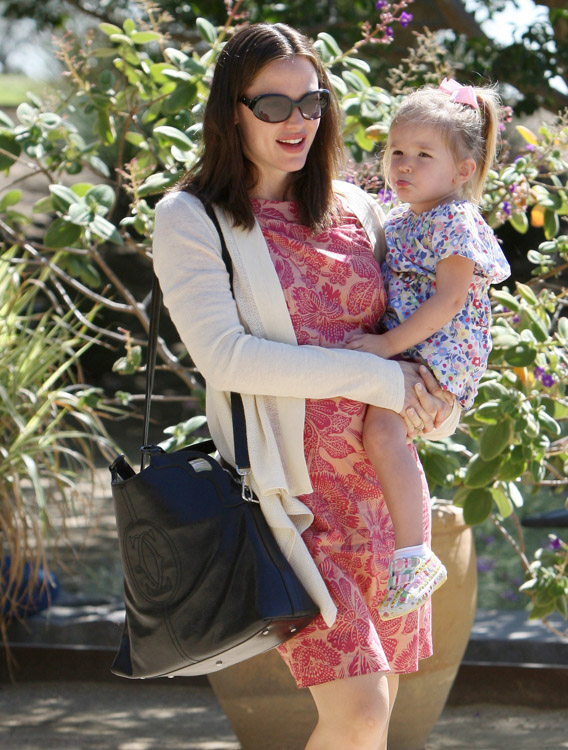 The Marcello De Cartier Saddle Bag has always struck me as a bit casual for a brand as diamond-studded as Cartier, but even ladies who are dripping in jewelry need something to carry around the kids. $1,710 via Cartier.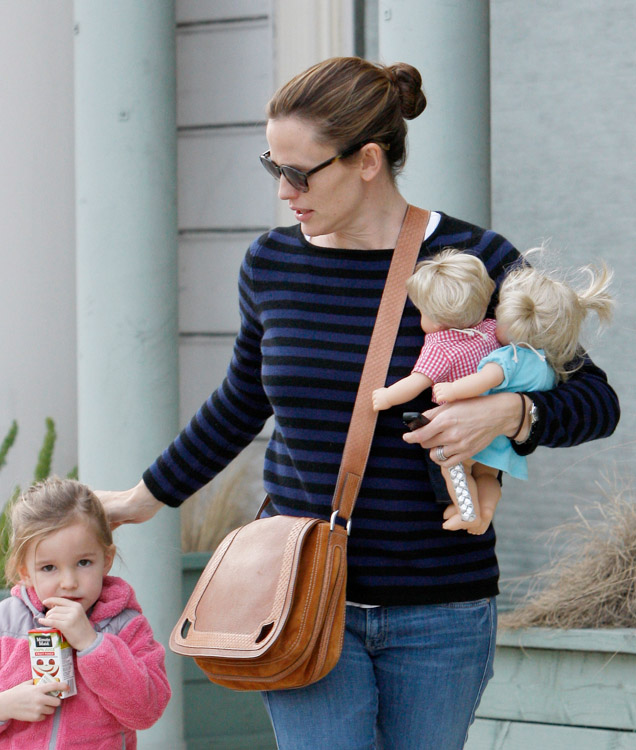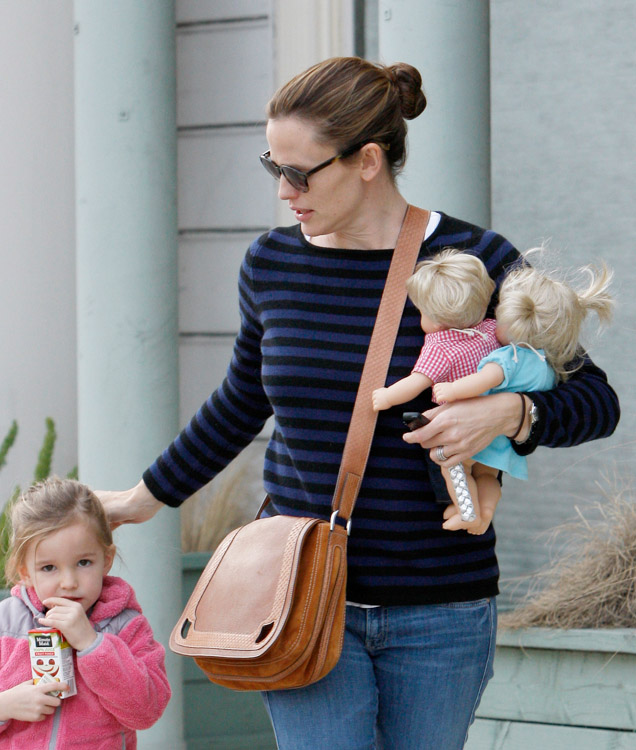 Jennifer might seem like an unlikely Givenchy fan – her personal style certainly doesn't jibe with the goth-meets-hip-hop style that Riccardo Tisci has brought to the brand – but she carries quite a few Givenchy bags. First, her Givenchy Mini Pandora Messenger Bag. Side note: just from pictures, Jennifer's kids seem genuinely funny and good-natured. Buy through Barneys for $1,085.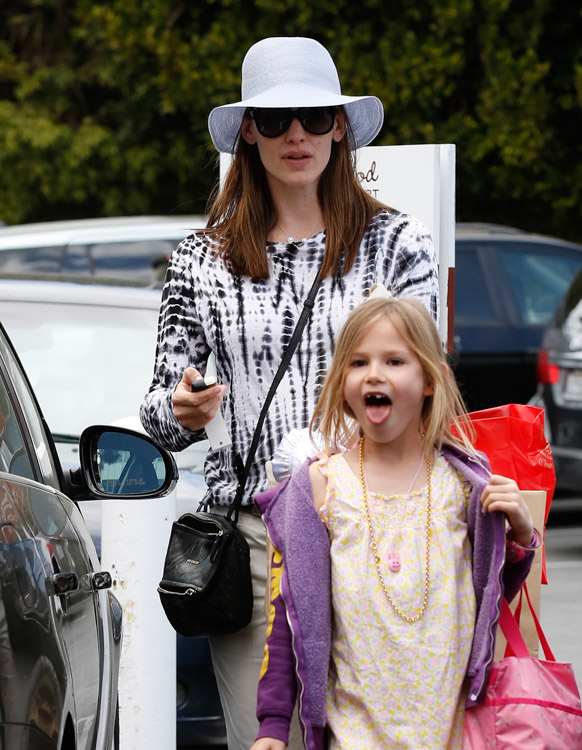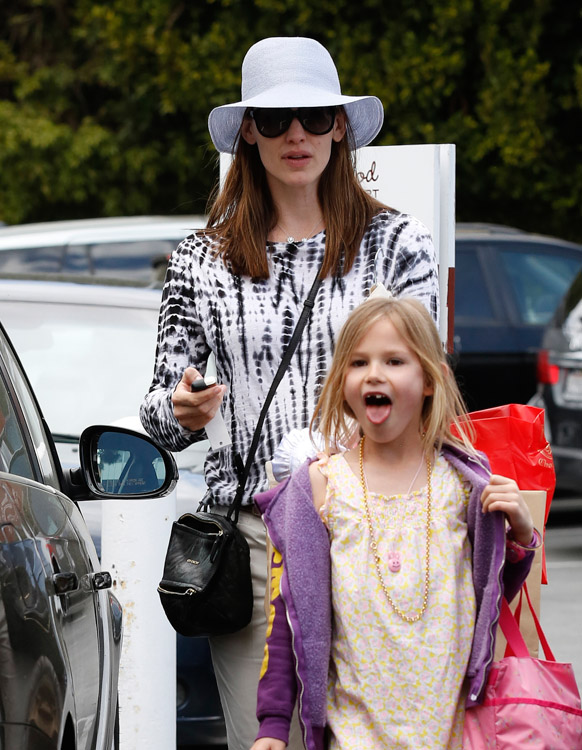 A Givenchy Antigona Bag to tote diapers? Sure, why not. Buy through Bergdorf Goodman for $2,405.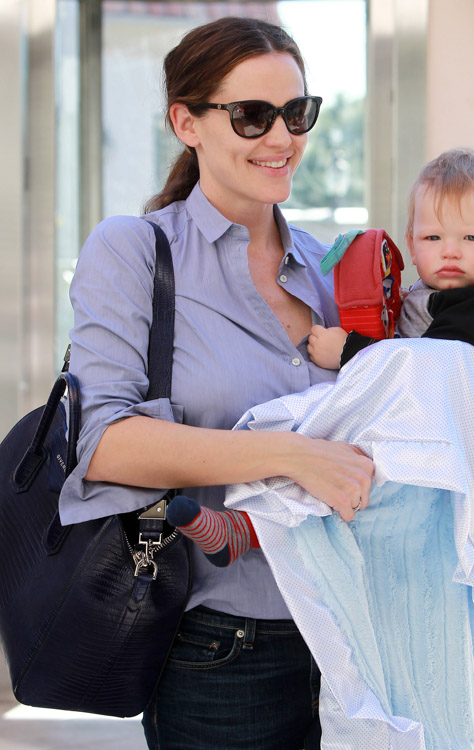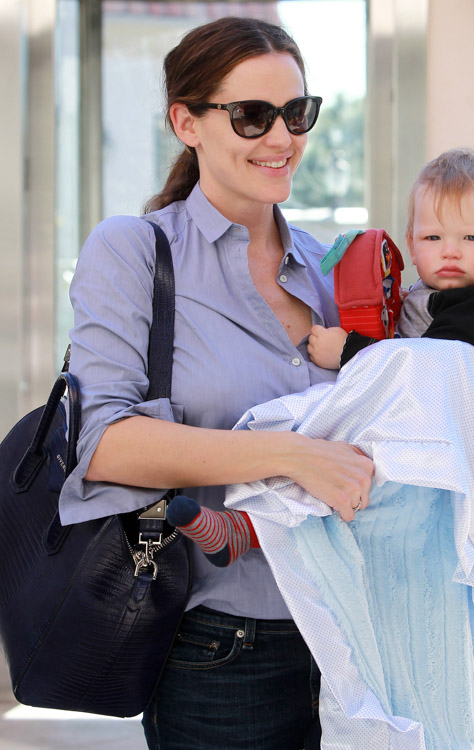 One place where Givenchy's aesthetic and Jennifer's personal style do overlap, though, is with dark, neutral bags, like this Givenchy Nightingale Bag. $1,965 via Barneys.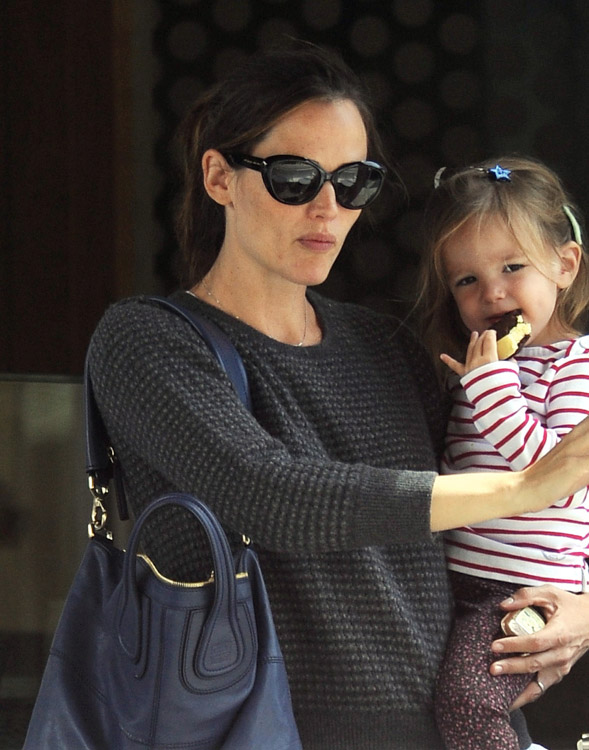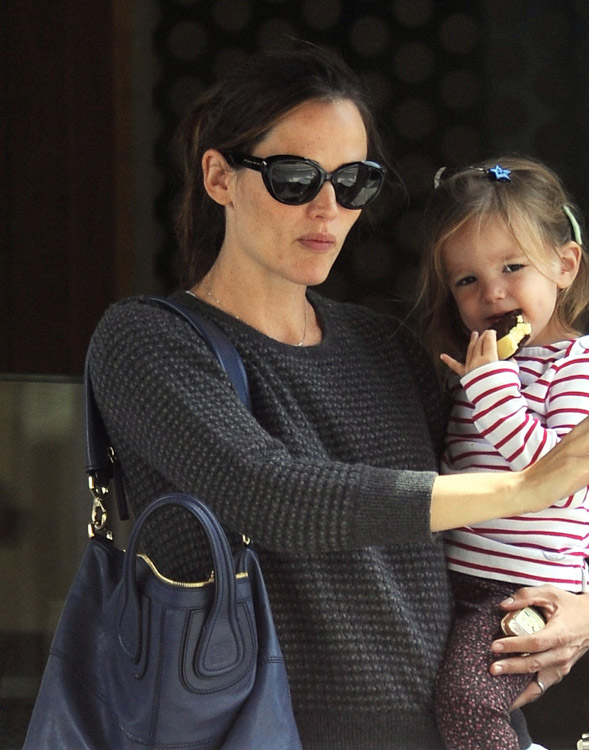 And finally, to round out her collection of Givenchy staples, here we have Jennifer with her beige Givenchy Lucrezia Bag. She has the brand's four marquee styles covered. $2,185 via Barneys.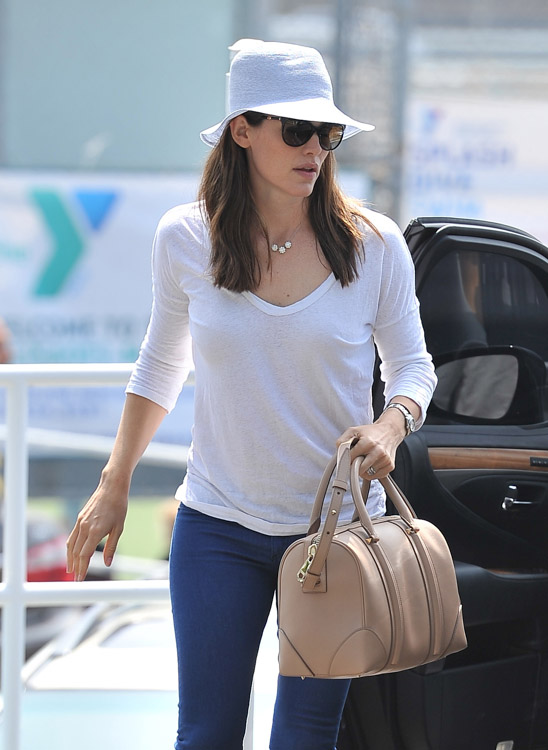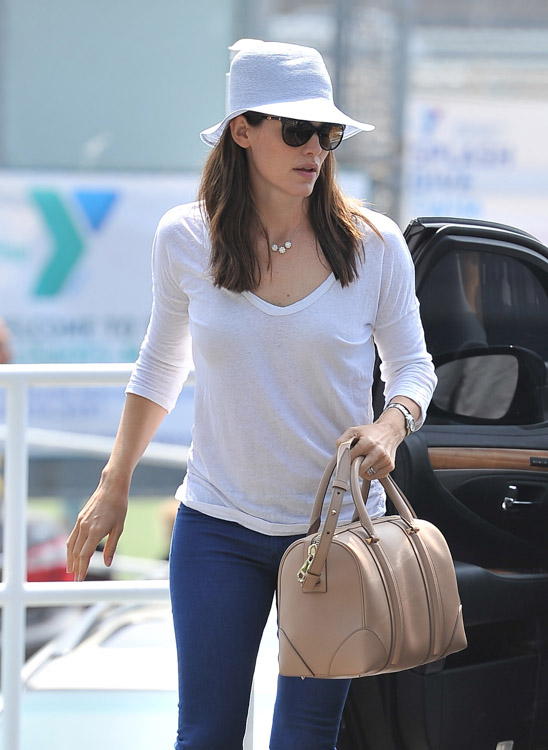 Of all the bags I looked at on Jennifer's arm, this green ostrich travel bag, which she appears to have had for years, is the only one that I couldn't quite put my finger on. Megs was stumped, too. It's a beautiful bag, and one of the most colorful in Garner's collection – can you tell us who made it?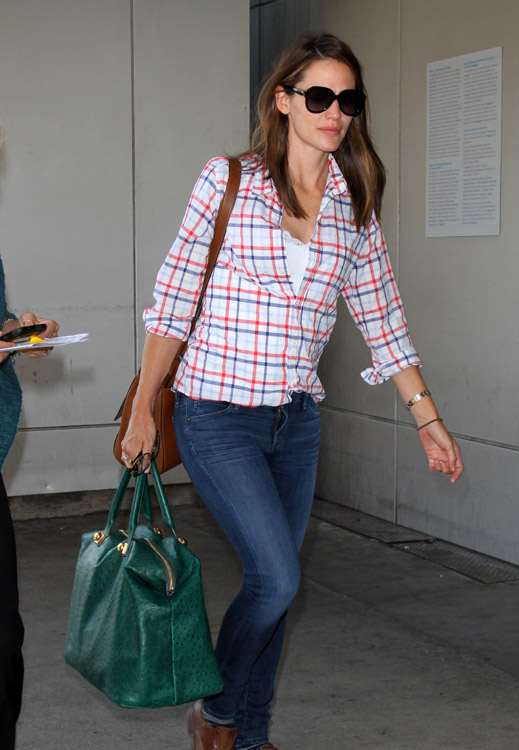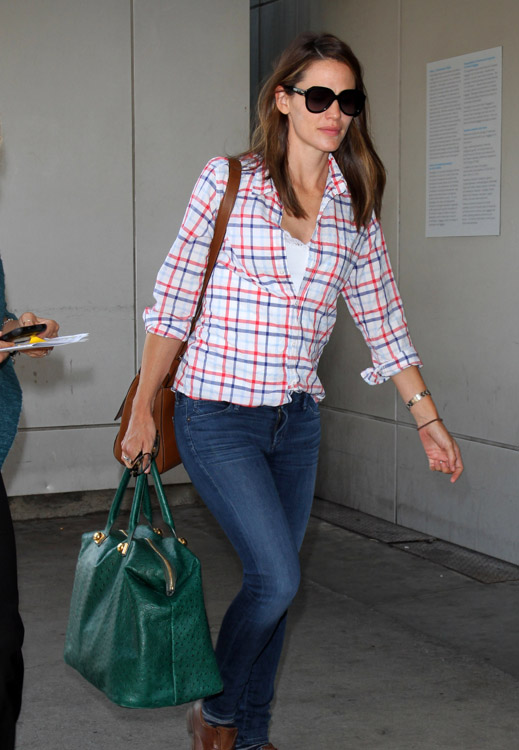 Like any celeb, Jennifer has a little bit of Chanel here and there, like this Chanel Classic Flap Bag.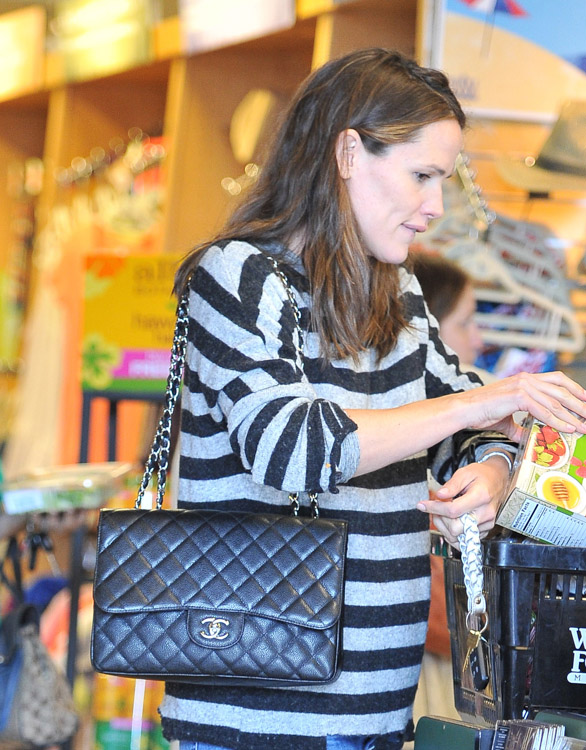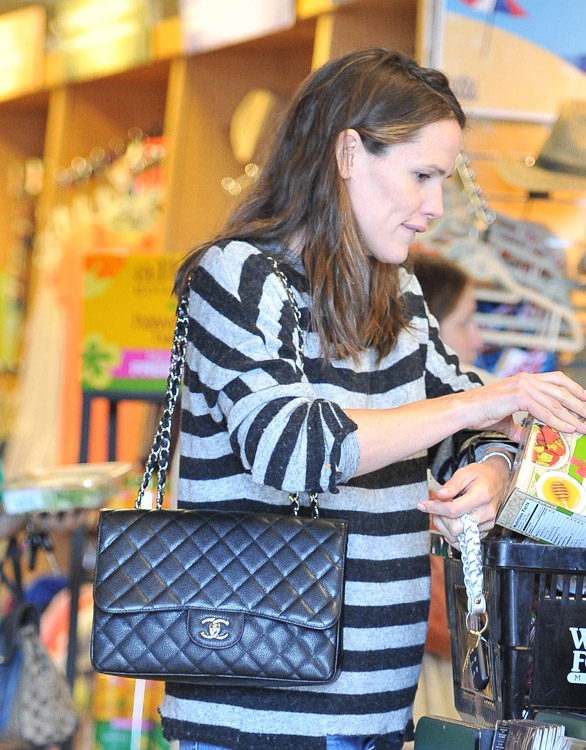 Jennifer also has her Classic Flap's little sister, the Chanel Wallet on a Chain Bag.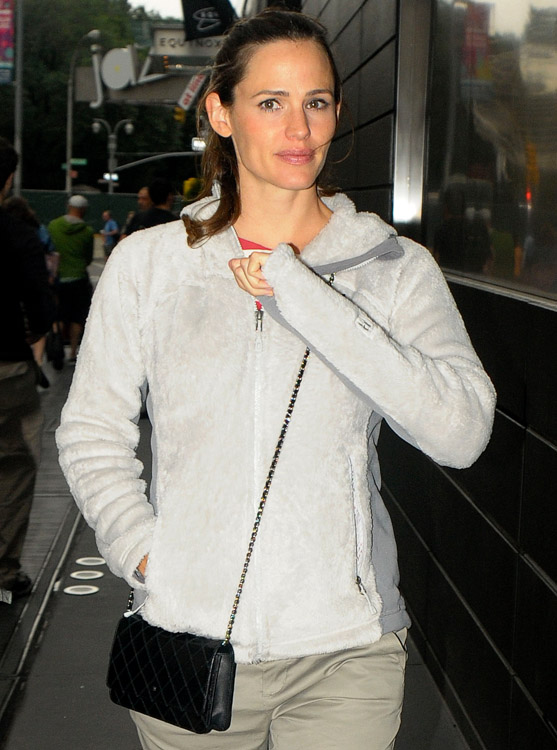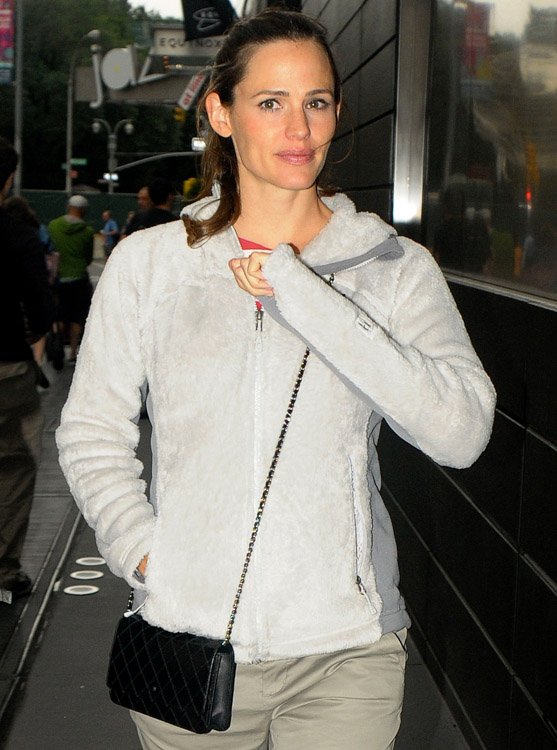 To complete the Chanel triumvirate, here's Jennifer's Chanel Grand Shopping Tote, another classic.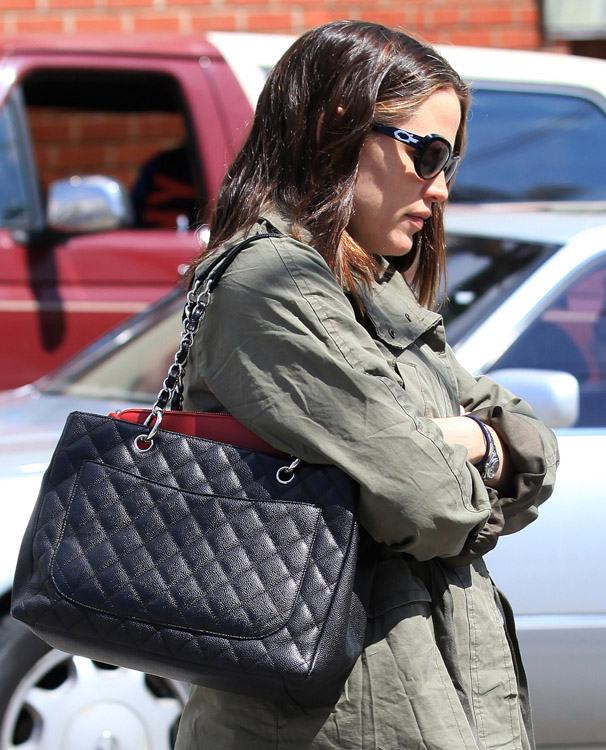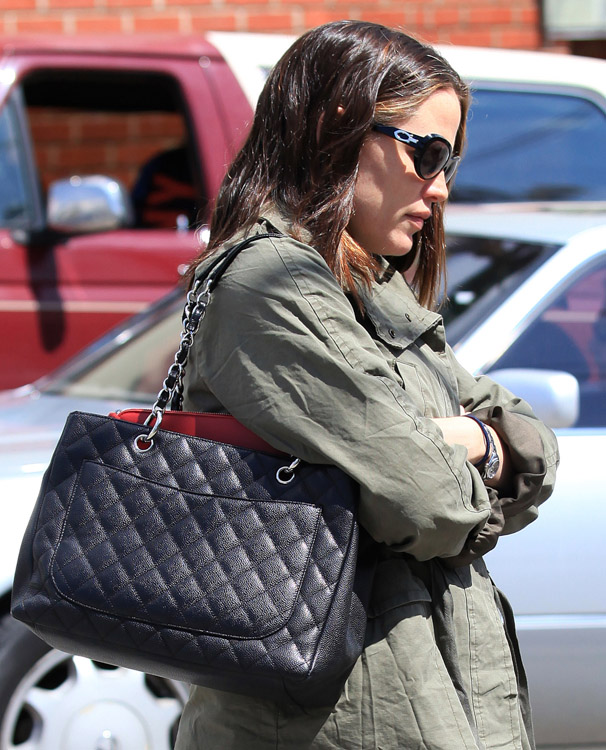 Jennifer had an era where she really liked Marc Jacobs totes, like this Marc Jacobs Alina Quilted Tote. Shop Marc Jacobs via Net-a-Porter.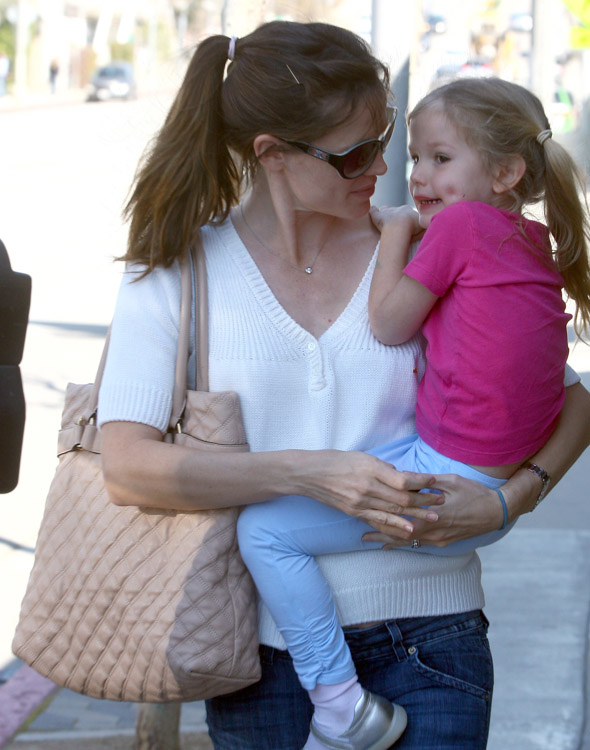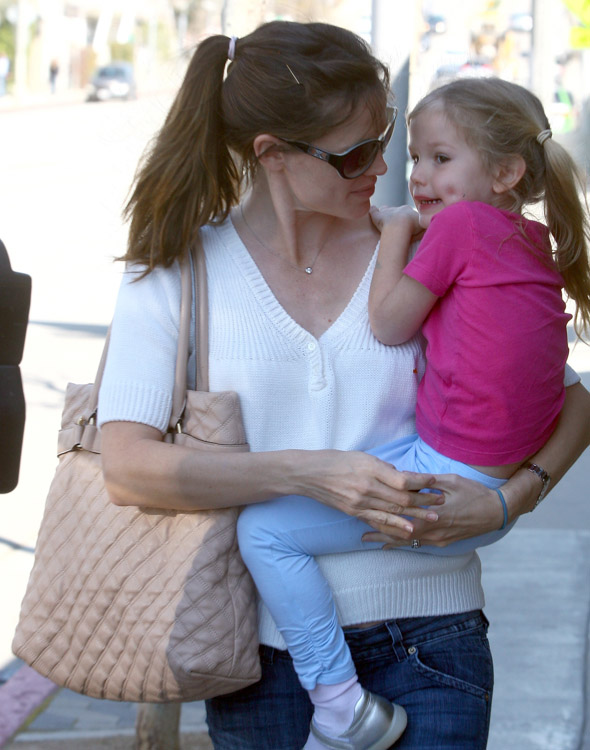 Jennifer has also carried this very similar Marc Jacobs Quilted North-South Tote. Shop Marc Jacobs via Net-a-Porter.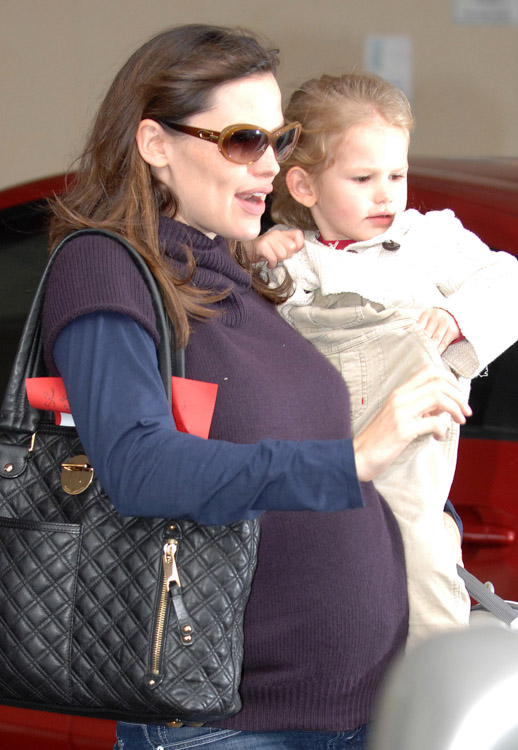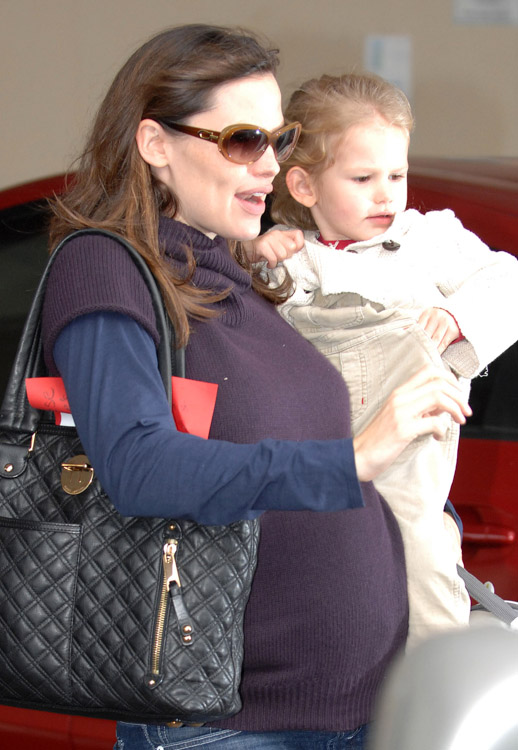 Jennifer carried this Marc by Marc Jacobs Classic Q Hillier Hobo on the set of Valentine's Day. It was for her character – she very rarely carries anything from a contemporary line in her personal life. Shop Marc by Marc Jacobs via ShopBop.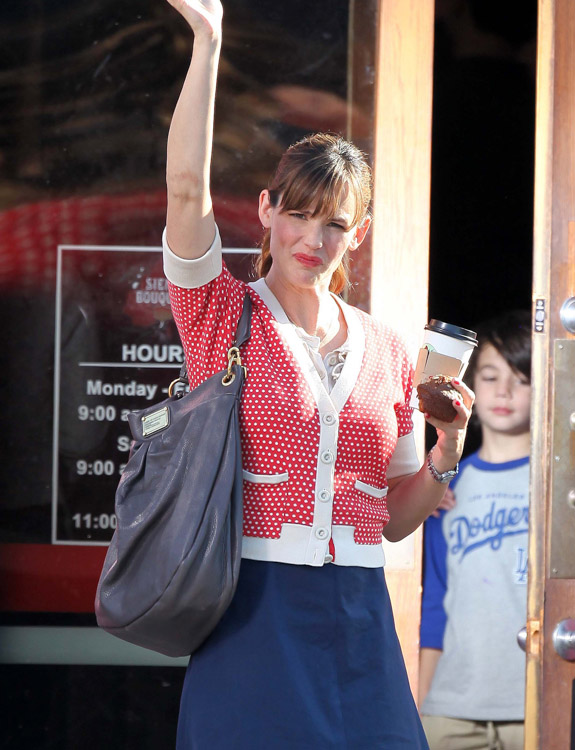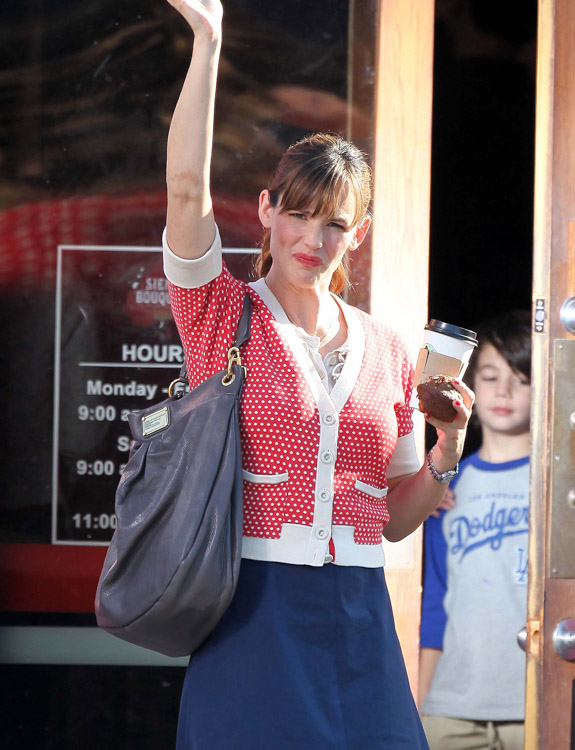 In fact, the only "contemporary" bag we found on Jennifer's arm was this 3.1 Phillip Lim Scout Shoulder Bag, which isn't even really contemporary. $1,295 via Barneys.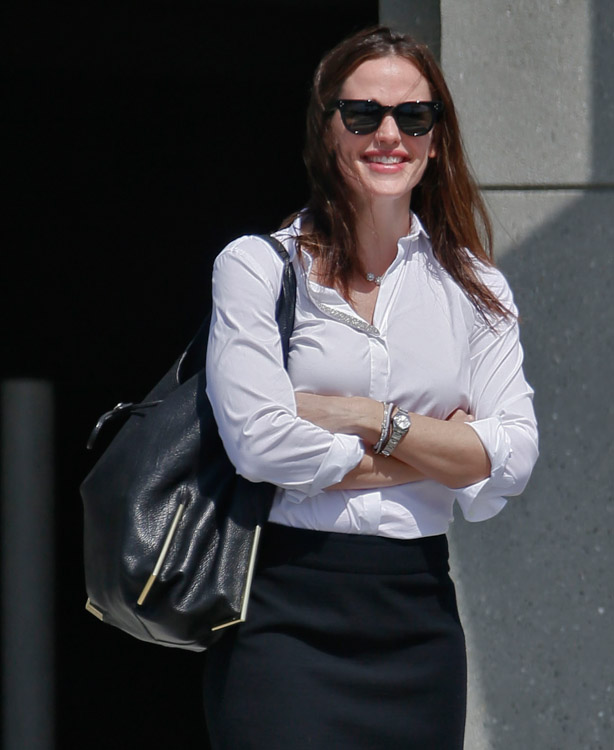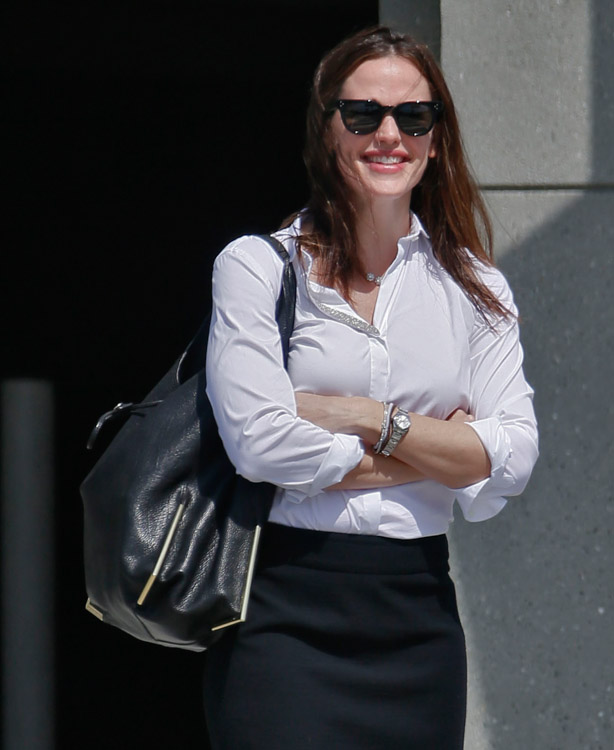 This Valentino Histoire Bag is a blast from the past, right? Shop Valentino via Net-a-Porter.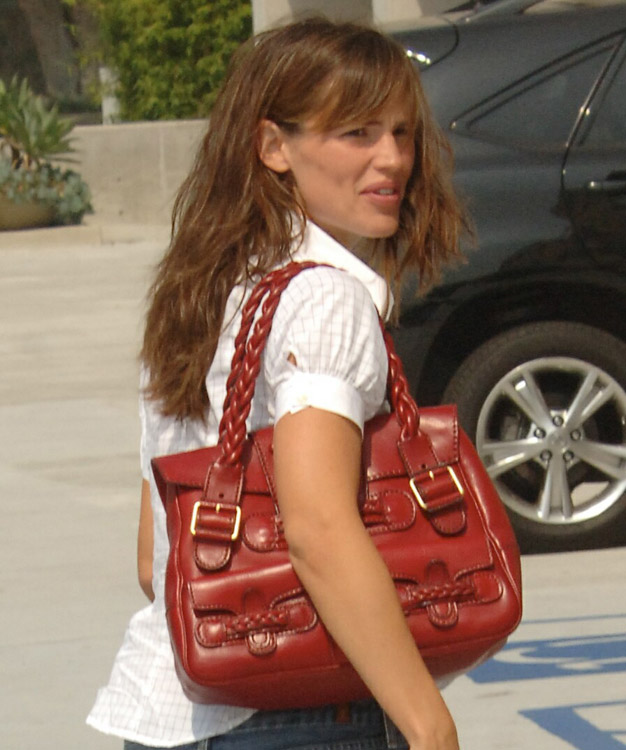 Apparently every actress in Hollywood is required to have a Stella McCartney Falabella Bag, so here's Jennifer's. $1,195 via Neiman Marcus.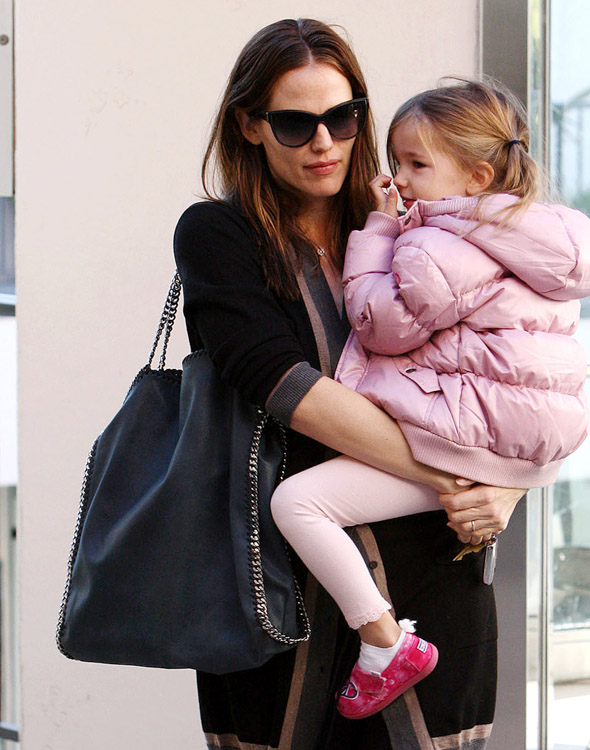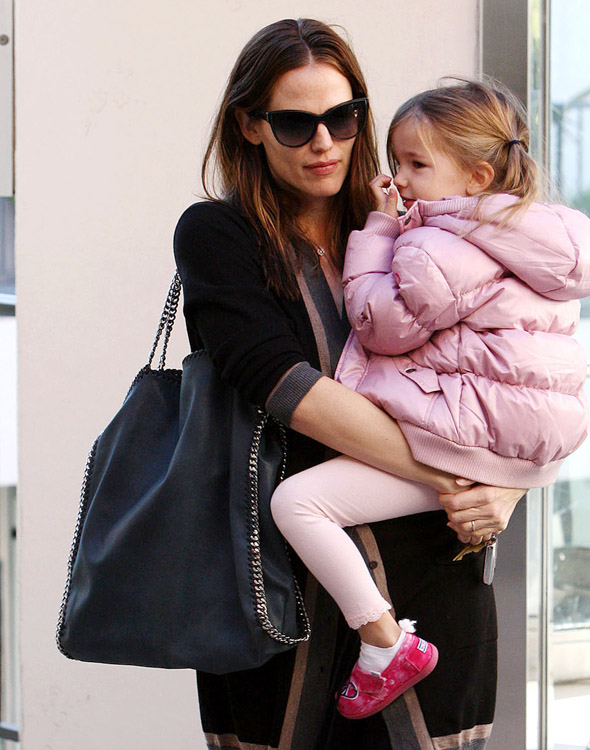 And while we're talking about omnipresence, let's acknowledge Garner's Celine Luggage Tote.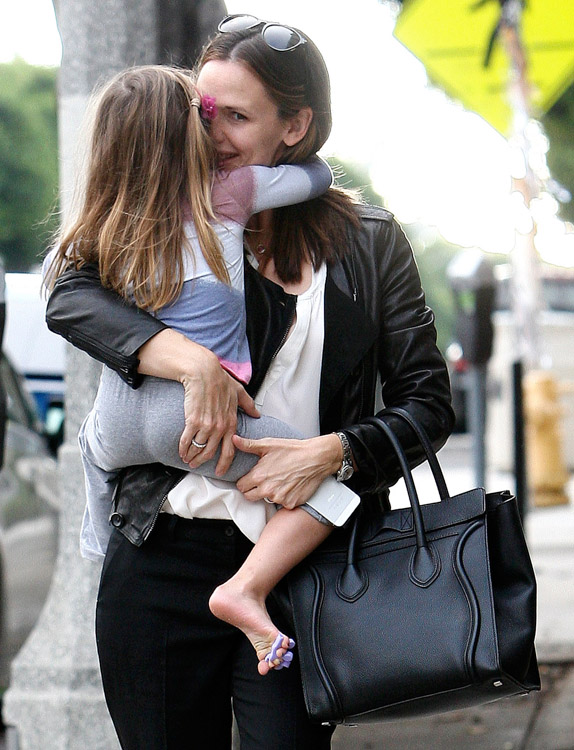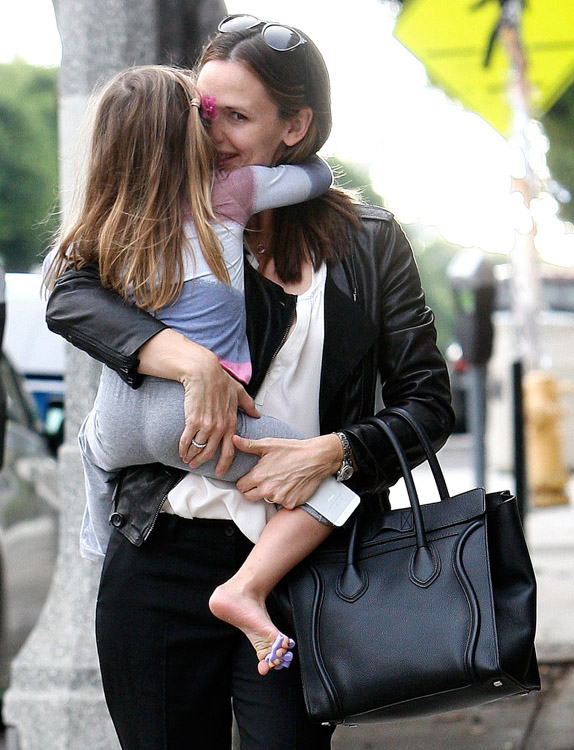 Jennifer generally prefers subtlety over flash, so the only Hermes bag we found her carrying was this subdued blue Hermes Victoria Elan Bag. Buy through Hermes for $4,275.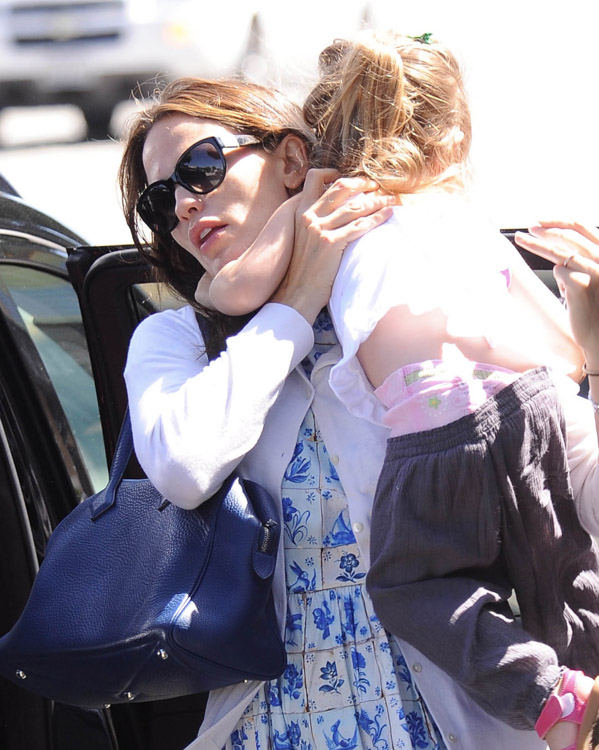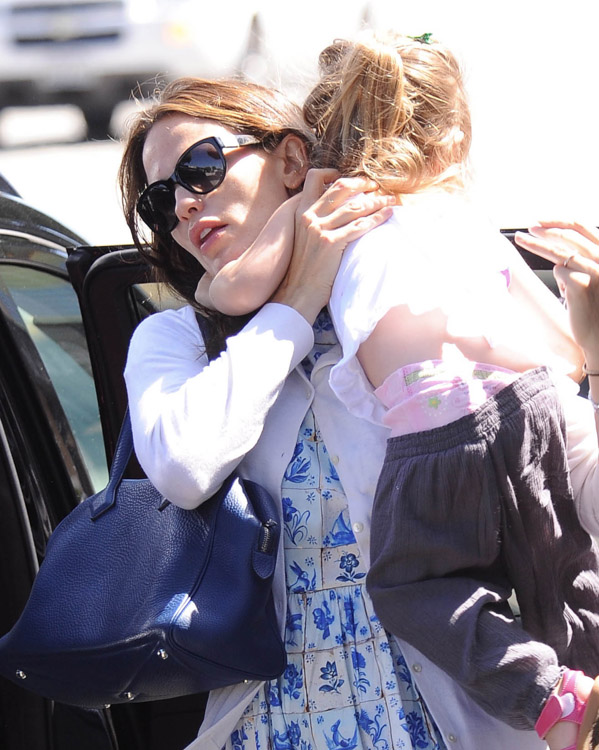 The Lanvin Hero Bag wasn't one of the brand's most popular designs, but Jennifer carried hers quite regularly for a while. Shop Lanvin via Net-a-Porter.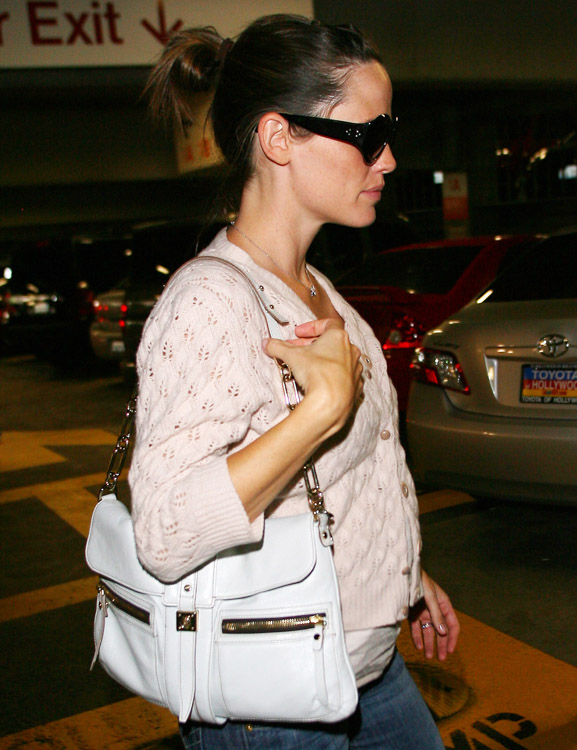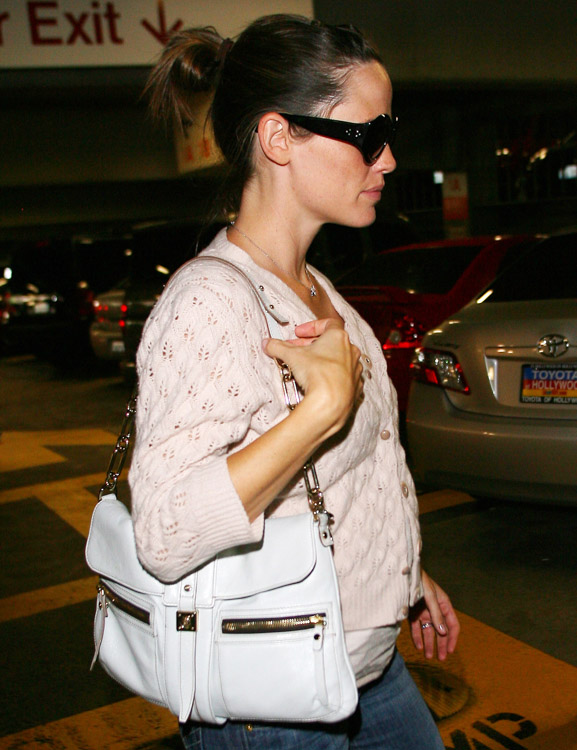 For a slightly more dressed-up white shoulder bag look, Jennifer has the Anya Hindmarch Jackson Shoulder Bag. Shop Anya Hindmarch via Net-a-Porter.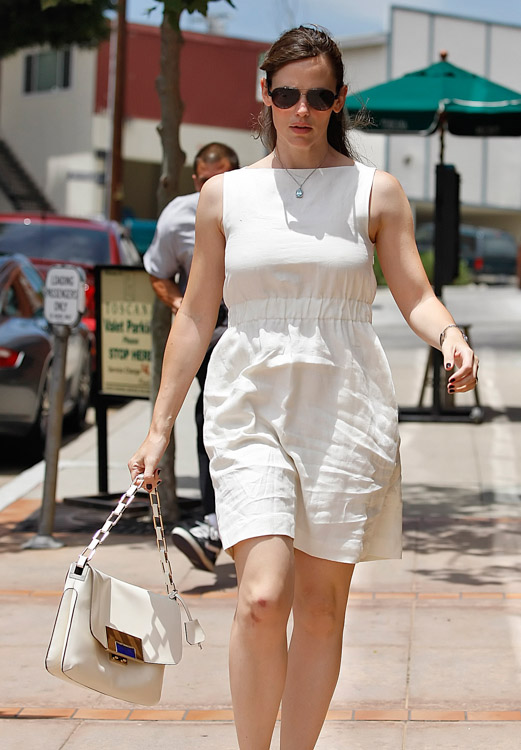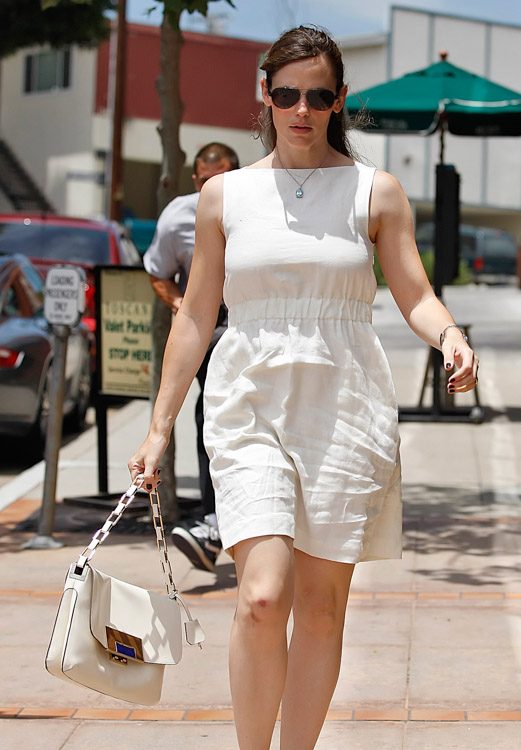 Some people rag on Jennifer's style for being too casual or sloppy, but I think this photo proves that she does know how to do it correctly when she's not ferrying her kids around like a normal mom. The Fendi 2Jours Tote doesn't hurt, of course. $2,260 via Net-a-Porter.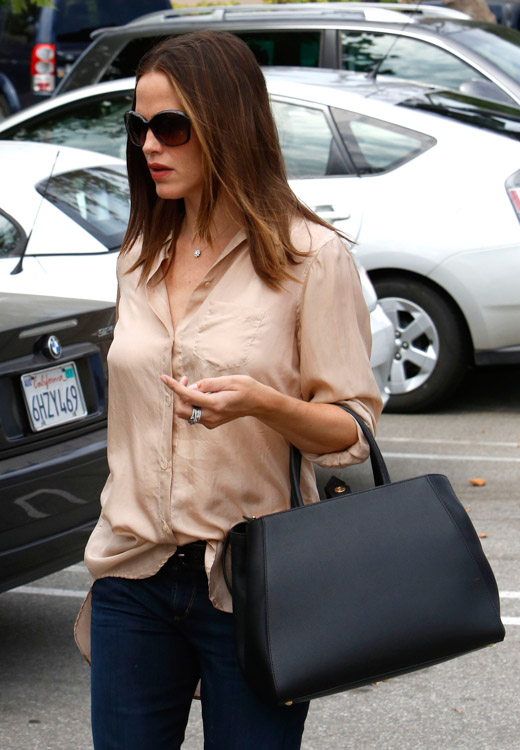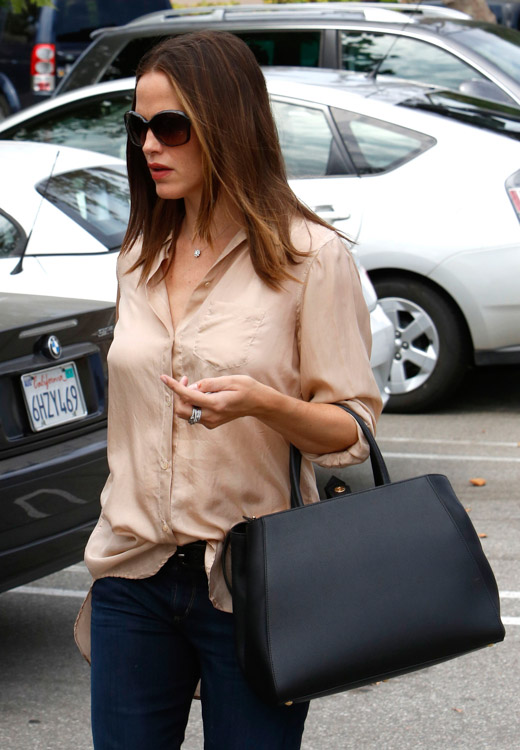 That sure looks like a cozy sweater Jennifer's paired with her Fendi Peekaboo Tote. $3,375 via farfetch.com.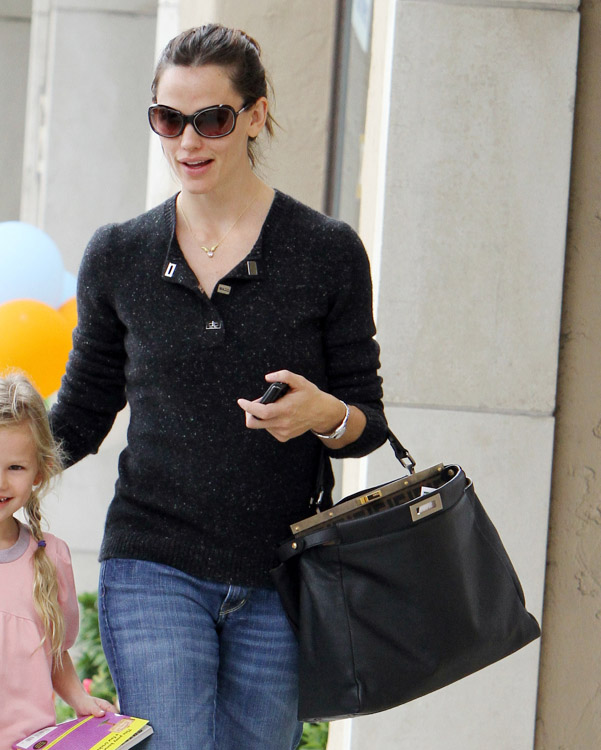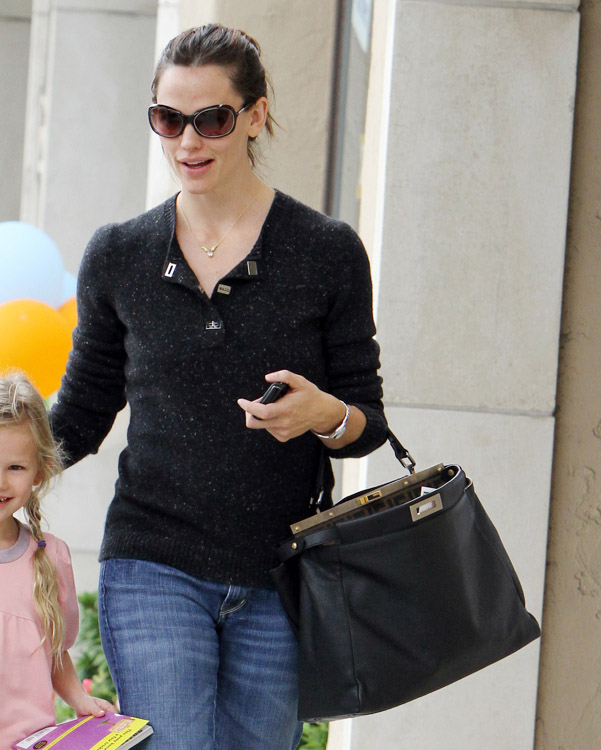 This is a very standard casual look for Jennifer: medium-wash jeans, white blouse, Proenza Schouler PS1 Bag. $1,695 via Barneys.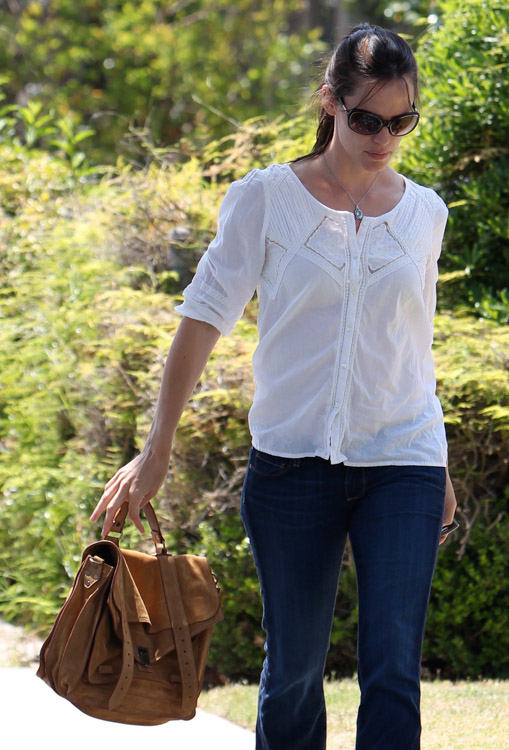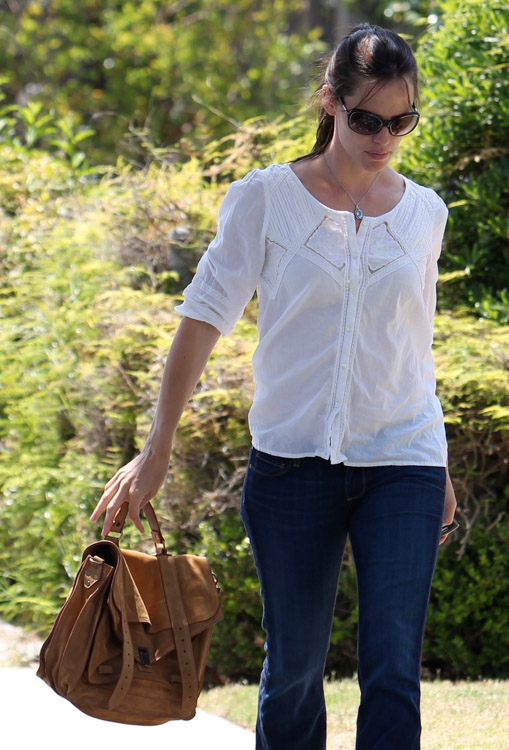 This ensemble, along with Jennifer's Chloe Bay Bag, is also pretty typical. Shop Chloe via Net-a-Porter.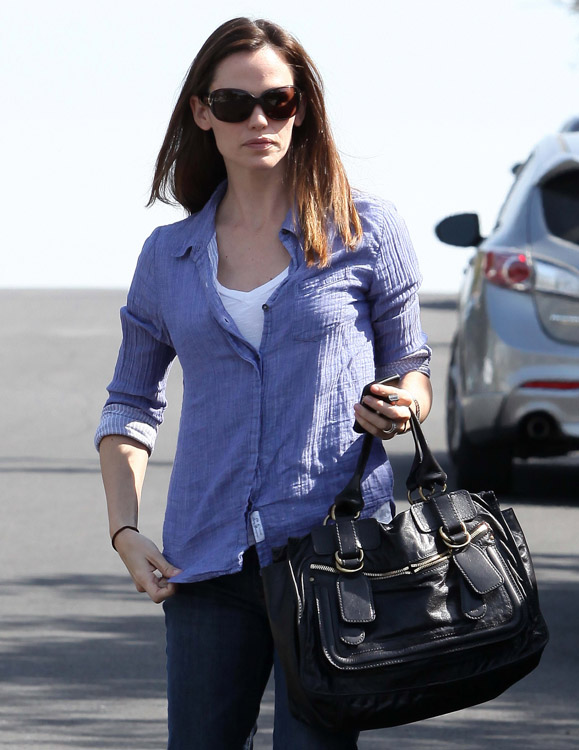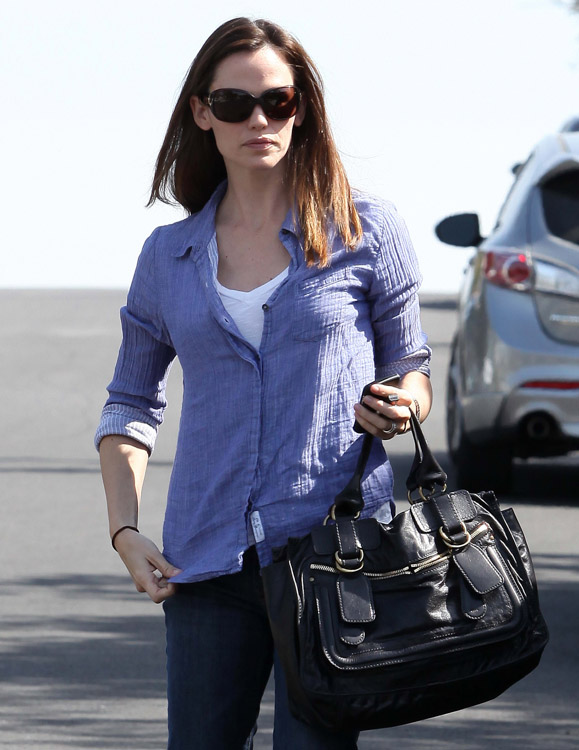 Jennifer's the first celebrity face of Max Mara's handbag line, so naturally we caught her with a Max Mara J Bag. Shop Max Mara via Bloomingdale's.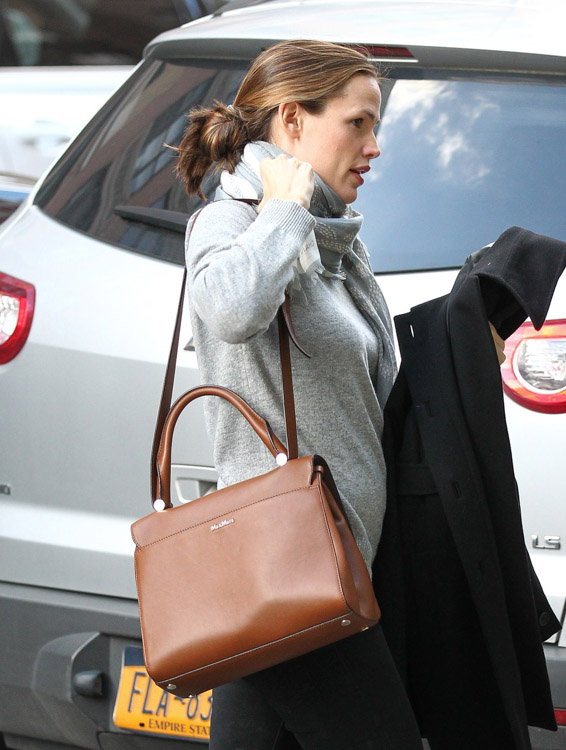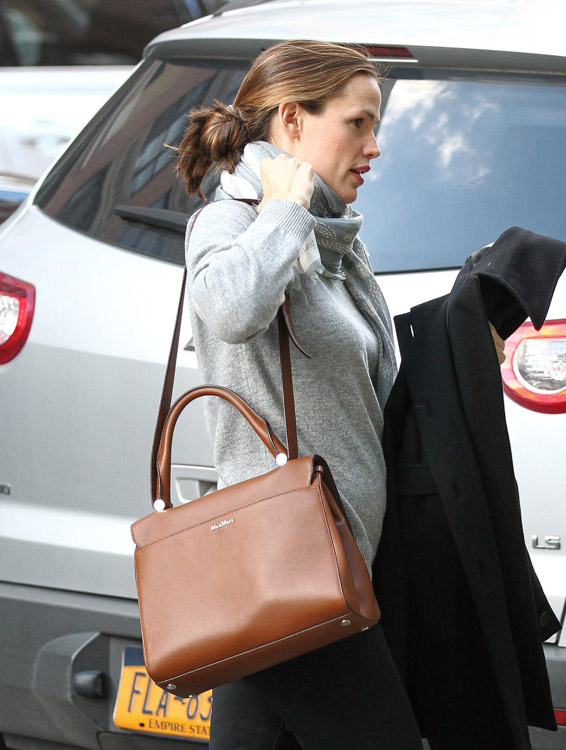 Jennifer looks pretty natural with her conservative Loewe Amazona Bag. $2,150 via Neiman Marcus.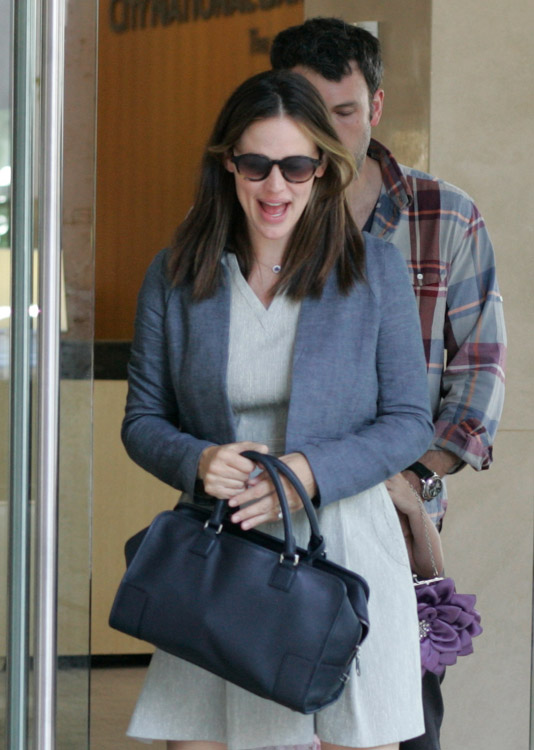 I'm pretty jealous of this Prada Ombre Leather Tote. Shop Prada via Neiman Marcus.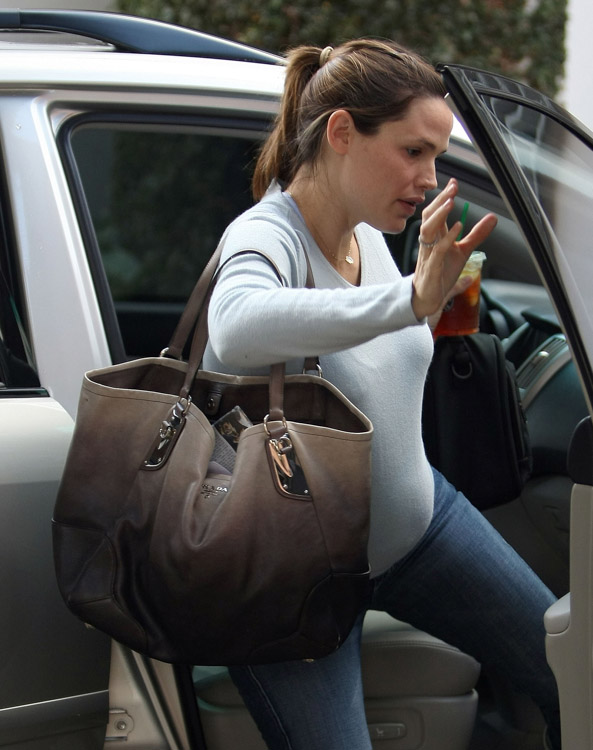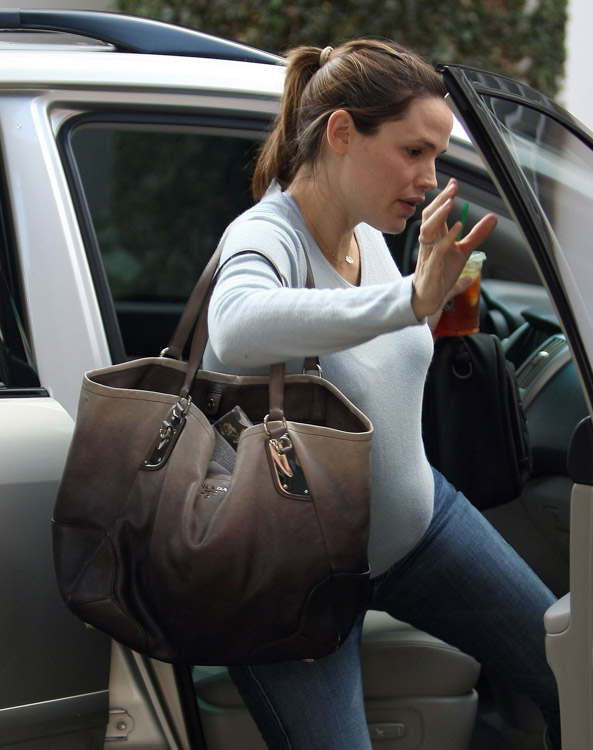 This Prada Bowler Bag is from the Fall 2011 runway collection. Shop Prada via Neiman Marcus.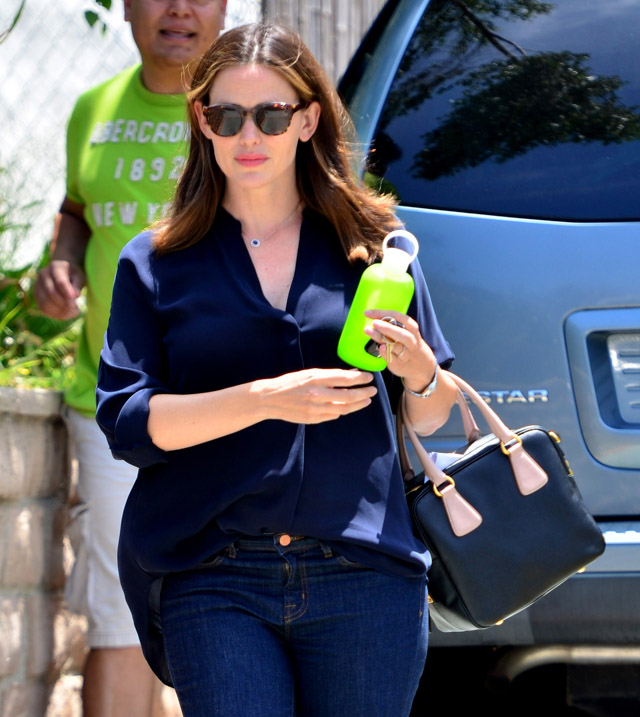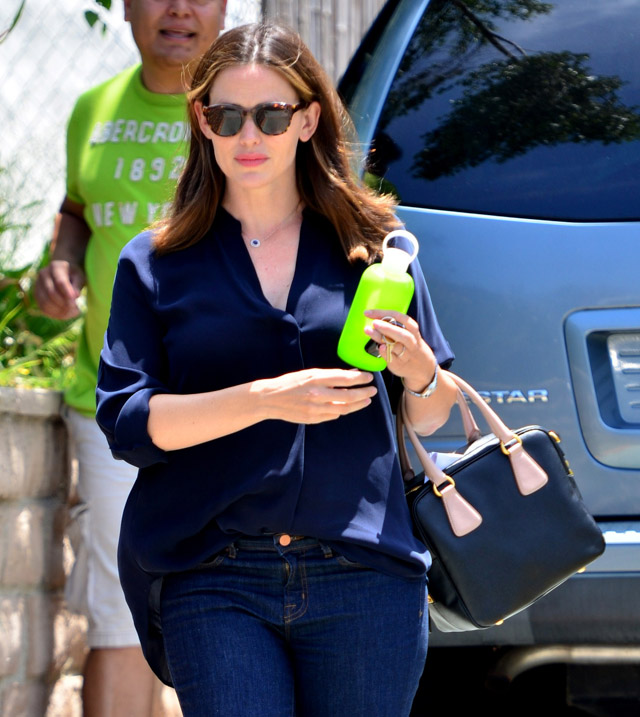 Gucci's recent Stirrup collection, like this Gucci Stirrup Tote, is perfect for Jennifer's staid, neutral tastes. Shop Gucci via Neiman Marcus.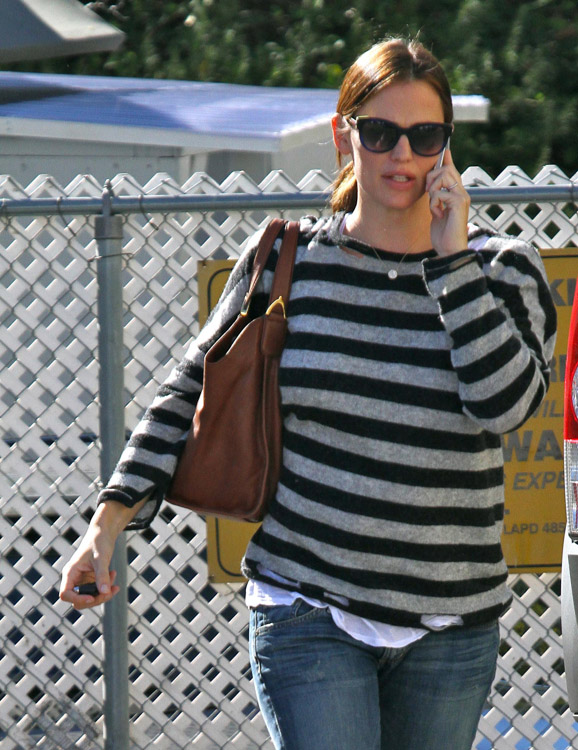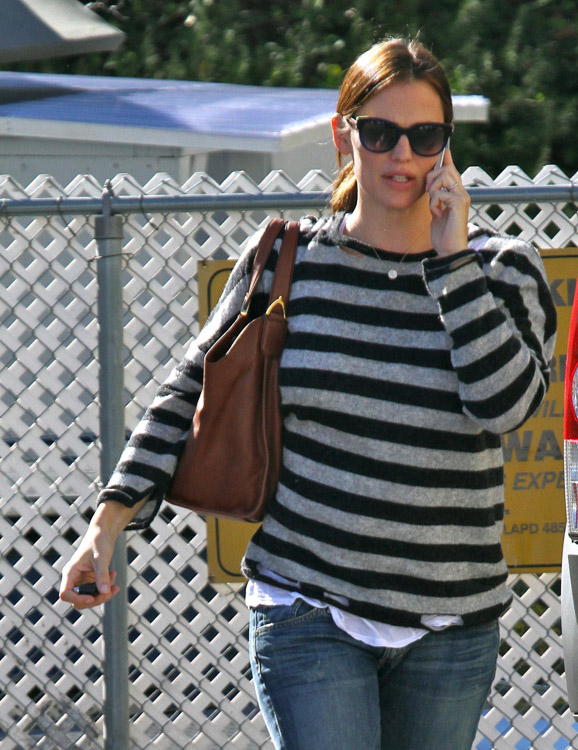 You didn't think we'd make it all the way through without some Ben Affleck eye candy, did you? Never. If you're not an Affleck fan, check out Jennifer's Roger Vivier Boite de Nuit Minaudiere. (Personally, Bearded Ben Affleck is my favorite Ben Affleck.)