This week, our favorite celebs are on the move, and as NYFW kicks off and fashion month begins, we're going to be seeing a whole lot of movement from stars in the coming weeks. Of course, where there are celebrities, there are also great designer bags, and we spotted a plethora of great carries this week. From New York to LA, stars worked, worked out, and enjoyed some R&R with enviable designer bags. By far, one of the best bags of this week was spotted on Miami Beach, where Dua Lipa was enjoying a little bit of sun. Check out the full lot of bags below!
Celebrity Bag Spotting
Bella Hadid was spotted leaving her New York City apartment with coffee in hand on her way to a fashion show as New York Fashion Week kicked off. She carried the ultra-rare Chanel Grafitti Messenger Bag.
Cara Delevingne also touched down in New York wearing a Dior 30 Montaigne bag. She kept it hands-free to focus on her other cute carry—her pup. The pair were spotted heading back to the model's hotel.
Dua Lipa hit Miami beach with her parents, where she's in town performing. She wore an itsy-bitsy, teeny-weeny, yellow crocheted bikini and carried a Hammock Bag from Loewe's Spirited Away collab.
Kendall Jenner was spotted attending lunch with a friend in LA. She kept it casual in jeans and Birkenstocks while carrying a Ferragamo Shoulder Bag and baring her toned midriff, as models do.
Lori Harvey headed to and from yet another workout in West Hollywood, California, wearing yet another Balenciaga cap. This time, she carried a Chanel Flap Bag with shearling details.
One of Hollywood's most famous daughters, Lourdes Leon, dined with friends at New York's famous L'Avenue at Saks. She wore an animal print coat and carried a sequin Louis Vuitton Monogram Pochette.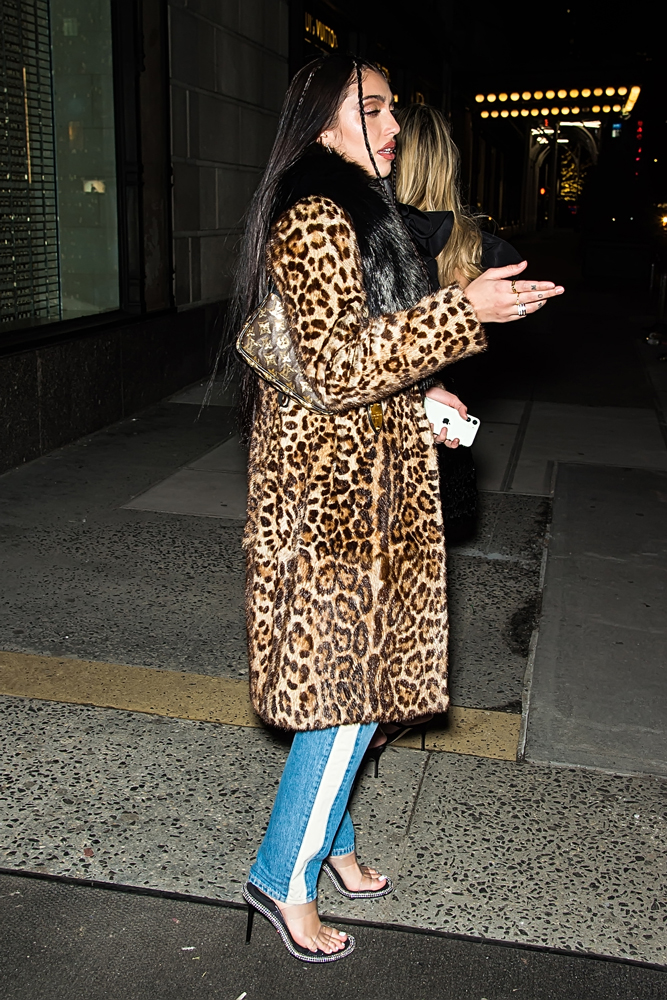 Another famous daughter, model Meadow Walker, whose father is the late Paul Walker, was seen strolling in New York with her husband late last week. She carried a minimalist favorite, The Row Half Moon Bag.
Zoe Saldana also touched down in New York, where she was seen arriving at her hotel looking sleek with a Goyard tote thrown over her shoulder. She stopped for a photo with a fan before ducking away from the prying paparazzi eyes.