This may sound a little bit weird, but I'm really glad that Amanda Seyfried is famous. I've been a fan of hers since the halcyon days of Mean Girls, in which she stole every scene she was in, and I've been silently rooting for her success ever since. And now, here she is, with a big role in Oscar-nominated Les Miserables and several more films in the pipeline. I normally have an instinctual dislike for other Amandas, but I can't help cheering for Ms. Seyfried.
In addition to sharing a name, it seems as though we also share a some opinions on handbags. Amanda carries a lot of Givenchy, seems to favor black, and when she really loves a bag, she carries it for weeks on end without switching. Beyond just carrying the brand's bags, it seems as though she might have an in with the Givenchy team - she had the Lucrezia Satchel long before it was even available for pre-order. Check out her full collection in the slideshow below.
1 / 17
Speaking of the Givenchy Lucrezia Bag, let's start there. Seyfried hung on to this bag for quite a while, and the simple construction and dark color fit her taste perfectly. Buy through Barneys for $2,140.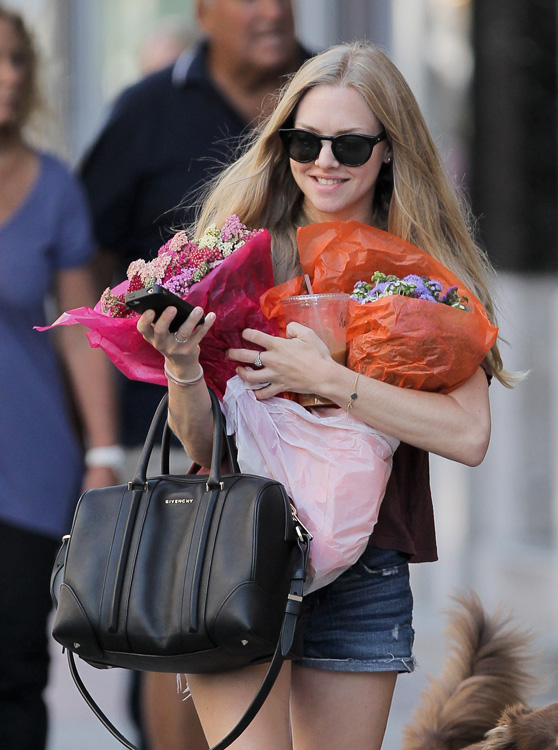 ---
2 / 17
Next on the Givenchy list is the star-magnet Givenchy Antigona Satchel. This Fall 2012 finish was super popular, and you can pick up the black version for $2,405 via Bergdorf Goodman.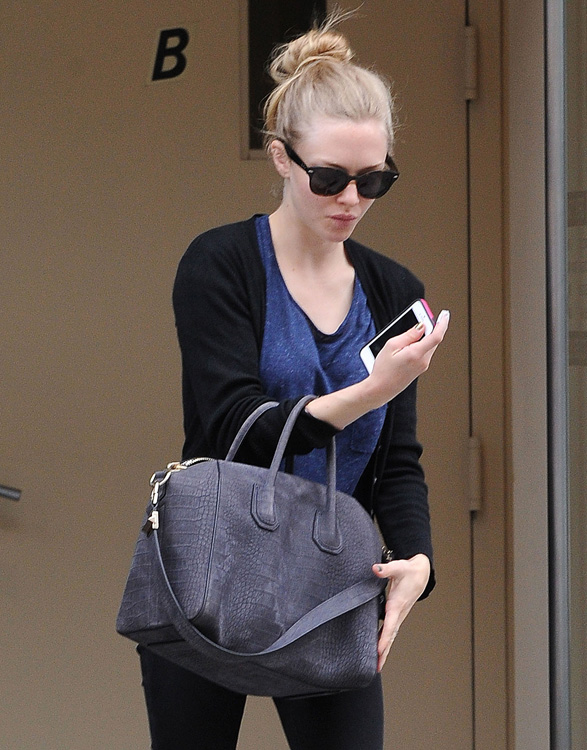 ---
3 / 17
Amanda's love for Givenchy doesn't stop at dusk, though - the bright orange Givenchy Obseda Minaudiere she chose here is perfect with her outfit. Pick up the exact same one for $1,945 via Barneys.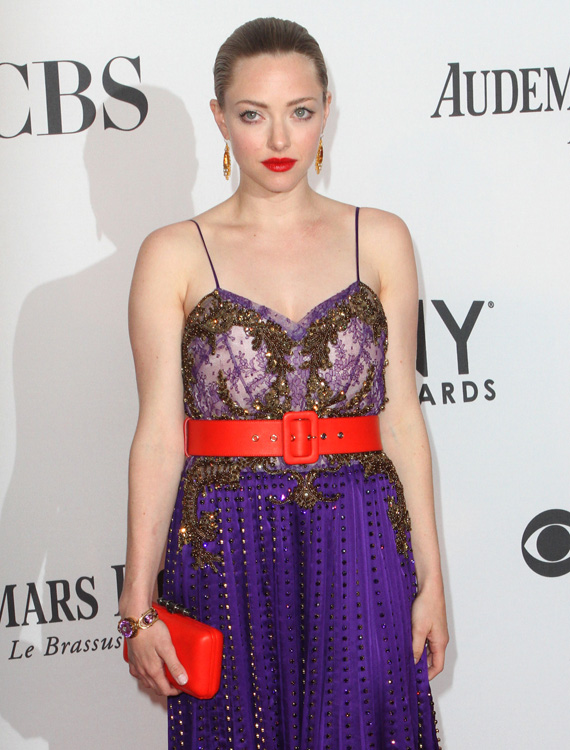 In this photo, you mostly see Amanda's Salvatore Ferragamo Houndstooth Tote, but behind it, I detect a navy and black Givenchy Antigona. Shop Ferragamo via Neiman Marcus.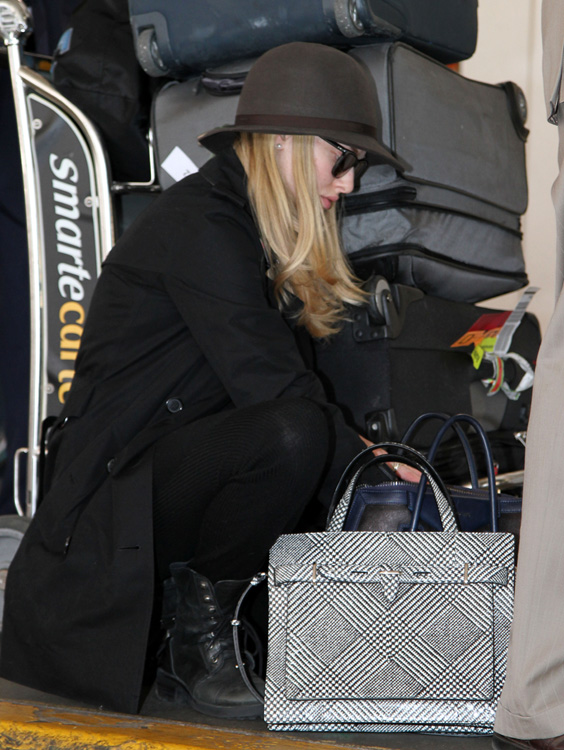 4 / 17
Of all of Amanda's bags, it seems like she loves her Alexander Wang Daria Duffel the most. Based on how many pictures I found of her carrying it, this might have been the only thing she carried for months on end. Shop Alexander Wang via ShopBop.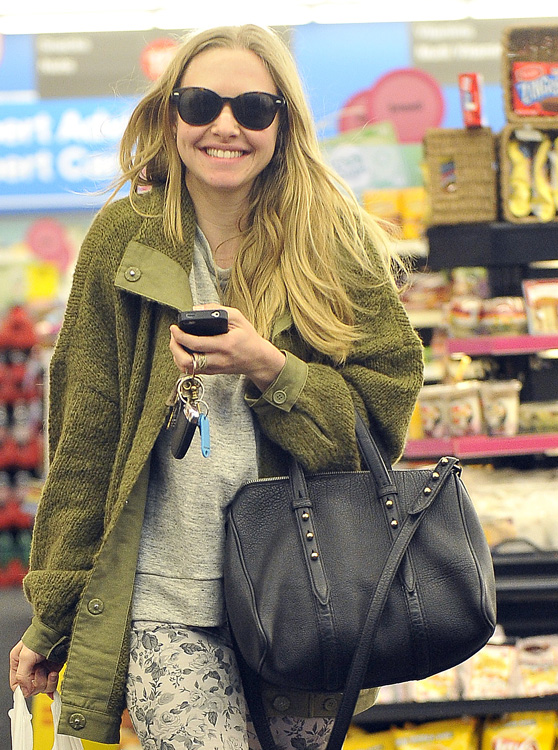 5 / 17
Amanda's love of slouchy black bags also reaches to this Prada Antik Gathered Tote. Shop Prada via Neiman Marcus.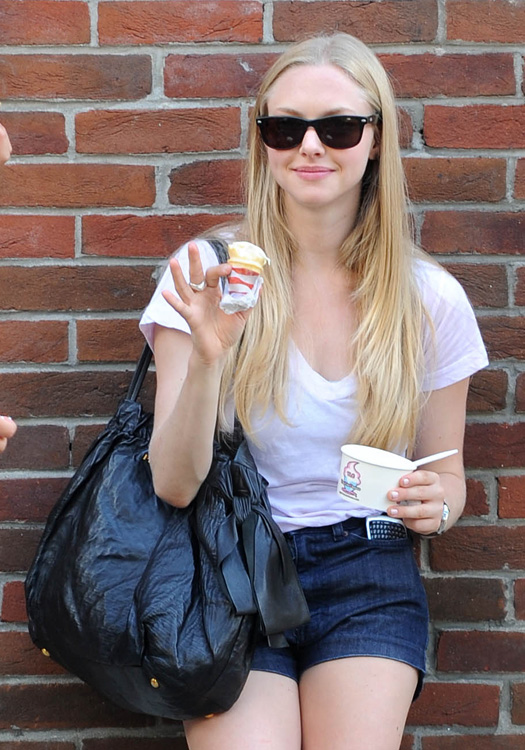 6 / 17
In fact, Seyfried seems to love Prada as much as she does Givenchy. She carried the Prada Calf Studded Tote for almost as long as her beloved Wang bag. Shop Prada via Neiman Marcus.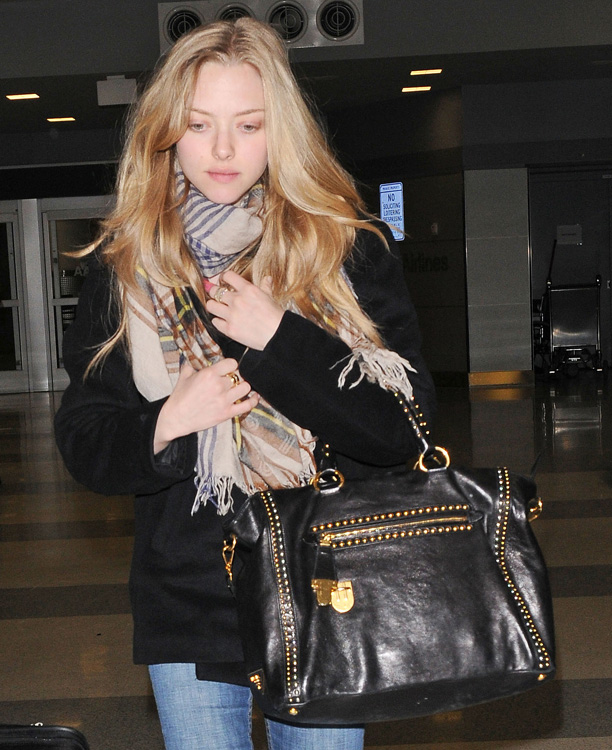 7 / 17
Lately, Amanda's bag choices have started to feel more streamlined, including her Prada picks. This Prada Spazzolato Printed Satchel is totally modern. Shop Prada via Neiman Marcus.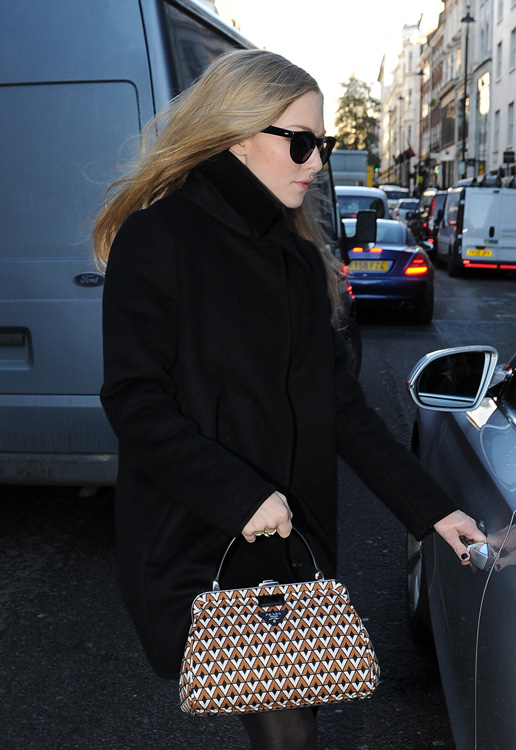 8 / 17
This Alexander McQueen Heroine Tote is very pulled-together and ladylike, don't you think? Buy one of your own for $2,825 via Neiman Marcus.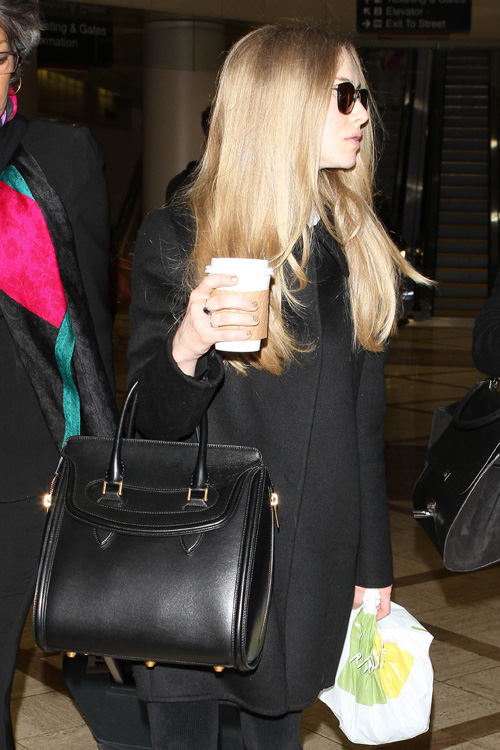 9 / 17
In her heart of hearts, though, I think Amanda's still a big bag lover. Check out the size of this Celine Horizontal Zipper Cabas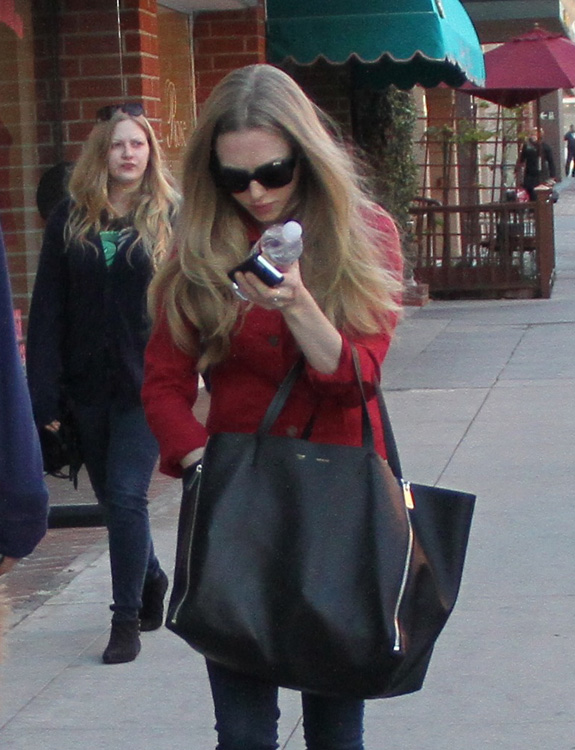 10 / 17
Not to mention this heavily embellished Valentino Summer Flowers Tote. Shop Valentino via Net-a-Porter.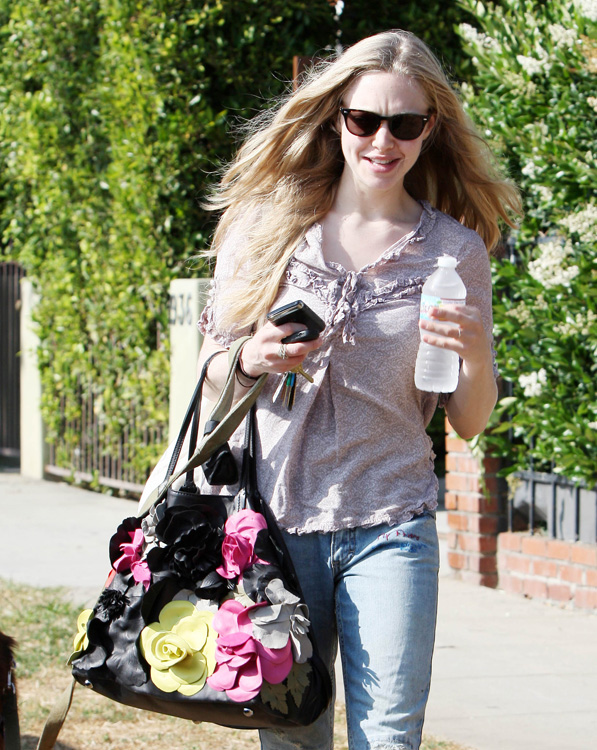 11 / 17
This Miu Miu Quilted Leather Shopping Tote is another one of Amanda's big favorites. Shop Miu Miu via Net-a-Porter.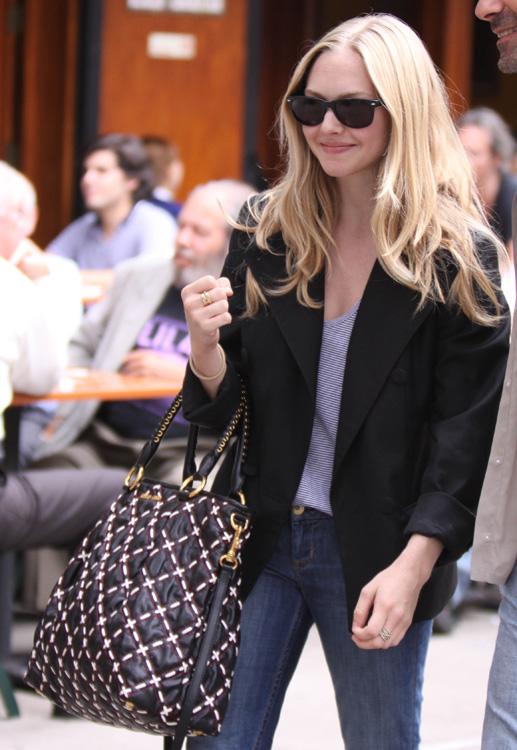 12 / 17
I don't like logo bags, but somehow, Amanda makes this Dior Vintage Logo Speedy look pretty chic.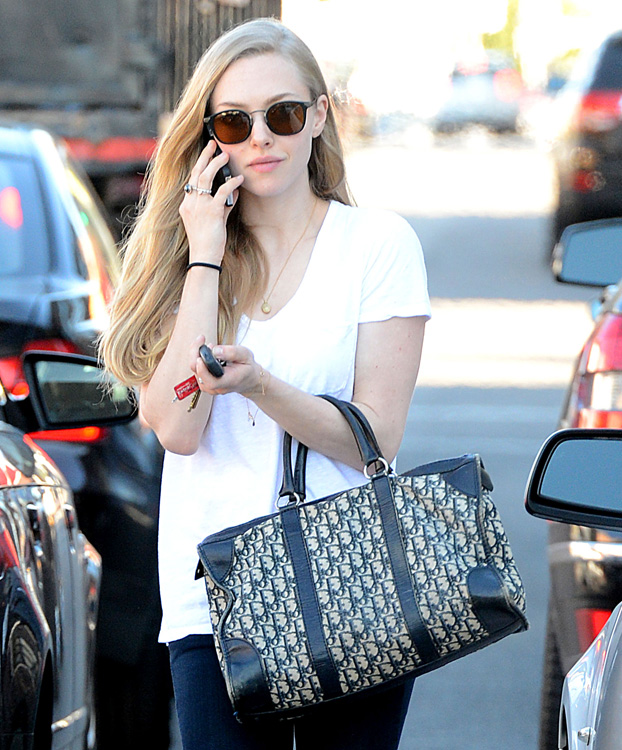 13 / 17
Of the vintage options in Amanda's closet, though, I prefer this one, even though we don't know who made it.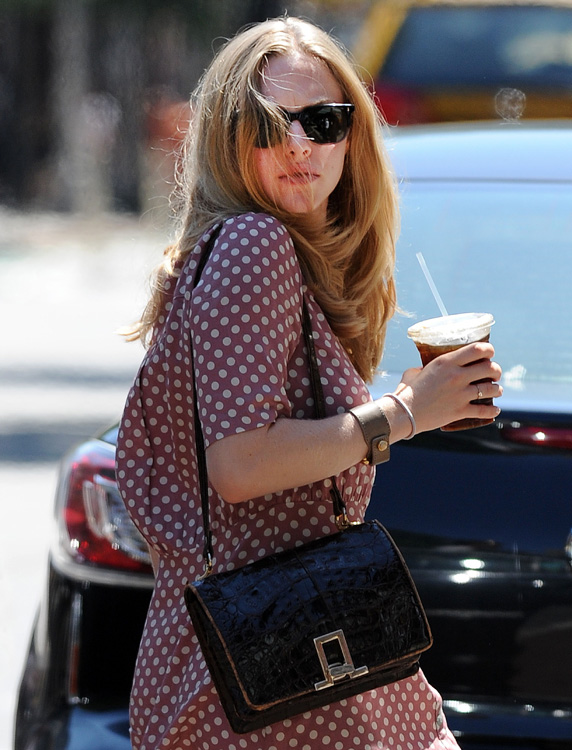 14 / 17
Every starlet needs a Chanel bag - this one is a Chanel Quilted Embroidered Shoulder Flap Bag.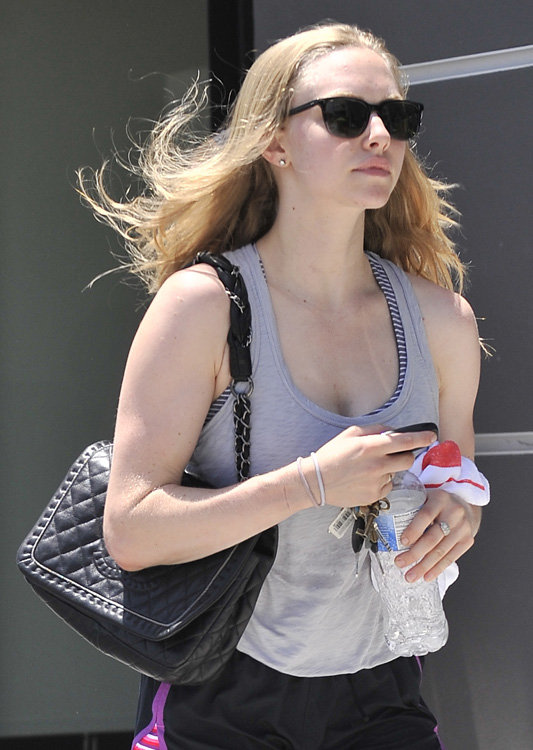 15 / 17
And if one Chanel bag is great, two Chanel bags are even better - I bet you guys recognize this one as a Chanel Boucle Classic Flap Bag.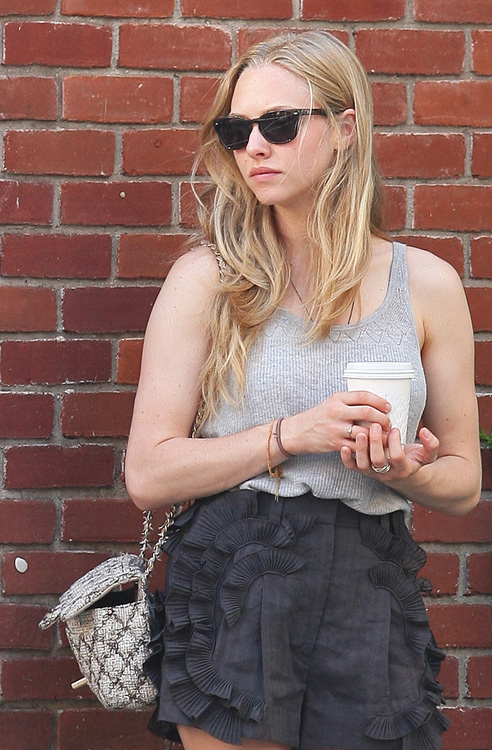 16 / 17
Amanda's an equal-opportunity boucle enthusiast - the bag doesn't have to be Chanel-expensive! Check out her Coach Chelsea Boucle Bag. Shop Coach via Coach.com.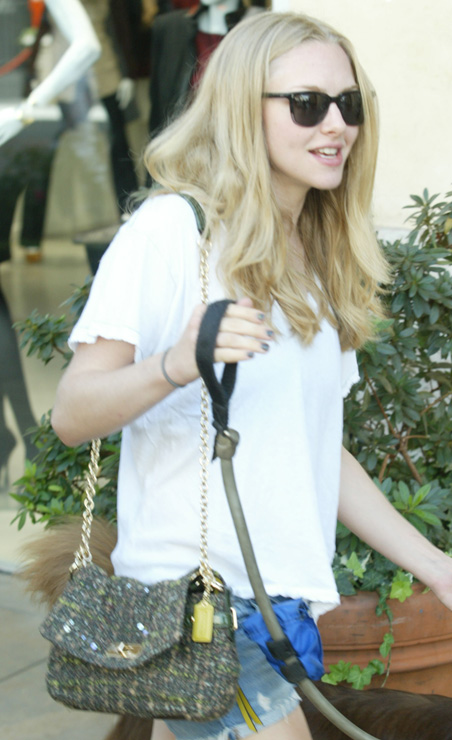 17 / 17
And last but not least, every starlet's current favorite. Yes, Amanda has a Celine Luggage Tote too - the Nano version.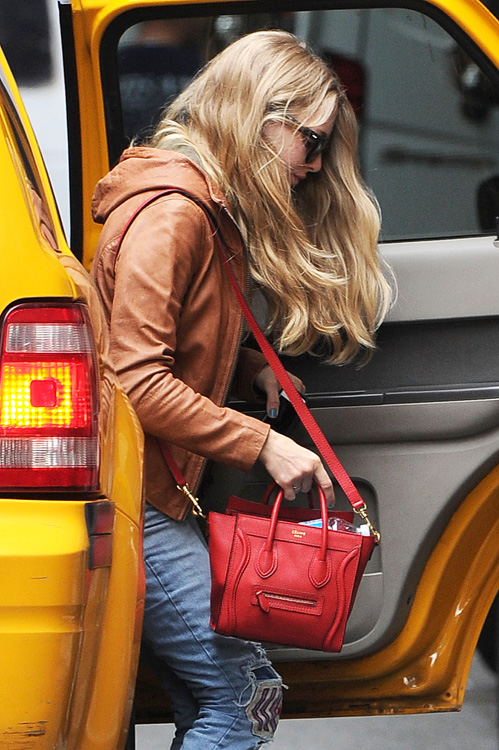 P.S. Please consider supporting our small, bag-loving team by clicking our links before shopping or checking out at your favorite online retailers like Amazon, Neiman Marcus, Nordstrom, or any of the listed partners on our shop page. We truly appreciate your support!