You all know about my seemingly never-ending quest to find the perfect Balenciaga bag right? If you follow us on Twitter (do that now), you will know that the hunt is over. In fact, rather than it being me that finally found the one, it was Vlad who surprised me with the bag. He took away the constant worry and stress over this BBag hunt that I have been actively taking part in and simply got the job done. Matter of fact, I could not have picked a better combination if I tried. My bag is a color that I spoke of highly from Balenciaga in a hardware finish that I never considered: rose gold.
Let me tell you something, the Rose Gold Hardware on Balenciaga Bags is the perfect touch of glam. The post all about my new bag will come next week, but for now I have another option that my eyes are currently stuck on, the Balenciaga Giant City in Military Green with Rose Gold Hardware.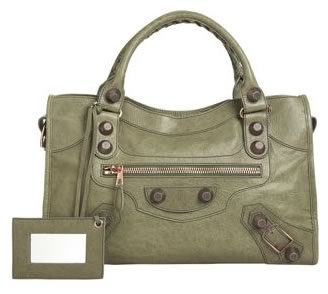 You will now never be able to get by a BBag post on PurseBlog without me reminding you of my rose gold hardware love. I had a preconceived notion that the rose hue would look tacky and cheap but it is quite the contrary. The color is subtle yet glamorous. And the thimbles (yes, my mom started calling the hardware on BBags thimbles and it has stuck for me as well) are a deeper pewter hue. This leaves you with two different color variables paired together, and they are working it like there is no tomorrow.
I totally dig this creamy-taupe-green hue on the Giant City. As you know, these bags are like chameleons so you might want to check it out in person first. Buy via Barneys for $1,795.