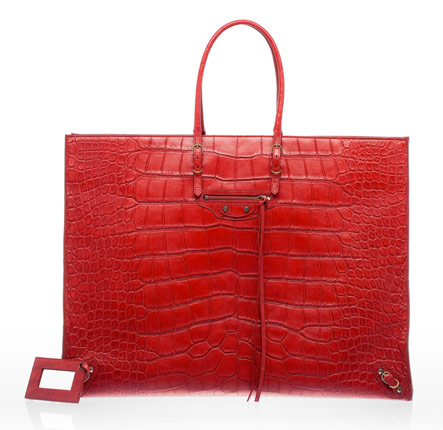 Over its ten year history, the great strength of the Balenciaga motorcycle bag has been its ability to be something of a sartorial Rorschach test. Because of the design's simple lines and ability to morph from shape to shape while still being unmistakably Balenciaga, a prospective customer can see in it whatever she would like to see, and Nicolas Ghesquiere & Co. have taken to releasing it in every color, material and silhouette possible. All the better to collect, my dears.
Balenciaga's Spring 2011 handbags continue that tradition in leather both perforated and traditional, suede, straw, python, crocodile, velvet and canvas. Did I miss any? I might have. The collection also ranges in color from subdued, rich carmel to acid green snakeskin and hits just about every note in between. Whether your personal style is prim, punk or such that you might be compelled to buy a very expensive fanny pack (please don't), there's an option for everyone who has ever loved a motorcycle bag in this massive line. Over 40 pictures, after the jump.
Photos via Style.com.