Ok, so "giant hip" is perhaps not the most positive set of words for most women, but stick with me here – this bag is worth it. I've been conducting a search for my perfect mini crossbody bag at a perfect price over on PurseBlog Savvy, and I think I know why I've not been able to find one that makes me want to settle down and have a family with it – my perfect minibag can't be found at a perfect price.
I love the Balenciaga Giant Hip Crossbody Bag and none of you can stop me. It's small, it's brightly colored and I want to take it everywhere I go. It will only hold my keys, cards and Blackberry, but I guess I don't really need anything other than that, do I? I mean, my sunglasses live on my head, not in my purse. I'm good to go.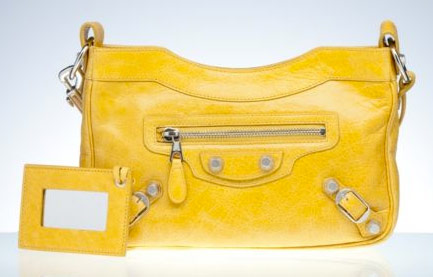 This little guy is just so darn cute. I'm a Balenciaga fangirl through and through, and I love that they shrunk down the motorcycle aesthetic that I so thoroughly love to fit in with the current minibag trend. The colors range from the sunny, summer-appropriate yellow that you see here all the way to black (and include everything in between – this is Balenciaga, after all), and I defy you to tell me that you can't find a shade to suit your wardrobe. The strap can even be doubled over through the handle attachment to serve as a small shoulder bag.
For those people out there that don't dig the Balenciaga aesthetic, this bag isn't going to convince you. But if you're like me and love the tough hardware and super light-weight leather in all of its candy colors, then I've found your perfect minibag. Now only if the price was commensurate with the size…Buy through Balenciaga for $745.