In the interest of full disclosure, it's important for you all to know that I'm an unapologetic Balenciaga fangirl. I can't be unbiased on the brand's classic Motorcycle Bags because I love them too much – I've owned four myself, in three different shapes, which puts the brand at the top of my all-time ownership list (I like to spread the money around, usually).
As such, I feel as though I must vociferously make the case for the brand at any chance I get, and for anyone that has been considering one of Balenciaga's bags as a future purchase, I have but one piece of advice: take the plunge. And also, I have a few reasons why…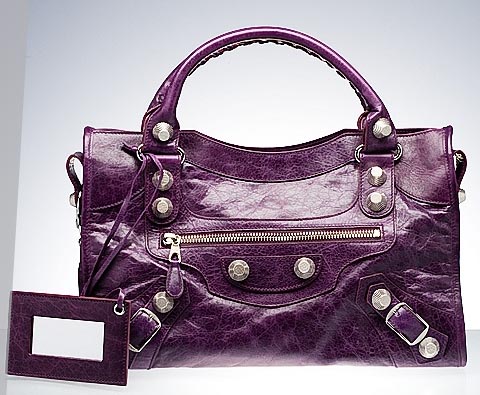 5. The colors! The colors! We're talking about Balenciaga, after all. They make everything from blacks, browns, and beiges to the brightest (and best) brights in the business. Jewel tones, neons, anything you want. They've made it all, and they give us a half dozen or so new colors twice a year, every year. Sometimes they're throwbacks to past favorites that are no longer available, but usually they're a fresh crop of hues to build new outfits around. Everyone has their favorite – mine's 2007 Violet.
4. A shape for everyone and everyone in their shape Balenciaga makes their classic motorcycle bag in almost as many sizes and shapes as they do colors. From coin purses to clutches to overnight bags, no matter what you need to carry and how you prefer to carry it, there's something for you. Hobos and satchels make up most of the line, but even then, there are a variety of sizes to pick from.
3. Light as a feather, but not stiff as a board Even in the iterations that have giant hardware, Balenciaga bags are still the lightest that I've ever carried. The leather is cut thin instead of the clunky, thick material that many brands prefer, and it makes them easier to carry for long periods of time than most other bags. Even with the thin leather, I've never had a ripping or durability problem, and I carry my bags to death and do them no favors. For my purposes, they're the perfect combination.
2. Even when they're girly, they're still edgy Balenciaga is the only brand that has legitimately forced me to contemplate spending money on a bag that's neon green or bubblegum pink (and I hate pink), and that's because that in any color, they still manage to look modern and a bit tough. But not too tough! They're not entirely covered in studs or buckles, just a few, and it's just enough to balance out any color choice (or to make something like black even better).
1. Not everyone owns one, and they never will I've heard people say that the motorcycle bags are played out, or that everyone has one, or whatever. It's simply not true. The brand is harder to find both online and in stores than almost all of the other major brands that we cover, and the much-sought-after colors are made in relatively low numbers. Past favorites sell for over (sometimes well over) retail on eBay, and unless you live in one of the world's most fashionable cities, it's likely that you almost never come across another woman carrying one. I'd wager that the percentage of Americans that are even aware of their existence doesn't come close to double digits. When you compare that to signature looks from other brands, they're still relatively exclusive bags.
Still unconvinced? Fair enough, but maybe one day you'll see that magic color that you feel like Balenciaga chose just for you, and things will all become clear. Trust me.