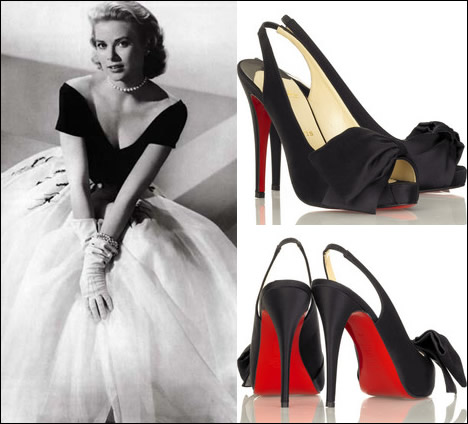 Christian Louboutin Very Noeud Slingbacks
I'm just not an outside girl. Amanda loves her air-conditioning, refrigerator and pajamas. I've never been camping, skiing, or a big fan of going to the lake (I do love the beach, though, but that's neither here nor there). Sweating makes my hair frizz and my makeup travel around my face. So, on outdoor-centric holidays such as this past July 4th, yours truly was not exactly out there flippin' burgers on the grill. I come from a long line of women with the same attitude, and what I have learned from them in my 22 years is that there are people out there – people that run mid-tier cable networks – that feel our pain, and on most holidays, there are glorious marathons of wonderful television shows and movies to entertain us while the crazies do things outside.
There are several on that piqued my interest this past Friday: What Not to Wear, The Twilight Zone, NCIS. It's a veritable buffet of television options to mesmerize me for hours. What I'm really interested in, however, is the 8 hours of Alfred Hitchcock's best movies on TCM. 'Psycho,' 'Vertigo,' 'The Birds,' and 'Rear Window.' My mom used to watch Hitchcock movies with me when I was little and I couldn't sleep, and ever since, I have a deep and abiding love for every movie the man ever made (and his TV show).
And anyone that knows anything about movie fashion knows that Hitchcock pulled out all the stops. Famed costume designer Edith Head worked on many of his movies, including dressing the impeccable, elegant, classic Grace Kelly for her turn in 'Rear Window,' one of the most fashionable movies of all time.
It's a wonderful coincidence that this movie is on today, because when I recently saw the Christian Louboutin Very Noeud Slingbacks in black satin, I couldn't help but think of the iconic black-and-white ensemble that Kelly wears in the film. With an enormous, tea-length white tulle skirt accented with a bit of black beading, a fitted black top, a simple pearl choker and white gloves (why don't women wear gloves anymore? Can we bring that back?), she was the chic picture of modern elegance, and I'd dress up as her for every Halloween if I thought anyone would get the reference. No wonder the woman married a prince.
I can't remember what kind of shoes she wore in that scene and can't find any pictures (Teh Internets! They fail me!), but if the movie were to be shot in 2008, she'd be wearing those Louboutins (except some studio wonk would probably cast Scarlet Johanson in Kelly's part, and that would make me want to stab at least a few people). The shoes are sensual, glamorous, and not for the faint of heart – in fact, they're only for the type of woman with enough nerve to wear enormous white tulle skirts and pull them off. With a 5 inch stiletto, oversized bow (that somehow manages to be both chic AND large, something that few bows accomplish), and trademark red sole, these black satin beauties stand in a league of their own, just like Grace Kelly.
So I lay there on my couch, in front of the visage of retro glamour on my television, and thought about all the loonies outside running around with no shoes on (crazypants!). My guess is that Ms. Kelly was an inside girl too.
Buy the Christian Louboutin Very Noeud Slingbacks via Net A Porter for $795.
P.S. Please consider supporting our small, bag-loving team by clicking our links before shopping or checking out at your favorite online retailers like Amazon, Neiman Marcus, Nordstrom, or any of the listed partners on our shop page. We truly appreciate your support!