Satchels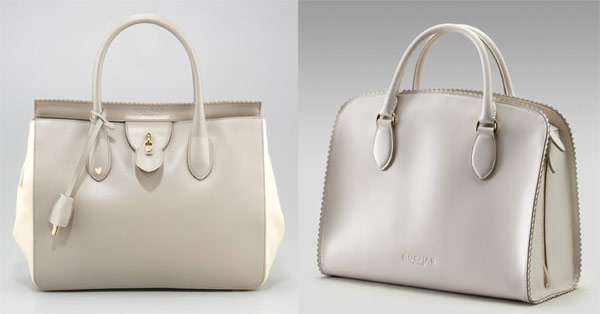 Even for someone like me who loves all manner of embellishment when it comes to accessories, the endless parade of brights and neons and rhinestones and patterns and fur and feathers and god knows what else can get a little…tiring. It's like I have fancy fatigue. Amid the cacophonous roar of Spring 2012's many trends, it's nice to occasionally get a little bit of a palate cleanser before heading back to maximalism. Today, that palate (palette?) cleanser comes courtesy of Rochas. (more…)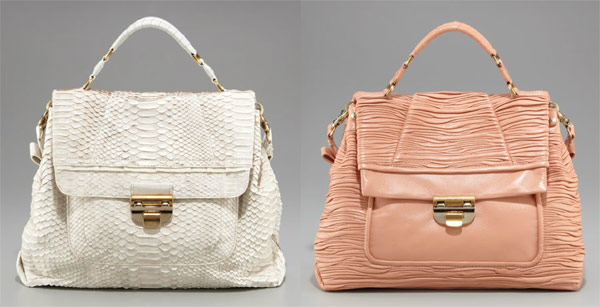 Nina Ricci Liane Satchels in Python and Pleated Leather, $3750 and $1950, respectively, via Neiman Marcus
It always takes me a moment to warm up to a new combatant in the It Bag Wars. Nina Ricci is an extremely well-established fashion house, but its never been known for its handbags, and any brand charging well into the four figures out of the gate deserves a close inspection. Luckily, bags like the Nina Ricci Liane Satchel pass with flying colors. (more…)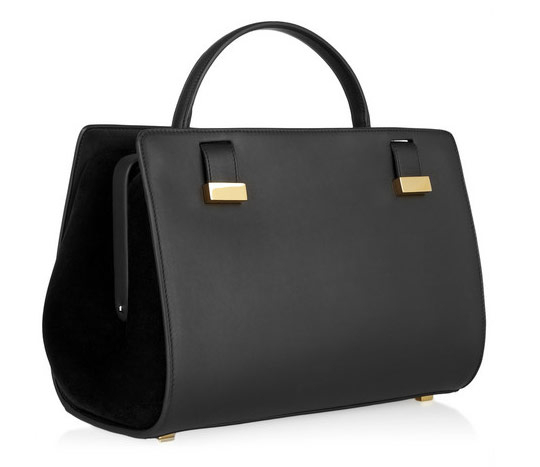 The Row Leather and Suede Doctor Bag, $4750 via Net-a-Porter
Ambition is a laudable characteristic in American culture, but when it crosses over into hubris, people's reactions start to change from positive to negative. Although the buying public might approve of a young designer trying new things that necessitate a somewhat steep price tag, the attitude changes when the young designers in question are filthy rich former child stars and the prices are reminiscent of Hermes and other venerable, historical houses that have earned their reputations and price tags over the span of generations.
That, of course, is the story behind bags like The Row Leather and Suede Doctor Bag. With a price tag of nearly five grand and no exotic leather in sight, the line has generated as much negative chatter as positive among handbag lovers. When you put the price out of your mind, though, this bag is actually a downright lovely accessory. (more…)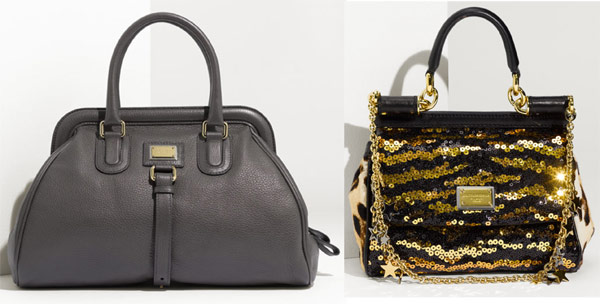 We all know that this time of the summer is basically nonexistent in the fashion world. Megs and Vladi are on vacation, emails slow down to a trickle, it's impossible to get ahold in anyone who works in an office after noon on Fridays. And here I am, plugging away, trying to conjure a blog out of thin air. But sometimes, the absolute stillness of the industry allows you to notice some things you might otherwise brush off.
Today, that means I noticed both the Dolce & Gabbana Miss Romantique Dome Satchel and Dolce & Gabbana Miss Sicily Tiger Sequins Satchel are, well, both made my Dolce & Gabbana. In the same season. Most brands certainly have a range of bags that goes from safe to flamboyant in order to satisfy a range of customers and purposes (some bags need to do the heavy lifting at retail, some need to garner editorial attention from magazines, still others need to get noticed by blogs like this one), but these two designs constitute about as wide of a range as I've ever seen from a single collection. (more…)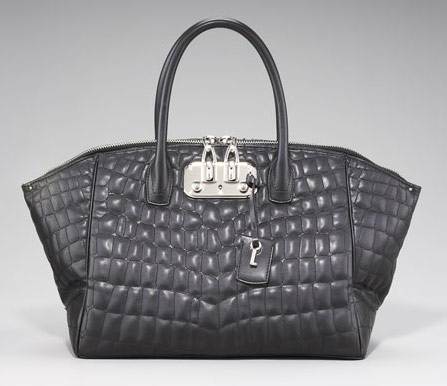 VBH Brera Croc-Quilted Handbag, $3650 via Neiman Marcus
It's been a hard day of economic realities and art criticism around here, so why not ease into the afternoon with something obviously beautiful like the VBH Brera Croc Quilted Handbag? You know you want to. (more…)
This past Saturday, I found myself on a bit of a walkabout. New York was rainy and grey all of last week, but for a few hours on Saturday afternoon, the sun shone brightly and the air was warm and it felt wrong not to be outside. Twenty blocks later, I looked up and saw that I was passing by the Upper East Side Mulberry boutique and couldn't help but take a look inside. And that's where I saw the Mulberry Alexa Bag in this brilliant green; it very nearly came home with me. (more…)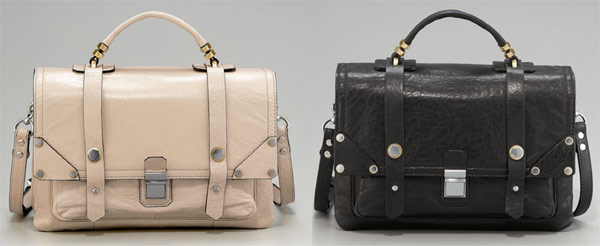 Oryany Misia Large Flap Satchel, $398 via Neiman Marcus.
When you spend eight hours per day looking at handbags, there are certain price points that you get used to seeing ($595, $895, $1195, $1595 and so on) and it's usually not hard to guess a price once you've seen a bag and know who designed it. I'm usually pretty accurate, and if I'm off, it's never by much. Until I saw the Oryany Misia Large Flap Satchel, that is. (more…)