Balenciaga Raffia Tote, $965 via Barneys. Rebecca Minkoff Endless Love Straw Tote, $250 via ShopBop
It is here, it is here!!! 'It' being summer. Well, kind of here, not totally 100% here but it is trying to arrive. With warm weather and vacation season knocking at our doors, many are working on their beach bodies and prepping their summer wardrobe. For an accessory lover, that should include a raffia tote.
While raffia totes are clearly only suited for May, June, July, and August, that is still a third of the year and that means it will be a great wardrobe addition. If you do not want to splurge on a designer option like the Balenciaga Raffia Tote, we found a look for less with the Rebecca Minkoff Endless Love Straw Tote. (more…)
Rebecca Minkoff Studded Rocker. The bag is small and packs easily into my suitcase, while being large enough to fit the right amount of necessities. In fact, I can fit quite a bit into this bag.
One of my absolutely favorite bags to travel with is my
Of course black leather is a safe rocker chic option, but either the white or turquoise version ShopBop is carrying right now really lures me in. (more…)
Yesterday afternoon marked the VIP night of this year's bi-annual Rebecca Minkoff Sample Sale. Since we were co-hosting the sale, Megs and I were invited to enter an hour before the doors opened to the public to check out the goods, mingle with celebs like Michelle Trachtenberg of Gossip Girl and chat with the RM team.
The initial onslaught of shoppers hit right when the doors opened at 4pm. An hour after the opening the line of awaiting shoppers actually vanished off 5th Avenue, just to then resurge with people leaving work around 6:30pm. Friends told us that the line eventually wrapped nearly two blocks by 8-9pm. Click to view the full gallery
It is Sample Sale Season again. One thing I have loved about living in NYC is the ability to literally walk down the street and find sample sale after sample sale when the season arrives. One of our favorite SS to attend is Rebecca Minkoff's, not only because we love her bags but also because we get to host it with Rebecca herself. (more…)
One of my favorite bags from Rebecca Minkoff is her Morning After Clutch. After I got my first MAC, I was hooked. I have become obsessed with smaller bags with long shoulder straps because of their accessibility, usability, and style. They also are much lighter and easier to throw over your shoulder or cross-body and wear it all day.
Obviously for spring you need to add bright hues to your wardrobe and the fuchsia Rebecca Minkoff Morning After Clutch gets my vote. (more…)
Transitioning from The Box last season to a large stage today, Rebecca Minkoff took on Mercedes-Benz Fashion Week New York full-force. When the lights went down we did not see a model strut down the runway at first, instead we were serenaded by Sean Lennon and Charlotte Kemp Muhl. The vibe was set, a throwback to the 60's with a gypsy feel. And then came the models, the clothing, the shoes, and the bags.
While the RTW was what most people were eying, it was obviously the handbags that caught our attention. We saw some familiar shapes, but overall the bags that hit the runway were of the small hand-held variety with a punk touch. Rebecca Minkoff did what we love to see, used her handbags as the eye-catching accessory that they are meant to be. There were bold colors, including blues and greens, along with fur accents and leopard print. (more…)
We will continue bringing you the latest Mercedes-Benz Fashion Week New York news throughout the week. And luckily, for both you and us, we have the exclusive first look of a few Rebecca Minkoff F/W 2011 Bags. Let's all just outwardly admit how totally cool this is.
We will be at the Rebecca Minkoff show today and bringing you a full runway review with many more photos later! But for now, delight in this sneak preview that you can't get anywhere other than PurseBlog.com! (more…)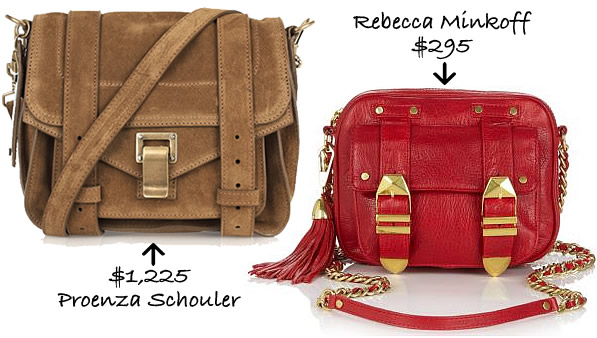 My new obsession: crossbody pouch bags. I seriously have been living in my Rebecca Minkoff BF Pouch bag. I toss my things in there and throw it over my shoulder or wear it crossbody. I love the smaller size, the lack of needing to use my hands to hold the bag, and it seems to work well for my personal style. We told you that Proenza Schouler released a line of crossbody pouch bags, and even when I saw this I was tickled pink. That is right, I just said tickled pink. I still adore the original PS1, but my crossbody smaller pouch obsession runs much deeper right now.
I have the Proenza Schouler Crossbody Pouch along with the bag I am currently carrying from Rebecca Minkoff picked out as my two favorite crossbody bags (with very different prices). (more…)
Congrats to annabelle, comment #51! You are our winner
For the holidays we find ourselves in the sharing and giving spirit, as are some of our favorite websites and designers!
This week we are featuring Rebecca Minkoff's favorite holiday picks. With each item, Rebecca also shared why she can not get enough of it and why it would make a great gift (to someone else or for yourself).
We couldn't just tempt you with all of her goodies – we will also be giving one away!
The exotic Rebecca Minkoff Alligator True Love is a standout from the designer that infuses luxury with the most gorgeous jewel toned color. This is the bag we will be giving away and we are prematurely jealous of the winner.
So read on to see all of Rebecca's choices and how you can enter to win the Alligator True Love! (more…)
Tonight was VIP night of the Rebecca Minkoff Sample Sale. Vlad and I had the pleasure to host the event with Rebecca. Believe it or not, this is our first RM Sample Sale to attend. We expected mayhem and tons of bags. We got both, along with the opportunity to meet some amazing PurseBlog readers and PurseForum members.
When we first arrived, the line was already 30 deep. Vlad and I walked up to the door which most likely annoyed everyone that had waited for hours. I don't think many know us by face so we clearly looked like those people trying to cut everyone in line. The security guard inside was baffled by our trying to walk in to check out the loot as well. But he opened the door and realized we were supposed to be there, so he let us inside. (more…)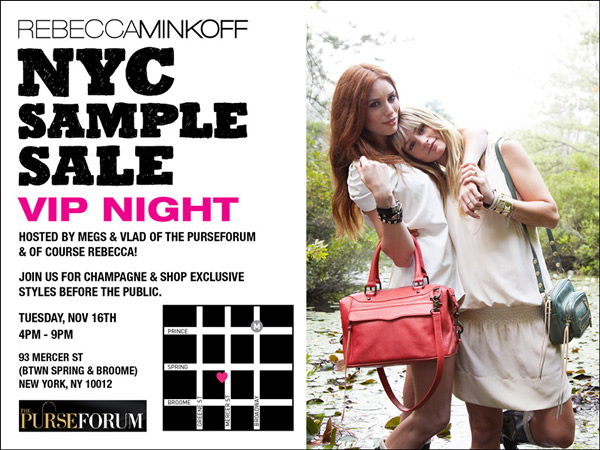 Rebecca Minkoff's Sample Sales are notorious for exponentially long lines and amazing loot. Vlad and I have never been able to make one of the infamous Rebecca Minkoff Sample Sales and this year we finally will be able to not only make the VIP night but also co-host it with Rebecca.
Because of the amazing support PurseBlog + PurseForum has shown to Rebecca Minkoff, she has a special VIP night for our readers and members. You can all shop her sale before the rest of the handbag loving world. Join us Tuesday night if you can make it, and if not check out her Sample Sale the rest of the week! Details below… (more…)