December really is the perfect time for luxury-themed novelty items to hit stores. Have a vain friend who requires a gift but don't want to spend very much? The keychain and coin purse options abound, and many of them already come packaged in gift boxes for your present-swapping pleasure.
"What do you give a girl that has everything?" is a question a lot of fashion lovers (or friends of fashion lovers) ask themselves around this time of year, and if you want to get a little more creative than the requisite key pouch and still stay within budget, perhaps a set of Lanvin Faces Playing Cards (with two full decks!) is, err…in the cards? Boo, hiss, I know, bad joke. (more…)
Believe it or not the house of Lanvin is 120 years old! In the past few years the brand has enjoyed a renewed popularity amongst fashionistas, and we couldn't be happier. Of course we are fans of the house of Lanvin inspired by the Impressionists and founded by Jeanne Lanvin in 1889. The brand is famous for its pretty delicate palette, detailed trimmings, embroideries and embellishments. Lanvin's designs experienced a wide popularity in the 1920's and '30s and became an icon of roaring '20s feminine Parisian chic. Today designer Alber Elbaz's modern touches to the house of Lanvin bring a luxurious edge to its trendsetting designs. (more…)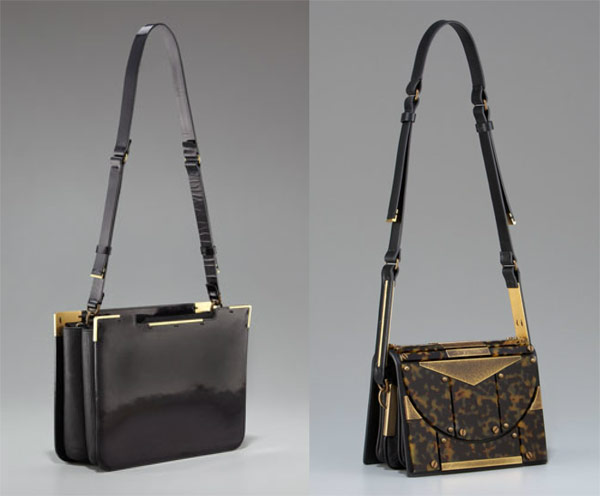 Lanvin Madame Lanvin Shoulder Bag, $2485. Lanvin Runway Tortoise Bag, $3850. Both via Neiman Marcus.
For me, the most interesting element of tiny, structured bags like the Lanvin Madame Lanvin Shoulder Bag and Lanvin Runway Tortoise Shoulder Bag is the discipline required to carry one. Long have most of us been accustomed to dumping everything we might need into our handbags and lugging that stuff with us all day; the big-bag trends of the last five years gave us that luxury.
Now that things have swung back in the complete opposite direction, you're required to carefully plan and pack your possessions in order to successfully carry one of these bags. Having shlepped bags both big and small, I can resolutely say that I'd rather carry a little bag with only a couple of things any day. (more…)
There are a number of things that never cease to spark a hint of curiosity within me. PurseBlog posts fall into this category. As I sipped on my coffee this morning and read Amanda's post on the Prada Saffiano Print Tote, something she said really resonated with me. She mentioned how some bags don't seem to make sense until you see them in person. I couldn't agree with her more. So, I drifted off a bit and began thinking of so many bags that I wouldn't give a second look to online but can barely keep my hands off in person.
And then, in the very next thought, I began thinking about the bags I look at online and wish I could reach through my computer, grab and run. Lanvin bags fall in this category. (more…)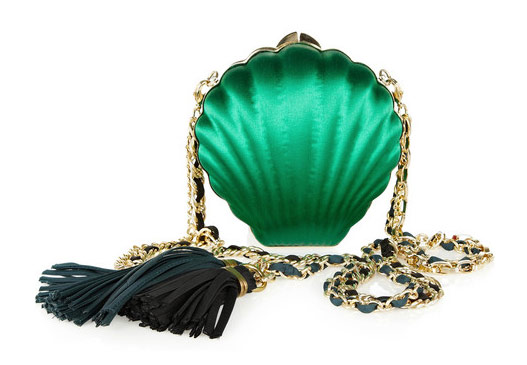 Lanvin Minaudiere Satin Shell Clutch, $1490 via Net-a-Porter
In general, a good rule of them is that two is a coincidence, three's a trend. If that's the case, then I'm ready to call shell bags a full-on fad; not only did Versace and Chanel both show shell purses during their respective Spring 2012 runway shows, but now Lanvin has dropped the Lanvin Minaudiere Satin Shell Clutch. That's three, y'all. Can you hear the Trend Siren going off? (more…)
I am undoubtedly a Lanvin fan. However, the thing about that is that while I do love Lanvin handbags, I don't necessarily always go out looking for a new Lanvin bag. The great thing is, they always seem to come to me. When I least expect it, a fabulous bag pops up and takes my breath away.
This is essentially what happened when I came across the Lanvin Pouchette Python Small Shoulder Bag. Admittedly, the first thing that caught my eye was the multicolored pompom. In fact, the pompom brought a smile and induced a bit of a giggle. I haven't seen a pompom in so long and I actually loved the fun and flirty take on the otherwise high school-esque item. But, that is just one element; this bag is so much more. (more…)
Lanvin Amalia Python Shoulder Bag is good enough to absolve the brand of all their Chanel-aping sins.
Alber Elbaz, all is forgiven. I've groused and complained and wrinkled my nose at my fair share of Lanvin bags lately, but the
The combination of simple shape and intricate material, plus a few Lanvin-signature extra, have me absolutely salivating for this bag. (more…)