Botkier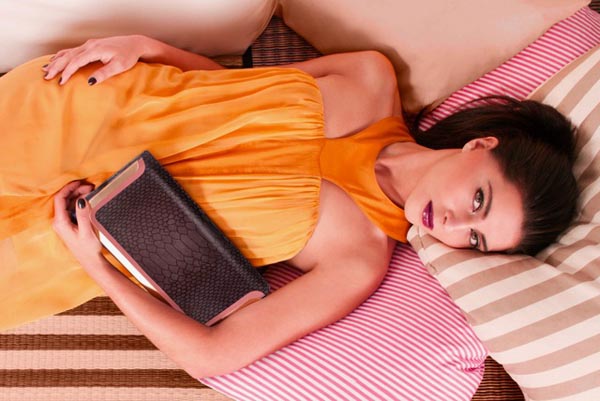 Images via Botkier
Ladies, here's your fun fact for the day: Before Monica Botkier started her awesome handbag line, she was a professional photographer. It only makes sense, then, that Monica would step back behind the lens to shoot a campaign for her bags from her own photographic perspective, but somehow, Botkier Spring 2012 is the first time that she's done it.
The results are a set of simple, clean images that represent the bags well. Botkier seems to be stepping a little further into the realm of color than it has in previous seasons, and the pastels and brights in these photos fit with the season's trends particularly well. Personally, my pick of the litter so far is the bright green tote with blue accents. Check out the rest of the ads (and bags!) after the jump. (more…)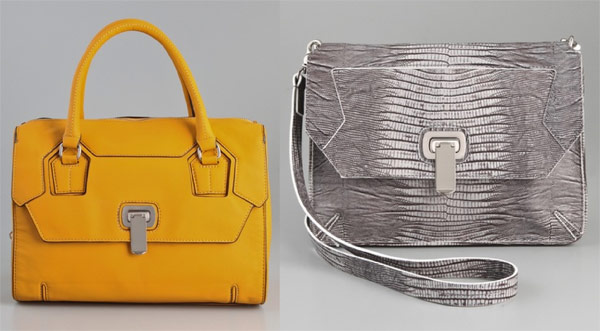 Botkier Carlyle Satchel, $545. Botkier Carlyle Crossbody, $395. Both via ShopBop.
Any longtime reader of this blog should be able to easily invision the archetypical Botkier handbag – a slouchy, soft leather satchel, usually in a dark color like black or chocolate brown with vintage-inspired touches. Those are the bags that have made the brand tick from the beginning, and although I love them, I'm still incredibly excited for the more colorful and structured options that the brand has created for Resort 2012. We already told you about the Botkier Eden Satchel, and today we'd like to introduce the Botkier Carlyle Bags – whether you're looking for a satchel or a crossbody, a bright color or a modern texture, this line has you covered. (more…)
I've been a big fan of the vibrantly colorblocked Botkier Eden Satchel ever since I got a tour of the brand's Resort 2012 collection from Monica months ago, and Megs' recent acquisition of the bag has only given me even more massive bag envy. Based on the enthusiastic response to our Eden giveaway, I bet a few of you have been waiting inpatiently for this bag to surface as well.
That's why I'm so excited to announce that the Botkier Eden Satchel is now available to anyone who loves ShopBop, which is everyone, duh. Winter is about to real dreary, real quick, so if you do yourself one favor before that happens, it should be to buy a bag that well serve as a bright, cheery pick-me-up all the way through next spring and summer. Treat yourself. (more…)
Congrats to our winner, Shana Levin!!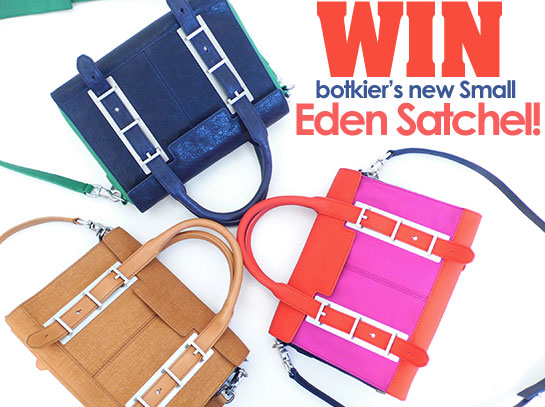 When Vlad and I visited the Botkier showroom last week, the bag that neither of us could take our eyes off of was the new Small Eden Satchel valued at $495. Monica sent me home with one myself and I can not stop singing its praises. The supple lambskin is absolutely luscious and the colorblocking adds a current spin on a classic shape.
Before the bag is available to anyone else, we're partnering with Botkier to give one away to a lucky PurseBlog reader. The winner will be able to pick the color combination of her choice (all shown above). Click to find out how to enter!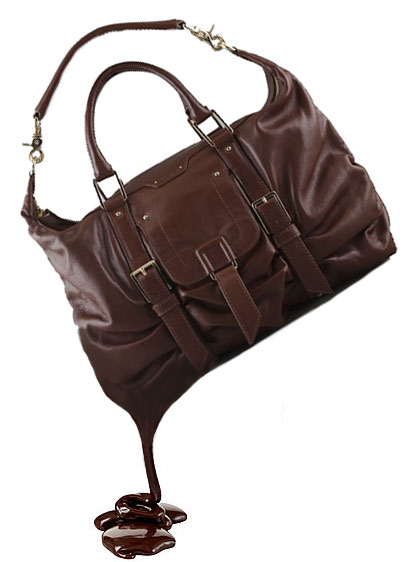 Botkier Sasha Medium Duffel Bag, $595 via ShopBop.com
When I laid eyes on this bag, I began to feel hungry. Images of chocolate bars and fudge danced through my head and I realized that not only does this bag remind me of one of my favorite food groups but also I do not own a dark brown bag. Both Amanda and I don't usually care for brown handbags, but Botkier has released this delightful version of its coveted Sasha and I just might cave. (more…)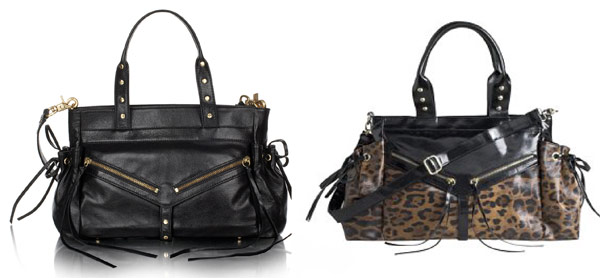 Photos via Botkier, Sears
Let's be real here: The Kardashian family will put its name on anything you want them to, so long as you're willing to wave a big enough check at them. As reality stars, that's not necessarily a bad way to go about business – they seem fully aware that their shelf lives are short, and they're socking away as much money as they can in the meantime. I know a lot of people seem to hold that against them, which I've never particularly understood. If someone was holding a check with lots of zeros and my name on it, I'd "spokesmodel" for any toothpaste, hair product or used car dealership that they might be shilling.
With that in mind, I doubt that Kim, Kourtney and Khloe had anything more than a passing involvement in their Kardashian Kollection (you can't even make that up) for Sears, which was announced just a few days ago. But shame on whoever saw fit to add a nearly detail-for-detail knockff of the Botkier Clyde Bag to the line of short, tight dresses and jumpsuits. (more…)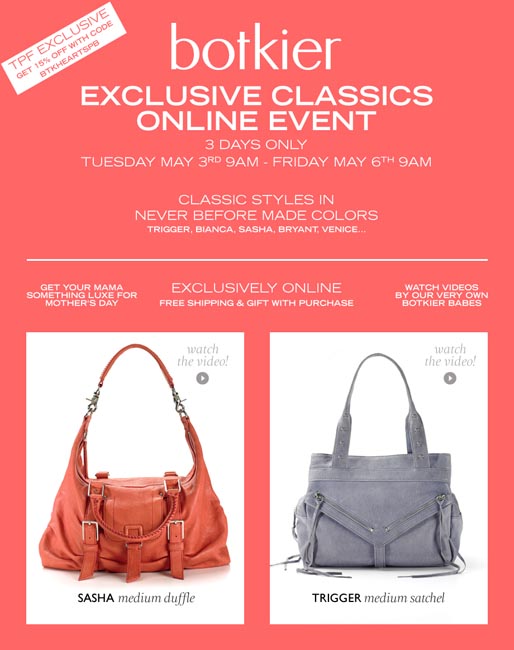 As we first told you about last week, this morning marks the beginning of Botkier's first online sample sale, featuring classic bags like the Trigger and Sasha in never-before-sold colors and materials! Because Botkier loves you guys, they've given us a code for our readers to take 15% off your purchases at the sale, which will be online until 9 a.m. Friday. Hurry! The best stuff always goes first!