Luxury accessories have an exclusivity problem. Because handbags are generally among a company's most profitable and marketable product categories, most brands want (and need) to sell them hand over first in order to stay on the seasonal fashion treadmill. That's a bit tricky, though, because one of the things luxury customers look for most in a new purchase is a sense of exclusivity; how do you sell lots of bags while still making every bag-buyer feel like she's the only person in the world who has a particular piece? Lately, the answer is to turn a retail product into a one-of-a-kind handbag with the addition of the owner's name or initials.
Leather goods have a long history of personalization; back when nobility traveled with customized trunks (and they still do, I guess), luggage was often emblazoned with the family's crest or coat of arms as the final, distinguishing touch on the manufacturing process, as an old-world luggage tag of sorts. For brands like Louis Vuitton and Goyard, both of which got their start as malletiers, customization has long been a detail that they've offered their customers in various ways. At times it was a VIP perk, but now it's widely available. Many Vuitton boutiques offer complimentary, on-site hot stamping (a process of applying color to leather via a combination of pressure and, well, heat) for your new purchase with initials in the color of your choice while you wait; Goyard's customizations and Louis Vuitton's more robust personalization service, Mon Monogram, requires consumers to send in their bags for hand-painting.
Those customization programs have proved successful for Vuitton and Goyard, and over the past few seasons, more brands have added optional customization to their purchase experiences. Bottega Veneta Initials, similar to Louis Vuitton's Mon Monogram program, allows you to order a variety of leather goods customized with your initials and offers an 8-12 week turnaround time for the bag to be sent to your home. Fendi and Valentino, on the other hand, now both offer complimentary, in-boutique hot stamping at company flagships for a particular set of bags within their accessories collections. Perhaps the most creative incarnations of this trend is Edie Parker's nameplate clutches, which are custom-manufactured with the purchaser's letters of choice inlaid into the acrylic structure of a posh little evening bag.
Until recently, customization was largely a province of the most high-end brands; not only does it appeal to their very choosy and exclusivity-minded customer base, but it's a program that requires significant financial and organizational operations to keep afloat, which usually comes along with more expensive bags. Because of its popularity, though, contemporary brands are starting to experiment with the service. Most recently, Rebecca Minkoff opened an online Monogram Shop that allows shoppers to have up to two initials hand-painted onto a small selection of popular bags in a color that matches the bag's hardware. The markup for the service is minimal, as are the available customizations, and the limitations make personalization possible at a more accessible price level.
To make things even more accessible, Minkoff also debuted a line of simple totes and pouches that are pre-lettered with a single initial; cutting out the endless multi-letter and color combinations makes such a program sustainable at a lower price point because it allows the bags to be mass-produced and sold at third-party retailers. It's not true personalization, because the bags aren't unique to each order, but it'll do in a pinch for customers who want to save time and stick to a tighter budget.
How much personalization will set you back varies depending on the size of the work and the price levels of the brand at play. Hot stamping is free with the purchase of a bag or small leather good (depending on the program) at every brand we checked, but painted customization is generally more time-consuming, varied and detailed, increasing the price of a bag by several hundred dollars in most cases. Check out detailed information about the biggest handbag personalization programs below.
1 / 8
2 / 8
---
Louis Vuitton Mon Monogram
What It Is: Hand-painted, multicolor initials and stripes on a selection of Louis Vuitton's most popular monogram handbags, small leather goods and luggage.
Turnaround Time: Eight weeks; customizations are hand-painted offsite if a Mon Monogram bag is bought in-store.
Where: Anywhere Vuitton bags are sold.
Price: Markup beyond non-customized prices ranges from an additional $160 for a passport cover to an additional $1,100 for a Pegase 65 rolling suitcase.
More information via Louis Vuitton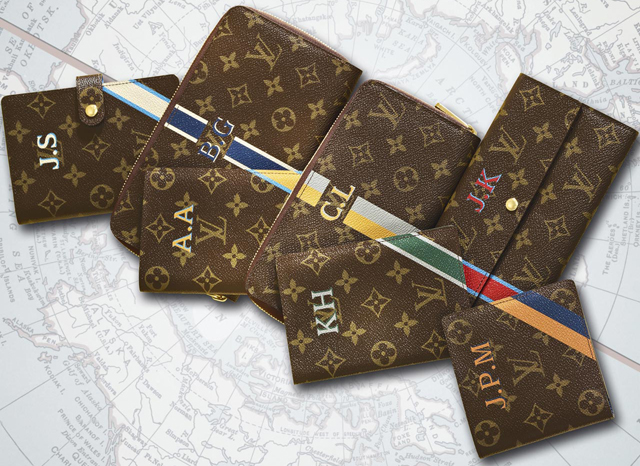 3 / 8
---
Goyard Personalization
What It Is: Hand-painted, multicolor initials, stripes and beyond (includes things like flowers and animals) on Goyard's signature print bags and luggage.
Turnaround Time: Two to eight weeks.
Where: Goyard does not sell its products online. Purchases must be made either at stand-alone Goyard boutiques or at store-within-a-store spaces in elite department stores like Bergdorf Goodman and Barneys' Madison Avenue flagship location. The bags are then hand-embellished in one of only three ateliers worldwide (San Francisco, Tokyo and Carcassonne, France), depending on the location of purchase.
Price: Customization starts at around $150 for initials and another $150 or so for stripes. After that, the sky is the limit for more intricate and extensive artwork.
More information via Goyard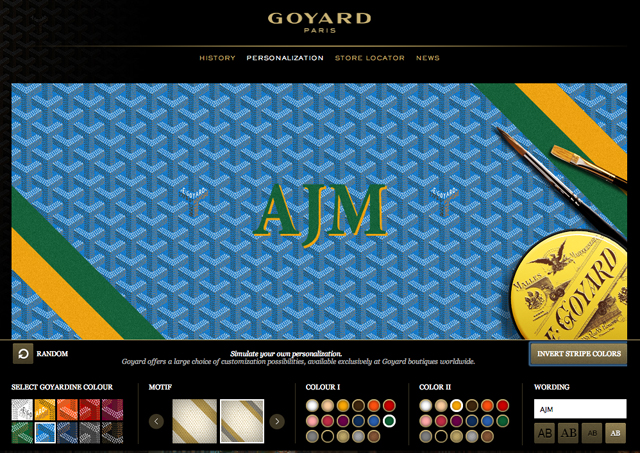 4 / 8
---
Bottega Veneta Initials
What It Is: A fairly new program that allows customers to add up to three single- or multi-colored, hand-painted letters to a selection of the brand's intrecciato leather handbags, luggage and accessories.
Turnaround Time: Eight to 12 weeks
Where: The program is available to online customers in the US, UK and Japan only at this time, but Bottega reports that more countries are coming soon. It's unclear, based on Bottega Veneta's website, if the program is offered in boutiques.
Price: Markup over regular product prices spans from $30 for a card case to $60 for a rolling suitcase.
More information via Bottega Veneta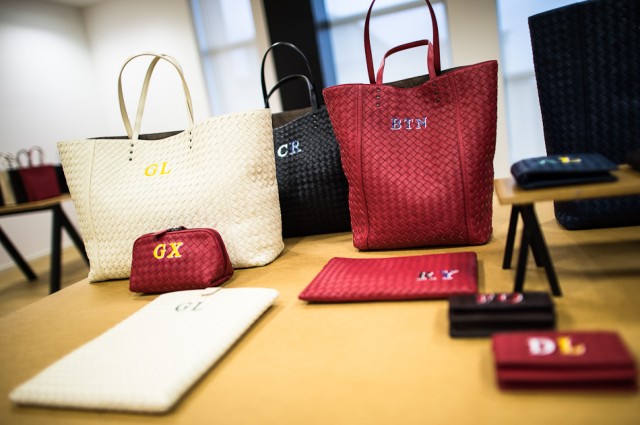 5 / 8
---
Edie Parker Bespoke
What It Is: Edie Parker will custom-manufacture a Flavia box clutch with your name or initials featured prominently on an entire side of the clutch. The service is available in several colors and finishes, both for the clutch itself and the inlaid letters.
Turnaround Time: Eight to ten weeks
Where: Edie Parker has done very limited (we're talking a couple of days) orders at both Moda Operandi and Neiman Marcus in the past, but generally, the clutches are only available via inquiry at the brand's website.
Price: Personalized Flavia clutches cost $700 more than their plain counterparts.
More information via Edie Parker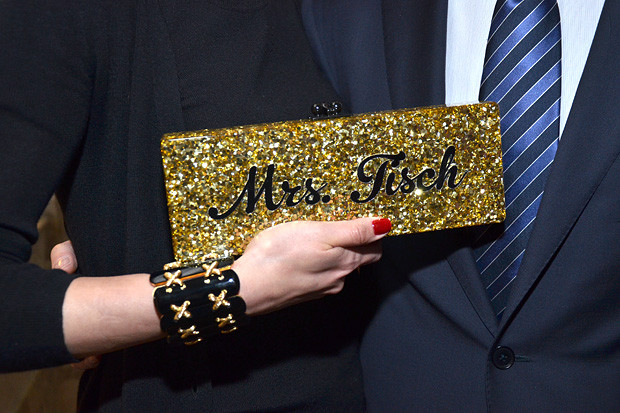 6 / 8
---
Valentino My Own Code
What It Is: At the moment, it's one bag: the Valentino MOC Clutch, which has a hand strap upon which the purchaser's initials can be hot stamped in a relatively neutral selection of colors. The bag comes in regular leather, crocodile, and partially embroidered and fur-colored versions.
Turnaround Time: A few minutes, if you're near one of the dozen boutiques that offer the service in-store. The clutches are available online via Valentino, but they must be taken in to a participating retail location for customization.
Where: Valentino flagship locations in New York, Los Angeles, London, Paris, Milan, Hong Kong, Beijing, Shanghai, Tokyo and Osaka.
Price: Complimentary with the purchase of a MOC Clutch, which starts at $1,945 for regular leather.
More information via Valentino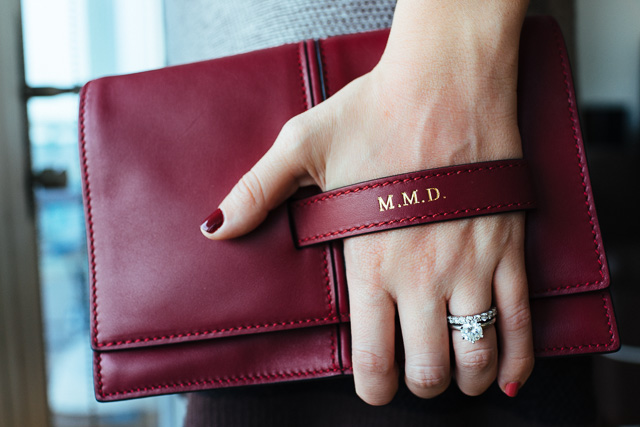 7 / 8
8 / 8
---
Rebecca Minkoff Monogramming
What It Is: An online shop offering hand-painted monograms of up to two letters on a few of the brand's favorite handbags. Customizations must be made in a paint color that matches the bag's hardware. Minkoff also offers a line of pre-personalized totes and clutches bearing a single-letter initial that are available through third-party retailers.
Turnaround Time: Four to six weeks for hand-painted bags, no turnaround for pre-personalized bags.
Where: RebeccaMinkoff.com for hand-painted personalizations, anywhere Minkoff bags are sold for mass-produced bags.
Price: $35 beyond the price of a regular MAC Mini bag for the hand-painted version, $50 beyond the price of a regular MAB Medium Tote for the pre-personalized version.
Shop the Rebecca Minkoff Monogram Shop
Shop the Rebecca Minkoff Pre-Personalized Bags via Nordstrom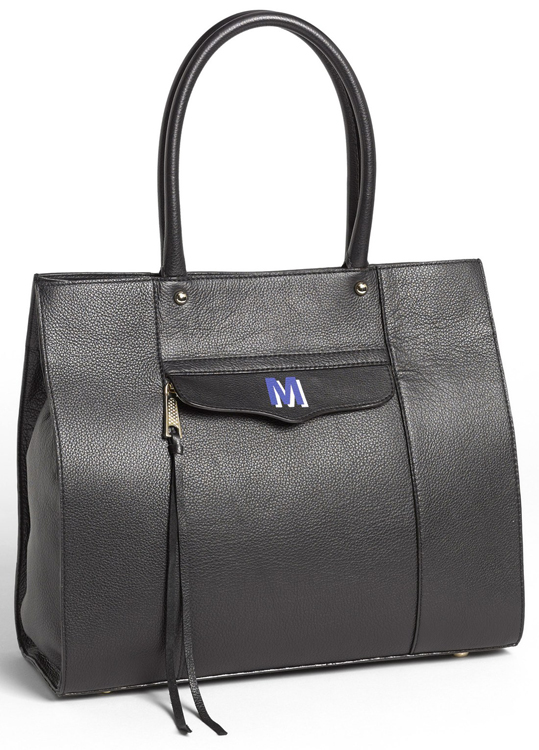 P.S. Please consider supporting our small, bag-loving team by clicking our links before shopping or checking out at your favorite online retailers like Amazon, Neiman Marcus, Nordstrom, or any of the listed partners on our shop page. We truly appreciate your support!