Tory Burch bag from miles away due to the logo. This is all fine and good, but it really began to wear on my nerves. Then, I came across this beauty!
Ladies and gentlemen, it is official, Tory Burch really CAN produce some fabulous bags without her logo splashed all over it. Like most of you out there, I've become accustom to recognizing a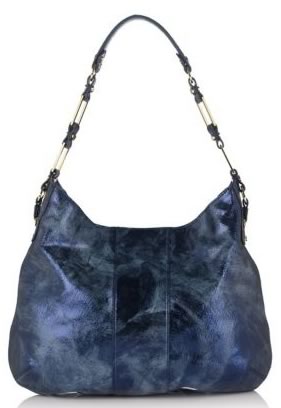 The Tory Burch Nico Distressed Metallic Leather Hobo is a gorgeous twist on a classic shape. As I've mentioned before, metallics are everywhere and this is totally fine by me. I love a nicely crafted metallic. However, I've become so used to seeing silver and gold metallics that I practically didn't know what to do with myself when I saw this fantastic blue metallic bag. I love the way the gold-tone hardware adds to the shimmer of the entire bag. A single shoulder strap with a 10″ drop will fit perfectly on your shoulder without hugging against your body too closely. I can't forget to mention the top magnetic snap closure which I find to be essential when it comes to securing your belongings in a hobo. Great hobo! Buy through Bloomingdale's for $465.