Burgeoning bag lines, take note: making a bag interesting and visually appealing does not mean making it over-designed, over-thought and over-worked. It also doesn't mean charging an arm and a leg, just because you can or because you think it will make your bags seem cooler. If you doubt me, just take a look at the Tory Burch Dean Leather Hobo.
Not only is the design simple in a way that makes it look totally easy to carry and functional, but the price is so good that I did a double-take. Add in an oversized tassel and a beautiful shade of green that is all-too-often ignored, and I'm officially on this bag's bandwagon.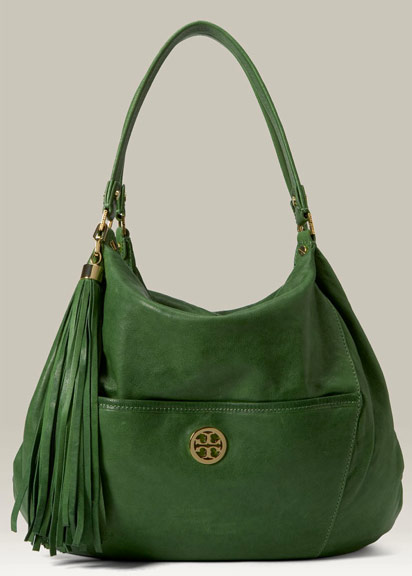 I could see this bag being worn equally well in warm or cold weather, and the flat, comfortable-looking shoulder straps makes it all the more likely that I'd want to wear it year-round. Plus, it so obviously has a magical little thing that I like to call "elbow clearance": I could swing it up onto my shoulder, one-handed, without smacking the body of the bag into my elbow in the process. For me, that's a very important test for a bag to pass, and this one would do so with flying colors. It even has an outside pocket for my cell phone! Buy through Nordstrom for $395.