Tory Burch Mini Bag, metallics are amazing – if they are done correctly. And just like leathers have so many different facets to them, whether you would think it or not, the same goes for metallic bags. While I almost passed this clutch by, I am glad I didn't.
I am on a metallic kick right now. There is something about a shinny bag that I can't get enough of. As I mentioned in my review of the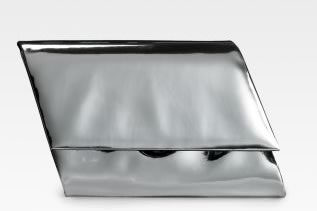 The Sang A Flash Parallelogram Clutch is a shape we've seen before but this metallic clutch is one worth taking a second look at. Over a year ago Megs covered the Sang A Parallelogram made out of green crocodile skin. While the crocodile clutch is completely stunning, I love the chic and younger feel the metallic version offers. Keeping true to the geometric shape, this edgy clutch is definitely not something you will see every where you look. This is also the kind of clutch that would go best with an understated yet amazing outfit. Pair the clutch with some other great accessories and you will shimmer the night away! Buy through Saks for $386.