As you may well know from following the blog, I adore bags that have hints of veritable hippie-chic to them. But with this Rebecca Minkoff Loveletter Morning After Mini Bag, I'm getting the unique sensation that the bag is hippie-glam, as in, glam enough to be worn by those who don't don trailing skirts and braided headbands. As I've mentioned before, there's that Rebecca Minkoff girl, carefree and glam and slightly hipster; she'd be quite at home with this in her fist.
The color, aptly named "antique white," recalls of that old, beautifully knarled white metal table in the local mall tea shop (oh, I guess that's just me). But even if you didn't have a tea shop, don't you see it? The color's just like that of vintage bird cages sitting prettily in a shop window.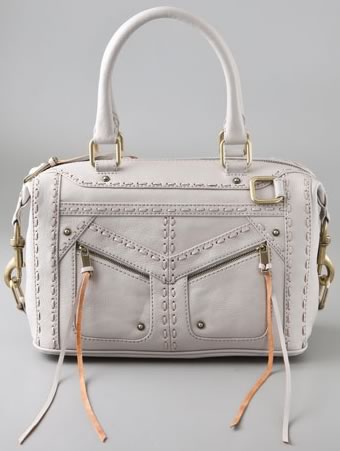 The leather topstitching and strategically placed studs only add to the appeal. And the colorful inside, printed with neon birds, kind of makes me excited at how well a brightly colored ensemble would work with this bag. And let's not forget, it's the classic MAM shape. At this point, fellow handbag lovers, there's not much more to say about this shape because we all know and love it. Buy through Shopbop for $550.