Olivia Harris Studded Ball Hobo, it's lambskin. And in case you're not aware, that means it almost certainly IS fabulous in real life.
The more I see from Olivia Harris, the more I like the brand, designed by Joy Gryson. The leather looks fabulous and on most bags, including the
Not only that, but it also appears to be functional and a little bit funky. Ladies, I'm intrigued. They've got my attention. My interest is piqued. I was going to try and think of a few more ways to say that, but I'm fresh out, so just click the little linky-poo, will ya?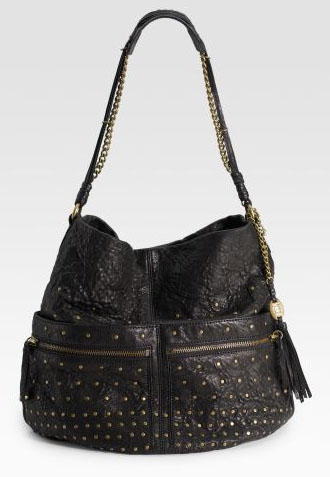 And here it is, in all its glory. The chain and studs give the bag a bit of flair, but they're on a small enough scale to not be overly trendy or to limit the bag's audience. A single shoulder strap and large exterior pockets ensure that the bag doesn't consider fashion over function, and the great leather choice keeps it luxe-looking. Sign me up. Buy through Saks for $495.