The MICHAEL Michael Kors Charlton Crossbody Bag has a message for all of you, and it goes something like this: "LOOK AT MAH BUCKLLLLLE." Ok, so, technically it's not a buckle, it's a pushlock, but since handbags aren't sentient beings, I hope you'll forgive it for using the wrong word.
Despite (and maybe because of?) the outsized pushlock, this little bag goes quite a long way – and for a price well south of $200, this is another great option for those who have yet to buy into the minibag trend.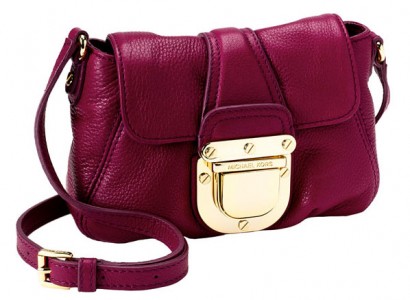 As these little bags become more and more popular, they're cropping up in styles other than the neo-bohemian look that started the trend. This one in particular seems really classic – the leather is thick, the construction is what you'd expect of a larger-scale bag, and even the outsized hardware is traditional in shape.
Because of the style, this bag would be a great way for someone with non-trendy tastes to incorporate a very "now" shape into her wardrobe. It would provide an opportunity for a pop of color; not only does this bag come in the beautiful cranberry shade pictured here, but there's also a version in color-of-the-season turquoise. Buy through Nordstrom for $128.