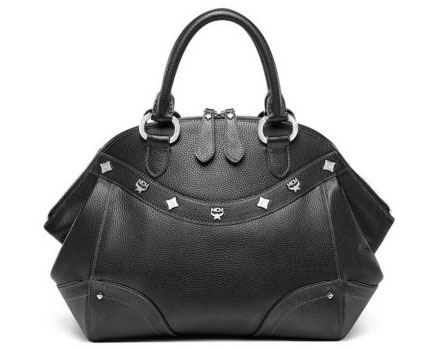 I am simultaneously a fan and not a fan of the MCM Alda Small Boston Satchel. The elegant structure makes me smile, but I'm not so sure about the logo studding. The price, however, might be enough to make me forget its ills.
It's worth noting that a structured bag that's not completely boring and uninventive can be incredibly difficult to find, particularly at a reasonable price. Attractive slouchy bags are simply easier to make, and most designers go that route in order to maximize the bag's luxuriousness and visual appeal.
I applaud MCM for marching to a different tune here, and they did it quite well. The bag has just enough interesting seaming and folding to not be boring but still be clean and elegant. What I don't love are the alternating logo studs on the front – I agree that they needed some sort of visual interest in that area, but I think that what they chose cheapens the bag a bit. Perhaps if it was only the diamonds instead of two different kinds of studs I'd like it better. For the reasonable price, though, that's a small nit to pick. Buy through Bloomingdale's for $580.