Matt & Nat Santogold Bag.
I can't tell you for sure whether or not female alt-hip-hop artist Santigold (who spelled her name Santogold as recently as last year) had a hand in the making of this bag or if it's even named after her, but if either of those things is true, then bravo to the
I haven't heard all that much of her work, but I do know that she's a solo female artist doing her own thing, which is incredibly difficult in the male-dominated music industry where female solo artists are expected to look, act and sound a certain way in order to be viable artists. And not only does Santigold march to the beat of her own drummer stylistically, so does Matt & Nat.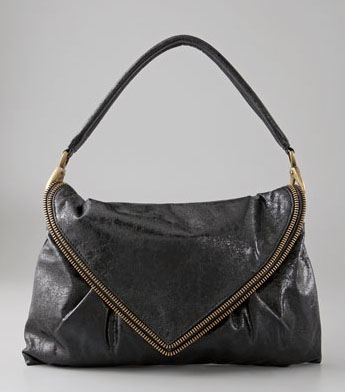 As many of you probably already know, Matt & Nat's handbags are made entirely of environmentally friendly materials that contain absolutely no animal products. This particular bag is made of distressed PVC with an interior of recycled pink faux suede. The subtle zipper details are on-trend and hip, and it also comes with an extended gold chain handle that I'd use instead of the one pictured. Buy through ShopBop for $185.