Re-usable bags, though they're not all the rage as they once were, are now being used much more than before. The trend has passed, sure, but the concept is still being used. Case in point- I have yet to walk into a supermarket without spotting at least a few reusable-bag toting shoppers.
In my opinion, the simplest type of reusable bag is that which folds up to fit neatly inside of your bag. And better yet, Marc by Marc Jacobs has jumped on this bandwagon with the Marc by Marc Jacobs Zippy Nylon Shopper. It has all the kitty cuteness of the whimsical Marc by Marc prints, but all the utility of a traditional shopper. And hopefully it's just as durable; I'd expect as much for this price.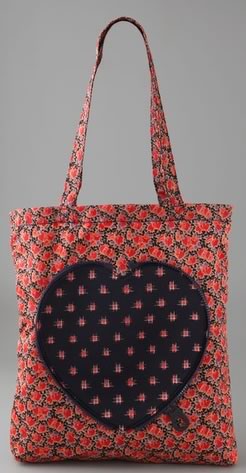 The tote folds up into half of a heart, which is small and useful but somehow not as adorable as a full heart. Luckily, though, the full heart manifests itself cleverly on the front of the unzipped tote. Although, a half heart is easier to unzip and unfold than a full heart, so I suppose Mr. Marc has it all thought out. Buy through Shopbop for $128.