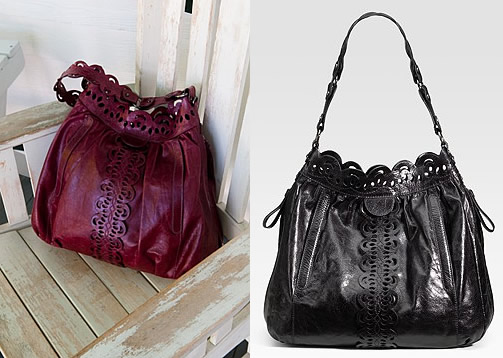 When we introduced Lockheart on PurseBlog we realized you all were crushing on Lockheart as much as we were. We felt like we found a hidden gem, a designer that deserves so much notice but was just becoming known to us.
After we first learned about Lockheart we had to have more. We yearned to see the bags in person. And we got that chance, which we loved! After reviewing a box of Lockheart bags my favorite was the Lockheart Candice Hobo which we featured in Shutterbags.
I can't even explain how much I love this bag. The leather slouches beautifully. The strap has the perfect drop down to leave ample room from under your arm. The cut out design adds such an amazing feminine touch. I adore this bag. I have been carrying mine all summer. And now it is available on Saks. I highly advise you check it out! Buy through Saks for $555.