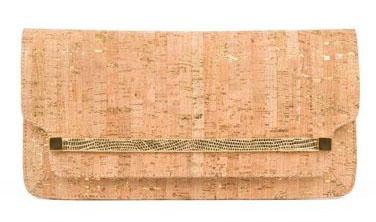 When evaluating high-end handbags, there are a lot of materials to consider. Designers make purses out of everything from linen and nylon to crocodile and python, and the workmanship and price points vary wildly. Until now, however, I had never had to evaluate an expensive bag made of cork. But that's exactly what the Kara Ross Mia Lizard-Trimmed Cork Clutch is, so here goes nothing.
First, I suppose I have to ask myself how much I'm willing to pay for cork. I'm not sure of the exact magic number, but I'm pretty certain that it's less than the $500 price tag that this bag features. In my experience with cork (which, admittedly, mainly comes as a result of opening myriad bottles of wine over the years), the material isn't particularly resilient, and I think that that could potentially cause a wear-and-tear problem with a bag that has to be carried by hand.
I do kind of like the look of the material, though, particularly for warm weather. The lizard trim is a nice touch that reminds everyone that the bag was, in fact, fabulously expensive, and the shape is streamlined and chic. If you're looking to blow some cash on an unexpected clutch, perhaps this is the one for you. It's not the one for me, however. Buy through Bloomingdale's for $500.