Juicy Couture bag, I actually had nice things to say. I was as shocked as everyone else about that, believe me. However, it's almost comforting to see that things have returned to the status quo: the Juicy Couture Lock it Want It Shoulder Bag is just as bad in just the same ways that you would expect of the brand.
Last time I talked about a
I guess that means I have to give them points for consistency, but let's consider all the things for which I intend to subtract points: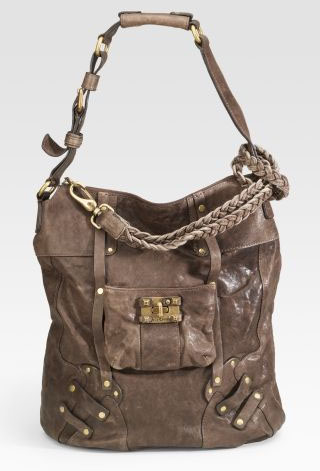 First, the extra braided strap with the lobster clasp which connects random points on the bag. Why? Why do that, Juicy Couture? It connects the strap attachment to…a random point on the bag's opening? The zipper? I'm not sure. A good design doesn't need extra stuff like that to make it interesting, and that they felt they needed to add it is just further proof of the limited abilities of whomever is designing these bags.
And then there are the extra stuff that Juicy always manages to stick on to their bags – rivets, pieces of leather, a big pocket. The shoulder strapped is overworked and looks like it might not even be that comfortable to carry. Has no one ever told them that less is more? Buy through Saks for $278.