J. Crew Marche Satchel is just this kind of bag.
For those of you who work in the corporate world, you know that it can sometimes be tricky matching a nice handbag with your work place attire. With so many gorgeous handbags out there I love when I come across one that instantly reminds me of a perfect bag for the office. The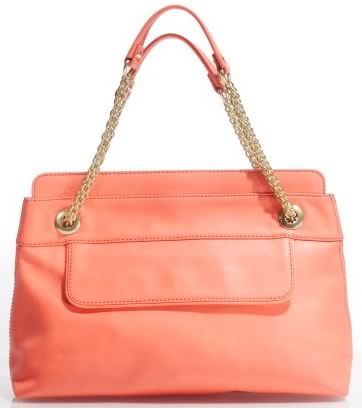 J. Crew designers played off of some of their best selling bracelet designs to create the chain-link straps found on this bag. Adding leather to where you would rest the chains on your shoulder offer comfort and a nice contrast against the chains. The bag comes in this pink/salmon color as well as in a light brown/fawn color. Personally I would go for the salmon color as a great way to spruce up so many outfits. As you can see, there is an exterior front pocket that has a hidden magnet closure which is a great surprise. Sure the bag is simplistic in nature, but there are times when simplicity is a welcomed addition. Buy through J. Crew for $248.