Foley + Corinna Cargo Bag before you started reading this post (which I'm fairly sure you did), then you can probably already guess what I'm going to write about it. Ladies and gentlemen, we have proportion issues!
If you looked at the picture of the
The issue, though, is that I can't decide if the bag's issues are a good thing or a bad thing. Playing with proportion is one of the most important avenues to innovation, and if no one ever innovated, I wouldn't have a job and handbags wouldn't be any fun. It's also one of the riskiest things to do, since a sense of proportion is innate in most people that find any value in aesthetics – violate that, and you might have a serious problem selling bags.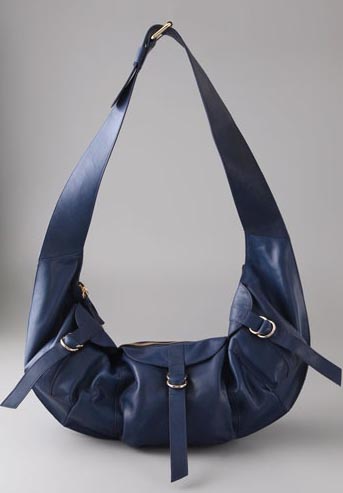 This bag is certainly not for everyone, but I've been looking at it for about a week now and its shape is starting to grow on me in a serious way. I hated it when I first saw it, but now it seems kind of clever and interesting, and it would probably be comfortable to carry while still being odd enough to attract a bit of attention.
If it sags a bit like it should, this bag could be an unexpected winner. If it's stiff and its shape doesn't change on the shoulder, then I'll pass. Either way, I appreciate that they took the risk. Buy through ShopBop for $495.