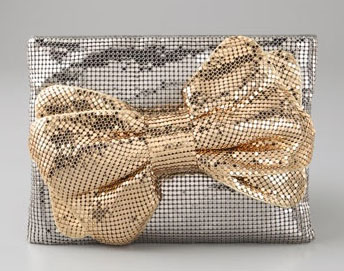 Can you tell that my thoughts have already turned to the holidays? It's not that it's feeling particularly wintery here yet (thanks for the monsoon winds and rain yesterday, Hurricane Ida), but at night, even in the Deep South, there's still that bit of crispness to the air, isn't there? Even in early November, in a part of the country that never gets all that cold anyway.
And with the holiday season comes the necessity for sparkly, festive outfits and bags that are equally so. But do you go with silver or gold? What if you need a bag to wear with several different outfits that feature different metallics? The Felix Rey Greta Bow Clutch has you covered.
It's sparkly, pretty, girly, and simultaneously both gold and silver. It's the perfect holiday party clutch, and it will work for other fancy parties for the rest of the year too. At 8.5 inches long, it's just big enough to make the bow a bit oversized and kitschy (in the best way possible), but still small enough to be reasonably elegant. But it's also incredibly fun, and when do you ever see whimsy and elegance embodied in a single bag? Buy through ShopBop for $240.