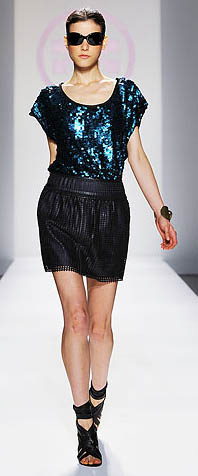 The buzz around the internet is that Tory Burch's Spring 2010 collection may save fashion retailing as we know it. Even my dad sent me a link to a New York Times article about it, and he's not the normal audience for Fashion Week retail gossip. That's high praise, but upon review, I can't entirely disagree.
Put very simply, Tory Burch makes very attractive clothes that a variety of women would want to wear, and she makes them at prices that are attainable for a retail audience that most people showing at Bryant Park would rather ignore. Perhaps that's why her young brand continues to prosper while others struggle to make it out of the red; the fact that she makes things that I want to rip off of a model and wear tonight can't hurt, either.
Take a look at that little sequin ditty over there. It's adorable with the skirt, but would probably be equally adorable with black skinny jeans, gladiator heels, and a boyfriend blazer. I would wear that today. I want it for this weekend. Does it come in any other colors? The great thing is, there are so many other pieces in this collection that I have the exact same feelings about. Burch continues to mature and evolve as a designer, and as she does, her collections are only getting better and better.
What she does so masterfully is take basics and give them a note of glitz and glam that appeals to a huge subset of customers that might be willing to splurge a little bit in order to have something special for themselves, as well as those for which the clothes are well within reach. Even if you're not a fan of Burch's overall aesthetic, I'm sure you can look through these pictures and find at least one or two pieces that you'd like to have in your wardrobe, and I can't say that about many of the other shows I've perused this week.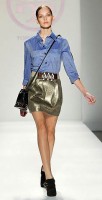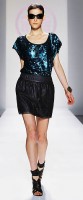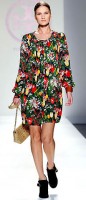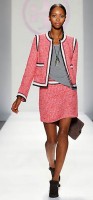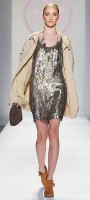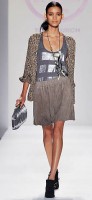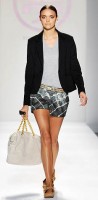 Images via Style.com