Cole Haan bags I've come across. I started giving Cole Haan bags a bit more of my time once I bought a pair of great CH pumps, with Nike technology. They might just be the most comfortable and fashionable pumps I own. So, as my love for that pair of shoes grew, I thought it was time to start looking a bit more at the bags. I really loved the Cole Haan Prudence Small Satchel but I am on the fence about the larger version.
I've been really pleased with the recent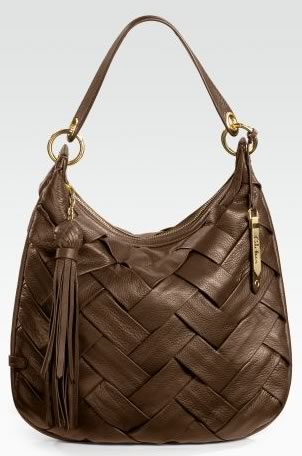 The Cole Haan Prudence Leather Hobo offers the same great woven leather design as the satchel, but more of it and with a few different colors. I was a huge fan of the grey leather used for the satchel, but I can also equally appreciate the chestnut and zinfandel colors offered for the hobo. The pebbled leather and tassel zipper pull both play off of one another perfectly. I am just wondering if with the hobo, the woven leather is too much. Yet whatever hangup I have, the bag itself is lovely, wearable and absolutely perfect for the cooler fall temperatures. Buy through Saks for $428.