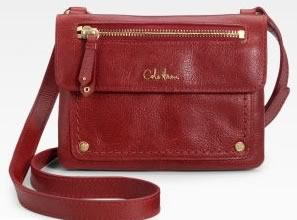 I can say with all certainty that I have never been a fan of bags that are boring, and I'm sure many of you would say the same. But how exactly does a handbag cross into the doldrums? It's the Cole Haan Marabelle Double Flap Leather Bag that prodded me to ask such questions.
At first glance, this Cole Haan seemed so blah, like a complete miss. But on closer inspection, there are actually some aspects of the bag that I quite like- but there is still something about this bag that makes is not quite cute, trendy, or even elegant. The shape I like, as I do the long strap which is just a tad thicker than the norm.
But the leather is just slightly crinkly, not quite distressed or pebbly, making it look somewhat awkward in both red and black. Furthermore, the interior is polyester- and a strange, pinkish-purple polyester at that. While this bag straddles the divide between boring and more than mediocre, I still prefer to view it as a distance, when the shape and silhouette are still pleasing to the eye. Buy through Saks for $128.