CC Skye handbag on here. This being the case, I was pleasantly surprised to see a new bag of hers that I completely like.
It's been a little while since we've covered a
I know I've been back and forth with fringe, but hey, haven't we all? So, I did cringe a little when I saw the term "fringe" in the name of the bag, but I let out a huge sigh of relief when I spent some time looking at the bag. In this case, the fringe used is delicate, dainty and perfect on this bag.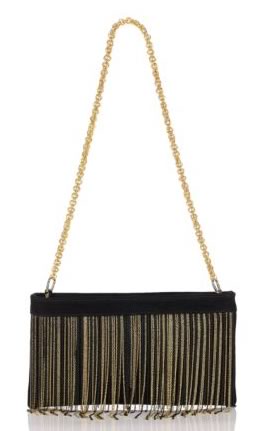 The CC Skye Rich Hippie Fringed Suede Clutch is a versatile bag with just the right amount of glamor. When I see fringe made out of chains, I tend to wonder how heavy the bag will become. However, here, since the chains are so small, there is no need to have any concern. If you look closely you will see both gold-tone and black chains which I am a fan of. That combination offers a great bit of contrast against the black suede bag.
The chainlink strap is detachable so you can use this bag as a shoulder bag or a clutch. While normally I would opt for the clutch, I would love to use this bag as a shoulder bag. I can just see it now, running across the streets one evening with my best friends, while wearing a hot dress, super high-heels and this bag over my shoulder. I love it! Buy through Bloomingdale's for $250.