We've already raved about the qualities of Beirn's unique and exotic medium: the watersnake. Am I going to do any different right now? To be brutally honest, no. However, I'm am here to make you aware of a different shape that's available in Beirn's watersnake.
It's a classic tote, and Bluefly has it in a variety of colors, from this beautiful, pooly teal to hot pink and a light, leafy green. They're easy and low maintenance bags to own, but they look like no other exotic out there (besides bearing a slight resemblance to snake, of course).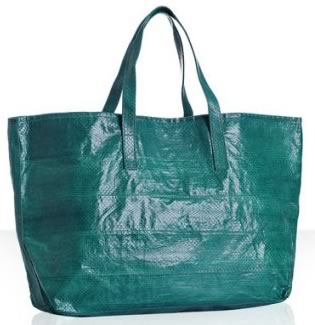 The outside of this Beirn Norah Shopper Tote may look crispy and inflexible, but the reality is that they're foldable and soft. So if you're still relying on a fairly uniform canvas tote to carry your items, update! Nothing's chicer than an exotic. Buy through Bluefly for $204.