So, not every single thing about my move to San Diego has been perfect. Near perfect, yes. Perfect, no. So what is it that has held back this near perfection? Well besides being rather far from the family, I don't have a washer and dryer in my apartment. Gasp, I know! I've had places before that were without laundry facilities but it has been quite a bit of time now.
But hey, when I saw this cute tote I thought maybe not having laundry in the building would give me a reason to buy a new bag.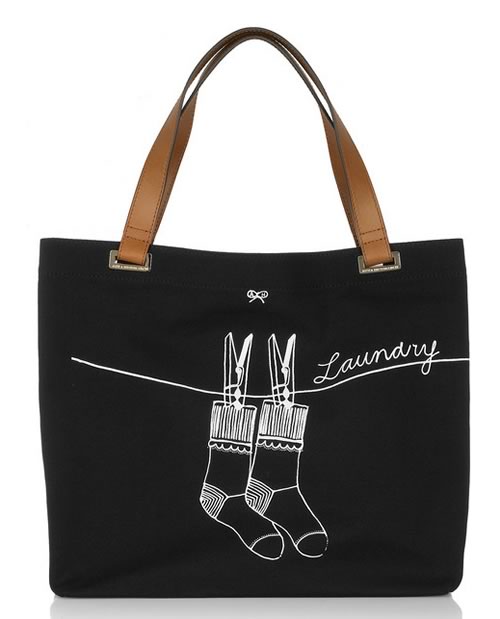 I am all for coming across new canvas totes. These totes can be used for so many things: groceries, a day at the beach, and now, laundry? The Anya Hindmarch Laundry Canvas Tote actually is a great tote that I think I would use for so many things other than laundry. I mean, the more I think about it, the more I believe that the term "laundry" is just supposed to be catchy, funny and cute. This I am ok with. But if you take the name literally, do you think you could stuff all your laundry in here as you schlep down the street to sit in the laundromat?
Either way, for the price and apparent durability of the bag, I would have no problem carrying this around from time to time. Black canvas and brown leather handles come together for a strong tote which appears that it will be able to withstand just about anything you might put it through. I like it. Buy through Net-a-Porter for $98.