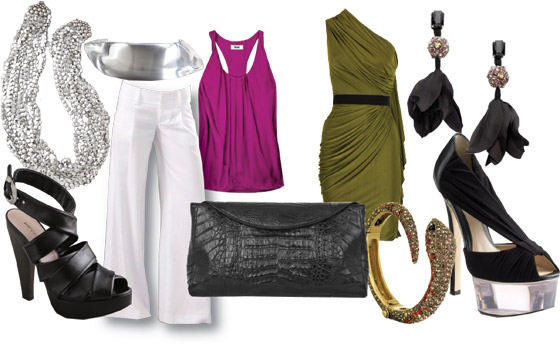 I can't think of a bag that's more versatile than a big black clutch. Add an exotic skin to the mix for a healthy dose of luxury and you've got a bag that can be worn day or night and year-round, no matter your age. Sometimes it's hard to imagine how you'd work even the most basic bag into your wardrobe, however, particularly if you're not prone toward considering a clutch (even an oversized one) to be a legitimate option for daytime use. With a little help from the Nancy Gonzalez Large Crocodile Clutch, I'm here to give you some food for thought. Or, maybe, I'm just here to make up pretty outfits. I'm comfortable with either of those options.
The Bag
The Nancy Gonzalez Large Crocodile Clutch: This should take very little explanation. Black is a hugely versatile color and an oversized clutch is a hugely useful shape to own. I for one don't mind holding a clutch under my arm on most occasions (besides maybe shopping), and a bag like this is particularly appropriate for daytime events – an afternoon wedding, for example. Of course, it looks equally chic after dark. Buy through Net-a-Porter for $1850.
Day
Acne Shy Pleated Satin Tank: The key to wearing black accessories during the summer is making sure that you include bright color and light fabrics in your outfit. This magenta top looks super chic against nearly any skin tone and would easily be office-appropriate under your favorite cardigan or blazer. The twisted strap is a subtle-yet-modern detail. Buy through Net-a-Porter for $200.
Alice + Olivia Eric Pant: Is there anything more luxurious for summer than a pair of voluminous white linen trousers? I certainly can't think of anything. Not only are they weather-appropriate for summer, but they make bright colors pop and can be worn in a variety of situations and settings, as long as the sun is shining. Buy through ShopBop for $253.
Philosophy di Alberta Ferretti High Heels Ankle Wrap Sandals: You can't have a pair of flowing, wide-leg pants without a proper pair of platforms to accent their shape. The wooden heel keeps the shoe summer-appropriate despite the black leather, which coordinates with the color of the clutch. These are the type of shoes that you'll use over and over again with a thousand different outfits – they're nearly as versatile as the featured bag. Buy through ShopBop for $620.
Lee Angel Etienne 18 Strand Necklace: I don't care who you are, where you're going, or what you're wearing: a simple outfit needs statement jewelry. Unless you're going crazy with patterns and texture, there's not an ensemble that can't be improved with some bling, this one included. Sure, the top and pants are very nice, but when you throw on an enormous, confident necklace like this one, the entire thing is taken to the next level. Buy through ShopBop for $155.
Alexis Bittar Large Lucite Bangle: This super modern bangle certain falls into the "statement jewelry" category, but it won't take up as much visual space as a metal bracelet would, meaning that it won't compete with the other giant piece of jewelry that I included in this outfit. Isn't it nice when things work together? Buy through Bergdorf Goodman for $495.
Evening
La Petite S Asymmetric Jersey Dress: How I love this dress, let me count the way: it's an unexpected yet gorgeous color that could work well on lots of skin colors, the asymmetrical draping is gorgeous, as is the dramatic jersey ruffle down the back, it's long enough and cut high enough that a woman of almost any age could wear it. In short, I love it and would like to have one immediately, if not sooner. I will find an event for this dress. Buy through Net-a-Porter for $1480.
Ranjana Khan Silk Petal & Bead Earrings: If you're going to wear an asymmetrical neckline, please don't wear a necklace that competes with or interrupts it. You're screwing up the dress. Instead, take the opportunity to put your hair up and wear totally over-the-top earrings. They'll attract attention up, making people more likely to notice not only your interesting neckline, but also your beautiful face. Buy through Saks for $390.
Fendi Cinderella Runway Platform Sandals: Hear me out on this whole lucite thing. I know that it makes some people think of stripper heels, but Fendi did it in such a pretty, feminine, ladylike way that I can't help but totally adore it. They chose wisely to confine the lucite to the platform and make the heel out of a traditional material because the shoe strikes a perfect balance between pretty and sexy. In this case, the draping that makes up the body of the shoe is particularly appropriate because it reflects the structure of the dress. Buy through Saks for $1140.
Roberto Cavalli Swarovski Serpent Bracelet: The colors of this particular snake bracelet work really nicely with the green dress, but this is the sort of piece that could really go with anything: neutrals, brights, patterns. Day, night, whatever. I wear my animal cuffs more than I wear anything in my jewelry collection, and people constantly ask me where they can get something similar. Well, here you go – spread the gospel far and wide, my children. Buy through Net-a-Porter for $675.
P.S. Please consider supporting our small, bag-loving team by clicking our links before shopping or checking out at your favorite online retailers like Amazon, Neiman Marcus, Nordstrom, or any of the listed partners on our shop page. We truly appreciate your support!