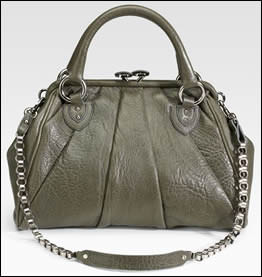 At this point, we've seen the Marc Jacobs Stam in many incarnations. There were the original black and petrol quilted versions, way back in 2005. We've had oversized quilts, silver and blue python, and, for one season, the Stam Hobo (anyone know where I can still get one of these?). I myself have the traditional black version with the original suede lining, and it's one of my favorite bags I've ever had – both men and women stop me to gawk at it, even though it's 3 years old and has been ripped off a hundred times by a hundred other brands and stores.
What we've yet to see, though, is a regular, leather, UNQUILTED Stam. Well, ask and we shall receive, because that's one of the things that Jacobs has up to bat for Fall/Winter 2008, by the name of the Marc Jacobs Sunburst Stam. I've been waiting for it to show up online for quite a while, and Saks finally has it up for presale today for $1395 in charcoal grey (grey, people, grey!).
This Stam has silver hardware instead of gold (something I am a firm fan of – I find silver much more versatile, although I'd never let my original Stam's gold stop me from wearing it with anything), and the trademark oversized links of the gold hardware seem to have been changed to a more understated box chain. Continuing the trend of subtlety, the front has soft pleats that stop it from being plain without overpowering the beautiful grain of the textured lamb leather.
Speaking of lamb, I can't wait to grope this handbag in person. As I remember, the previous Stams were made of calf. Although soft enough, nothing beats lamb in my mind, and according to Saks, that's just what we're getting here. I hope that's the case, and I hope that it's as soft in reality as it is in my head. If that's the case, this is a bag for which I may very well be saving my pennies. Pre-order through Saks for $1395.