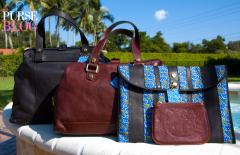 Get used to hearing her name, because Rebecca Minkoff is now household. We had the pleasure of interviewing the young fabulous handbag designer, and now we are bringing you news of a recent partnership Rebecca has teamed up on. Momoberry by Sanrio has added a new co-branded collection for the Holiday season with their Rebecca Minkoff for Momoberry line. The handbags have already hit the stores, including the Momberry boutique in LA, along with SANRIO shops across the country, and online. There are four handbags offered, including a coin purse, a clutch, a satchel, and a tote. All of the handbags offer Rebecca's signature sexy and chic leather handbag touch along with Hello Kitty graphics. On both the tote and the satchel, the only Hello Kitty additions are on the hardware, and the inside lining, which makes these handbags perfect for the customer that loves Hello Kitty yet is not looking for it to take away from the bag. The coin purse and clutch offer a more recognizable Hello Kitty pattern, that is cute and perfect for smaller accessories. These handbags are limited edition and can be bought online right now at Sanrio.
Click on the images to enlarge!
"We have been quietly building the Momoberry brand to reflect the desire of the upscale Hello Kitty customer," says Andrea Sobel, Vice President of Marketing at SANRIO. "We are true fans of Rebecca Minkoff's designs, and feel her understanding of our brand will translate perfectly into a unique Momoberry handbag collection."

"I have been a fan of Hello Kitty and Sanrio since I was a little girl and I feel very fortunate to be working with Sanrio as a designer," says Rebecca. "This has been an amazing process since the beginning and I'm excited to see the response to this unique line!"
We were lucky to be sent all four of the bags to take pictures and review. I am in love with the Hello Kitty Rebecca Minkoff Leather Satchel, the brown Italian leather offers a subtle shimmer in the finish with looks perfect with the gold hardware. $600 at SANRIO.
The black leather on the Hello Kitty Rebecca Minkoff Leather Tote is so lush and supple that I could not keep my hands off. The frame top opens up to a huge compartment that can be filled with all work goodies (also great dimensions for a travel bag). $650 at SANRIO.
The Hello Kitty Rebecca Minkoff Clutch combines lush black leather strips on top of the Rebecca Minkoff/Kello Kitty design. The clutch can fold over to save space. $375 at SANRIO.
Lastly, there is the super cute Hello Kitty Rebecca Minkoff Leather Coin Purse which uses the same beautiful brown leather as the satchel and has Hello Kitty embossed on the front. $150 at SANRIO.
Additionally, the bags can be purchased through any of the locations below!
Momoberry by Sanrio
Beverly Center Mall
131 N La Cienega Blvd Suite 814
LA, CA 90048
Phone: 310.657.7040
Sanrio – Times Square
233 West 42nd Street
NY, NY 10036
Phone: 212.840.6011
Sanrio – Ala Moana
1450 Ala Moana Blvd
Honolulu, HI 96814
Phone: 808.949.2990