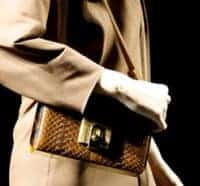 Unlike the shoes from Lanvin Spring 2011, the handbags can't necessarily be called a revelation. But that's fine; Alber Elbaz has created an aesthetic so good at Lanvin that it doesn't need any fixing, just a little tweak here and here to set us on a new course for a new season. Spring 2011's bags have a little more structure than what we've seen from the brand in the past, but there's still no mistaking them for anything but signature Lanvin.
The newly stiff lines in some of the collection's small shoulder bags are very much in keeping with the ladylike, smaller-scale trends that have reinvigorated accessories recently. The creamy neutrals and weathered brass hardware leave no question about from whence these bags, came, however, and Lanvin has carved out a nice spot for itself within the trend. For those who prefer a bit of a softer silhouette, larger and less sturdy bags were also seen. The standouts, though, were the egg-shaped clutches that closed the collection, adorned with yards of mismatched chain that served as the ultimate neo-vintage handle. As with many of Lanvin's best evening bags, they were jewelry and clutch, all in one.
Photos via Style.com.